Losing hair can be a distressing experience, with many potential causes, including hormonal imbalances, genetics, and nutritional deficiencies.
One nutrient linked to hair health is magnesium, a mineral that plays a vital role in many bodily functions.
However, can magnesium deficiency lead to hair loss, and if so, what can you do about it?
In this article, we'll take a closer look at the connection between magnesium deficiency and hair loss, the role of magnesium in the body, and what steps you can take to prevent or address a potential deficiency.
Did You Know? Your genes influence how much your body absorbs and utilizes magnesium from food. Certain gene changes can increase your risk for magnesium deficiency. Learn more. Learn more.
Role of Magnesium In The Body
Magnesium is an essential micronutrient that is required by the body to perform several functions.
This mineral participates in:
Causes Of Low Magnesium Levels
Low magnesium levels result in a deficiency of the mineral.
While magnesium deficiency is rare, it may be caused by:
Poor dietary intake
Digestive problems like Crohn's Disease
Chronic or long-term vomiting or diarrhea
Kidney issues
Long-term use of diuretics
Long-term use of medications for acid reflux and ulcers
You May Also Be Interested In
7 Most Significant Magnesium Benefits For Men
Can Magnesium Deficiency Cause Hair Loss?
Magnesium plays a central role in protein production in the body, which governs various processes like cell division, growth, and maturation.
It has also been found to play a vital role in immunological and inflammatory reactions in the body.
Due to these functions, magnesium, directly and indirectly, affects hair growth and health.
A deficiency of magnesium can disrupt protein metabolism and alter immune response, both of which can cause hair loss.
How Does Magnesium Affect Hair Growth?
Magnesium and hair growth has a strong association, as the mineral affects hair follicle growth and the overall growth cycle.
Magnesium prevents calcium build-up in the scalp - this restores blood flow back to the hair follicles.
It has been suggested that magnesium's role in protein synthesis may affect hair growth.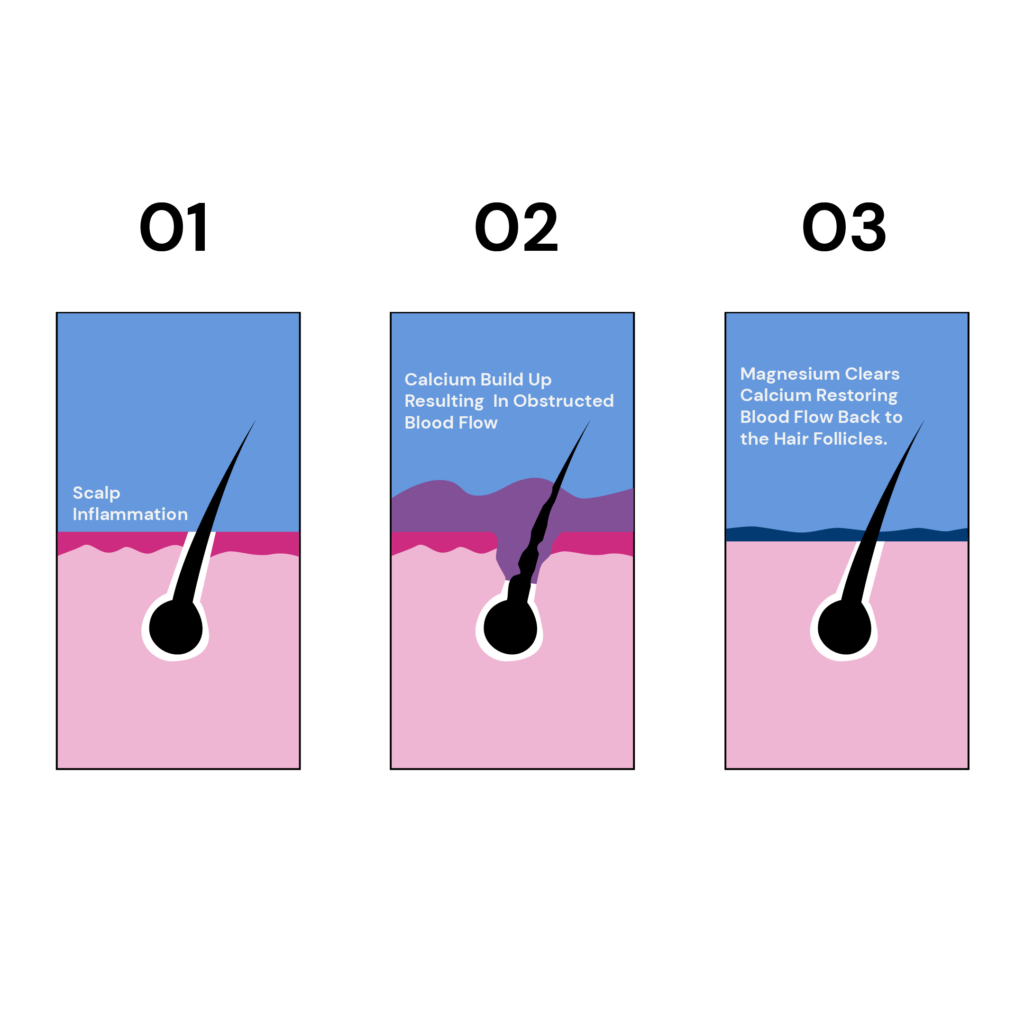 How Much Magnesium Should I Take For Hair Loss?
The Recommended Dietary Allowance for magnesium is around 320 mg daily for females and 420 mg daily for males.
Consuming magnesium-rich foods like bananas (which contain around 32 mg of magnesium) is great for hair loss.
What Type Of Magnesium Is Best For Hair Loss?
There are different types of magnesium compounds used in varying products.
Magnesium citrate and magnesium glycinate are the two most common magnesium salts for managing its deficiency. 
Both these salts have excellent bioavailability and do not trouble the digestive system.
How To Use Magnesium To Stop Hair Loss and Promote Hair Growth?
One of the best ways to use magnesium for hair loss is hair oil containing the mineral.
You can use magnesium hair oil once you have consulted your dermatologist and determined if it is safe and effective for your hair loss.
Magnesium hair oil offers several benefits:
Helps in protein production
Regulates calcium build-up
Triggers hair growth
Has anti-inflammatory properties
Reduces dandruff
Prevents further loss of hair
Summary
Magnesium is an essential micronutrient the body requires for various functions like maintaining blood sugar levels, protein production, and hair growth.
Poor dietary intake, type 2 diabetes, kidney diseases, and long-term use of diuretics are a few reasons for magnesium deficiency.
Magnesium deficiency may cause hair loss, possibly due to its property of protein synthesis and calcium regulation.
Following the RDA of magnesium should be sufficient to prevent and manage hair loss.
Magnesium supplements and oils containing magnesium citrate and glycinate are good for hair loss.
References