Introduction
Cinnamon is a spice obtained from the bark of the Cinnamonum family.
A popular spice native to the Caribbean, South America, and Southeast America, cinnamon is known to have strong antioxidant, anti-inflammatory, antidiabetic and antimicrobial properties.
Gluten is a family of proteins found in grains like wheat, rye, and barley and gives dough elasticity.
Cinnamon, being a spice, is gluten-free.
What Is The Need To Go Gluten-free?
While most people can safely consume gluten, an increasing number of them are becoming intolerant.
People with conditions like celiac disease, irritable bowel syndrome, and gluten sensitivity must avoid gluten consumption to prevent adverse reactions.
To avoid side effects or allergic reactions due to gluten, many people choose to go gluten-free.
A gluten-free diet is important to manage the signs and symptoms of gluten-related health conditions.
A gluten-free diet is also important for people who haven't been diagnosed with a gluten-related medical condition but wish to experience other benefits such as weight loss, improved energy, and better overall health.
Gluten Intolerance: Who's At Risk
Gluten intolerance is a condition in which you may get sick after eating gluten. 
Common symptoms that you may experience in the case of gluten intolerance are nausea, bloating, and feeling tired.
Gluten intolerance is also called non-celiac gluten sensitivity.
Since people with celiac disease are gluten intolerant, many confuse the two conditions.
Gluten intolerance and celiac disease are different.
People with celiac disease have an autoimmune response to gluten, which means their body presumes gluten as an infectious agent and launches an immune reaction toward it.
This inflammatory reaction damages the digestive tract and results in symptoms characteristic of the disease.
Celiac disease occurs due to the presence of an abnormal gene change.
Gluten intolerance affects nearly 6% of the US population.
Anyone can develop gluten intolerance, though it is more common in women.
While some people are born with gluten intolerance, others develop the condition later in life.
The HLA Genes And Gluten Intolerance
The Human Leukocyte Antigen (HLA) system of genes is associated with the production of cell-surface proteins and helps regulate the immune system.
Six single nucleotide polymorphisms (SNPs) in the HLA gene complex, namely HLA DQ, HLA DQ 2.5, HLA DQ 2.2(3 SNPs), and HLA DQ7, are associated with gluten intolerance.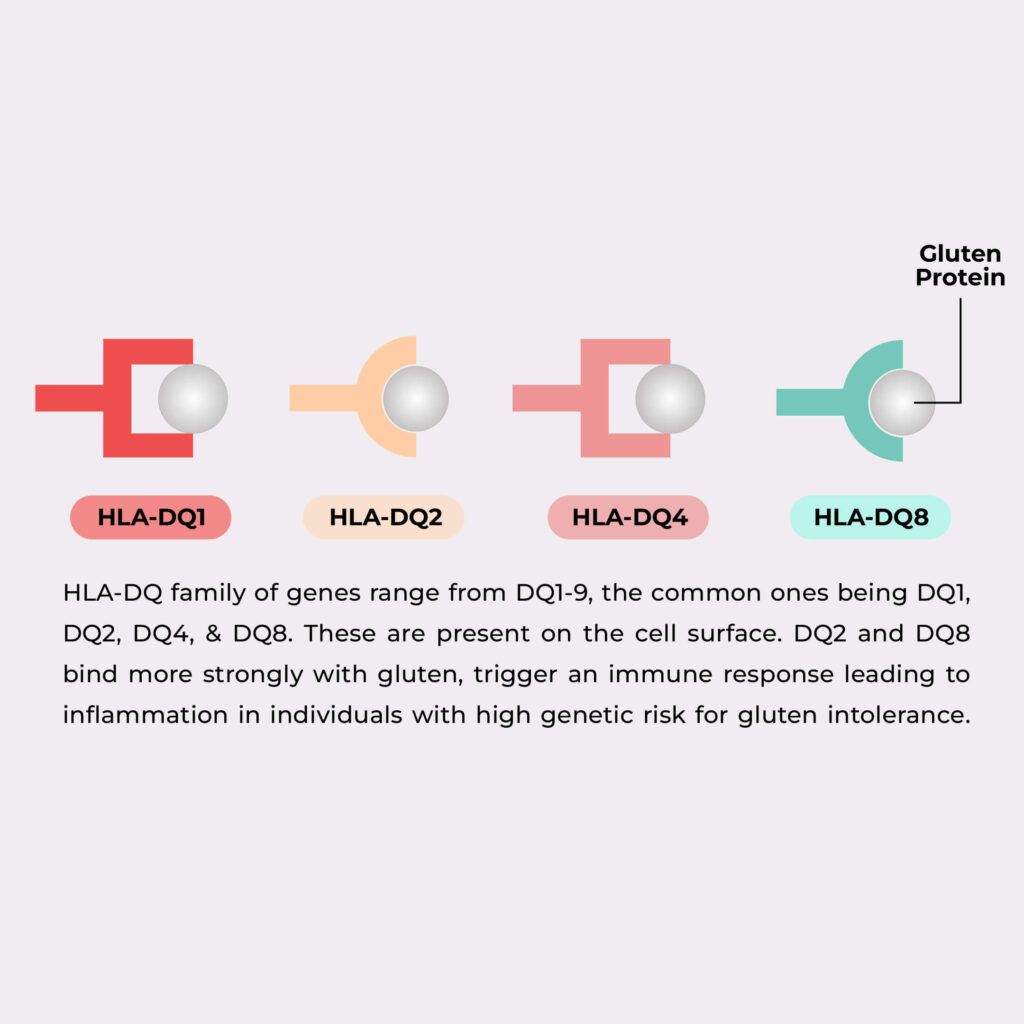 Image: HLA Genes and Gluten Intolerance
The HLA DQ genes are strong predictors of celiac diseases.
A study conducted to understand individuals' susceptibility to gluten intolerance found that people with celiac disease had the risk alleles in the HLA DQ2 and HLA DQ8 genes.
In another study, people with the following genes and respective variants were found to have a reaction to gluten in the diet:
| | |
| --- | --- |
| Gene | Risk Variant |
| HLA DQ | G variant |
| HLA DQ 2.5 | T variant |
| HLA DQ 2.2 | G variant |
| HLA DQ7 | A variant |
Is Cinnamon Gluten-free?
Cinnamon is a spice, and so it is naturally gluten-free.
Is Ground Cinnamon Gluten-free?
Though cinnamon is gluten-free, manufacturers may add some flour to help with caking.
In this case, ground cinnamon may contain some gluten.
Additionally, there may be contamination in the manufacturing facility, wherein ground cinnamon may contain gluten.
How Do I Know If Cinnamon Is Gluten-free?
If you buy fresh, unground cinnamon, you can be sure it does not contain gluten.
If you are purchasing cinnamon powder, you should check out the product's label to confirm the presence or absence of gluten.
If the manufacturer says the cinnamon is gluten-free, it may not contain any gluten-containing ingredients.
In some cases, the manufacturer can say the product is 'certified gluten-free; this means it may contain less than 20ppm of gluten.
Summary: Is Cinnamon Gluten-free?
Gluten is a protein found in grains and a component known to cause allergy and intolerance.
Cinnamon is a gluten-free spice obtained from the bark of the Cinnamonum tree.
Some people are sensitive, allergic, or intolerant to gluten.
While naturally obtained cinnamon is gluten-free, processed cinnamon powder may sometimes contain gluten.
Six changes (or variations) in the HLA gene complex have been associated with gluten intolerance.
References