Did you know that sudden weight loss can affect vitamin absorption in your blood?
Vitamin K is a fat-soluble vitamin that is essential for many bodily functions.
It requires body fat to be adequately absorbed in the blood.
So before you jump into another fad diet, read on to find out just how essential Vitamin K is for the body.
Vitamin K: An Overview
Vitamin K is a fat-soluble vitamin that naturally occurs in two forms.
Phyloquinone, or Vitamin K1, is the primary type found in green leafy vegetables like kale and spinach.
Menaquinone (MK), also called Vitamin K2, is located in fermented foods.
Vitamin K2 can have various subtypes.
MK-5 and MK-15 are in fermented foods, while MK-4 is in chicken, butter, and egg yolks.
Vitamin K is necessary for healthy bone-building in the body.
In addition, Prothrombin, an essential protein for blood clotting, is dependent on Vitamin K.  
Why Does The Human Body Need Vitamin K?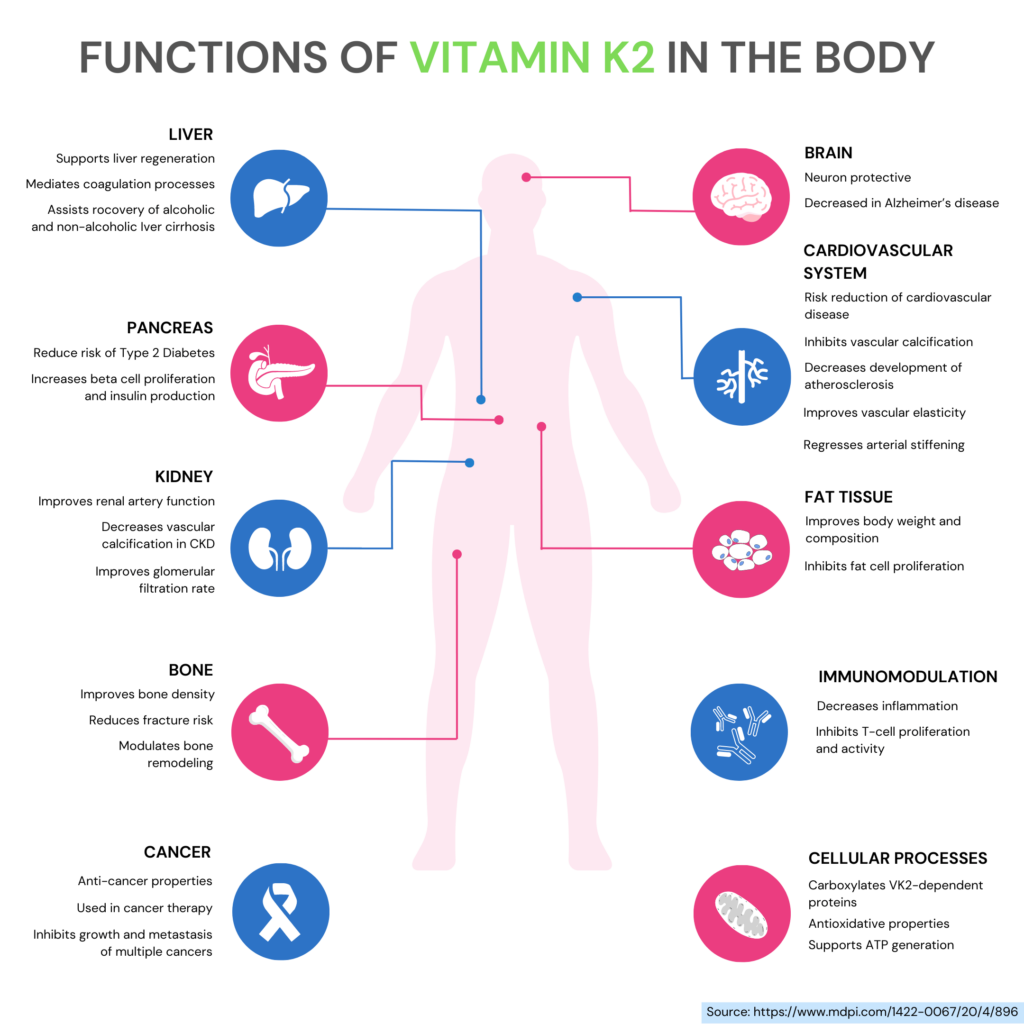 Wound Healing
Blood clotting is a naturally occurring process that helps prevent excessive blood loss in an injury.
It involves a cascade of coordinated reactions that plugs the injury site with a clot.
Prothrombin, a protein essential for blood clotting, needs Vitamin K for proper functioning.
Thus Vitamin K is necessary to heal wounds.
Preventing Osteoporosis
An enzyme called gamma-glutamyl carboxylase is necessary for adequately functioning osteocalcin, a protein in bone.
This enzyme depends on Vitamin K.
Thus, you lose bone mass and density when your body is low on Vitamin K.
It can cause bone thinning, called osteoporosis, and frequent fractures.
Blood Pressure Maintenance
Some studies show that adequate Vitamin K can prevent hypertension.
Vitamin K interacts with and regulates your blood calcium levels.
As a result, it keeps your blood pressure in check.
Prevention Of Heart Disease
Calcium can get mineralized and deposited on the walls of our blood vessels as we age.
Adequate amounts of Vitamin K can help remineralize the calcium and prevent heart ailments.
Improving Memory In Older Adults
Sphingolipids are found in brain cell membranes.
These lipids are involved in cellular metabolism.
Changes in their functioning can cause neurodegenerative disorders like Alzheimer's disease.
Higher levels of phylloquinone can improve memory and prevent age-related cognitive decline.
Vitamin K Deficiency
The average amount of Vitamin K is 120 micrograms for adult men and 90 micrograms for adult women.
Vitamin K deficiency is rare in adults but not impossible.
Some medications can cause a decreased absorption of Vitamin K in the blood.
Infants are prone to Vitamin K deficiency as mother's milk has a low concentration, and this vitamin cannot cross the placenta.
Symptoms
Excessive bleeding: When your body lacks Vitamin K, your blood fails to clot.
As a result, you might suffer from excessive bleeding, even from a minor injury.
Bones break easily: Vitamin K is an integral part of bone development.
You might break or fracture bones even from minor falls if deficient in Vitamin K.
Risk Factors
Infants who do not receive a Vitamin K injection at birth are at increased risk of developing a deficiency.
Certain diseases affect Vitamin K absorption in the blood.
People with celiac disease, ulcerative colitis, and cystic fibrosis are more prone to a deficiency.
People who have undergone bariatric or weight loss surgery might also develop a deficiency of Vitamin K in the body.
Health Implications
Vitamin K deficiency in the body can make you suffer from many other diseases:
Osteoporosis
Vitamin K is essential for healthy bone development.
If you suffer from a deficiency of it, you may develop osteoporosis.
This disease brittle your bones, and you can easily break a bone even from a minor injury.
Coronary Heart Disease
Some studies have shown that Vitamin K can prevent heart disease.
A deficiency of this vitamin can cause the narrowing of blood vessels in the heart and can cause coronary heart disease.
Adverse Drug Reactions
Vitamin K can have severe and harmful interactions with some other drugs.
It can interact with warfarin (Coumadin), a blood thinner or anticoagulant.
If you are on warfarin, limit the intake of Vitamin K from food and dietary supplements.
Consuming less Vitamin K might cause bleeding, while consuming more may cause blood clots.
Food Sources Of Vitamin K
Some food sources of Vitamin K are:
Green leafy vegetables: Vegetables like spinach, kale, cabbage, and lettuce are rich in Vitamin K.
They are rich in phylloquinone.
Dairy foods: Milk and cheese contain high amounts of menaquinone.
Fermented foods: Some fermented foods are rich in Vitamin K.
Soybeans and Natto, a traditional fermented Japanese dish, are rich in Vitamin K.
Summary
Vitamin K is a fat-soluble vitamin found in leafy green vegetables.
It is essential for bone health and blood clotting.
Vitamin K can also prevent cardiovascular diseases and Alzheimer's disease.
A deficiency of Vitamin K can make one prone to osteoporosis and elevated blood pressure.
Vitamin K can also react adversely with certain medications.
It can have an antagonistic effect on common anticoagulants like warfarin.
So, it is always advisable to consult your doctor before starting any supplements.
Vitamin K is naturally found in green leafy vegetables like spinach and kale.
References