Is coffee the first thing you can think of when you open your eyes in the morning? If you cannot get through your day without that cup of joe, you can thank your genes for it, as they may drive your high caffeine consumption.
How Does Caffeine Help Us Stay Alert?
Our bodies signal the brain when we are tired or when it's time for sleeping through a molecule called adenosine. When adenosine sits in its docking station (called the receptor), it signals the brain to shut off activities that promote wakefulness.
The molecular structure of caffeine is remarkably similar to adenosine. When we drink coffee, the caffeine molecule binds to the docking station that actually belongs to adenosine. So, the brain doesn't get the signal to shut off the activities, and we continue feeling energetic.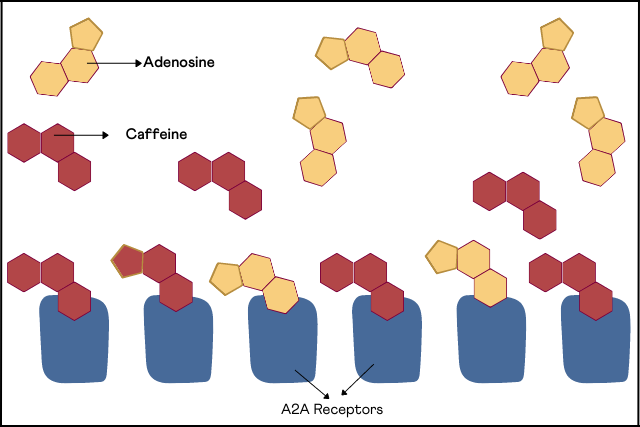 The Genetics Angle
For many people, the extra shot of caffeine can help power through a drowsy day. But for some struggling with sleep deprivation, even a small amount of caffeine can keep them tossing and turning at night.
Why does caffeine affect people in such different ways?
It is partly due to the genes that deal with how caffeine is processed inside the body.
Two of them which handle most of the work are CYP1A2 and AHR. The former produces an enzyme that metabolizes ~95% of the caffeine consumed, and the latter controls how much of this enzyme is produced.
Depending on the types of these genes you carry (also called genetic variations), you can broadly be classified as a fast, normal, or slow metabolizer of caffeine. Fast metabolizers will likely consume more caffeine without experiencing negative side effects like jitters and sleeplessness. Slow metabolizers are likely to consume less coffee.
Did You Know?
Your caffeine metabolizer status affects not only how much caffeine you consume but also your risk for other health conditions.
Explore Your DNA Raw Data
Curious about your caffeine metabolizer status? Here's how you can learn about it in 3 simple steps:
Download your raw data file from 23andMe, Ancestry DNA, or any other ancestry company. If you don't have one, you can get a 23andMe kit from here.
Buy the Gene Nutrition Report (or Xcode Life Genome Pack for a 48% discount)
Upload your raw data and get your results in 24 hours.