Happy Valentine's Day to you!
Are you tired of swiping left and right on dating apps, going on countless first dates, and still not finding that special someone? Have you ever wondered if something as simple (yet, complex) as your DNA could influence your search for love? In this article, we dive into the growing field of genetic matchmaking and explore whether our genes can influence love. Get ready to learn about the science behind attraction and the potential benefits and drawbacks of using DNA to find your perfect match.
The Role Of Genes In Shaping Our Personalities And Behavior
The Science of Attraction
When we say "attraction," it often involves the "reward pathway system" of our brains.
This refers to how pleasurable we feel upon doing a particular activity or how rewarding the activity is.
The primary hormone that gives the "rewarding feeling" is dopamine, produced in the hypothalamus.
It is released when we do things that feel good/pleasurable to us. This can include spending time with loved ones or having sex.
When we are attracted to someone, the high levels of dopamine trigger the release of another hormone, norepinephrine, making us feel giddy, energetic, and euphoric.
This partly explains why the first few weeks of dating can be exciting, thrilling, and consuming!
According to research studies, brain scans of people "in love" have shown that the reward centers light up like crazy when shown photos of people they are attracted to.
Lust, Attraction, & Attachment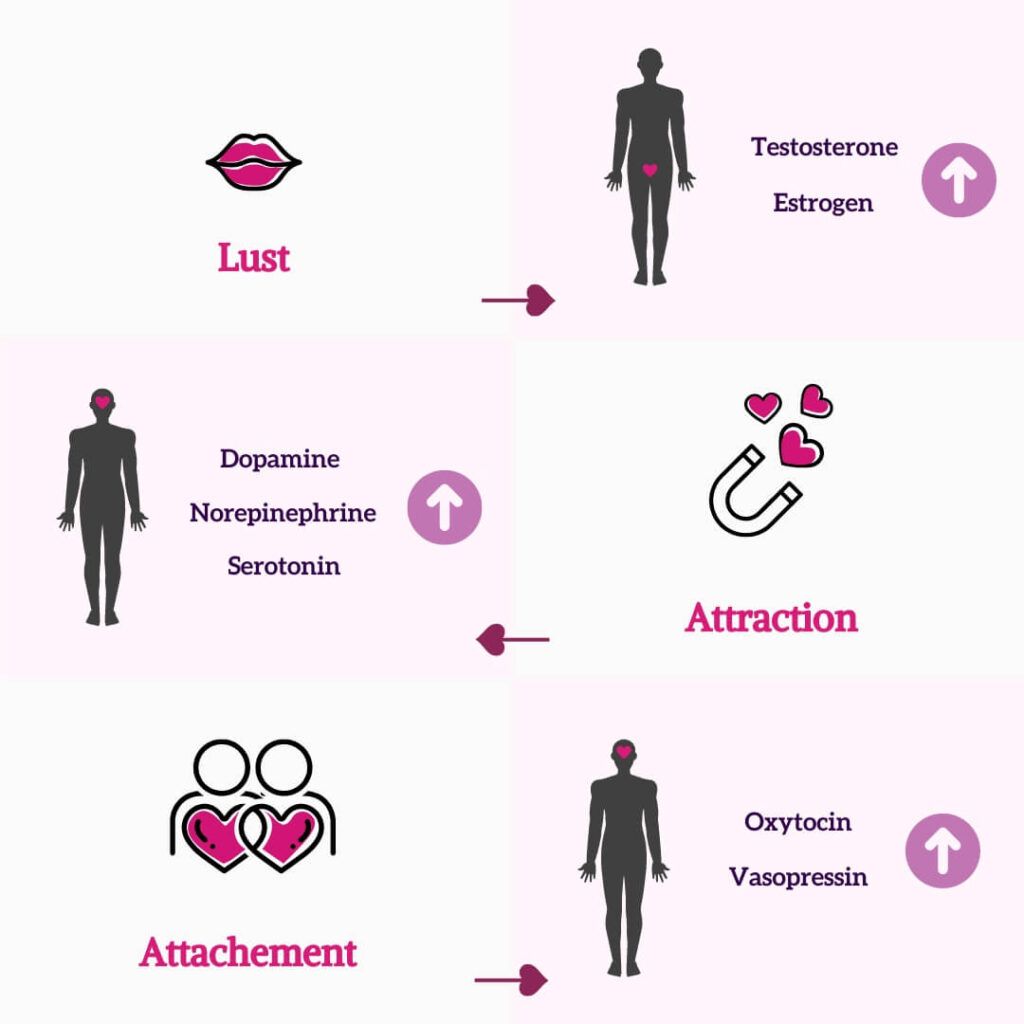 Do Our Genes Determine Who We Fall in Love With?
The role of genetics in influencing compatibility between two people cannot be overlooked.
Specific genes are crucial to predicting the potential for a satisfying sexual experience and a successful marriage.
Other genes influence the traits we seek in a partner.
Studies have shown that specific genes, such as the DRD4 gene, can impact our preferences for certain personality traits in a romantic partner. 
For example, individuals with a particular change in the DRD4 gene are more likely to be attracted to adventurous and spontaneous partners. 
Similarly, some genes have been linked to our sense of smell and how it influences our attraction to potential partners.
DNA, Personality Traits, And Dating Preferences
Personality traits significantly influence who we are attracted to and who we form relationships with. 
While these traits are shaped by a combination of lifestyle and environmental factors, recent research has shown that there is a genetic component to personality.
Studies have identified specific genes linked to traits such as extraversion, openness, and neuroticism.
For example, the 5-HTTLPR gene has been linked to levels of neuroticism, with specific changes in the gene being associated with higher levels of anxiety and stress.
When it comes to dating, our personality traits can have a significant impact on our preferences for potential partners.
Extroverted individuals may be more likely to be attracted to other extroverted individuals.
On the other hand, those who are more neurotic may prefer more stable and calming partners.
Dating and DNA: How It Works?
DNA dating, also known as genetic matchmaking, is a new approach to finding romantic partners based on genetic compatibility.
The idea is that analyzing a person's DNA makes it possible to identify genetic markers associated with compatibility in relationships regarding personality, sexual chemistry, and other essential factors.
This information can then be used to match individuals with partners who are more likely to complement these traits.
DNA dating typically involves taking a DNA sample through a simple cheek swab or saliva sample.
This sample is then analyzed in a laboratory to identify specific genetic markers associated with compatibility.
The results of this analysis are then compared with a database of other individuals who have also had their DNA analyzed to find potential matches.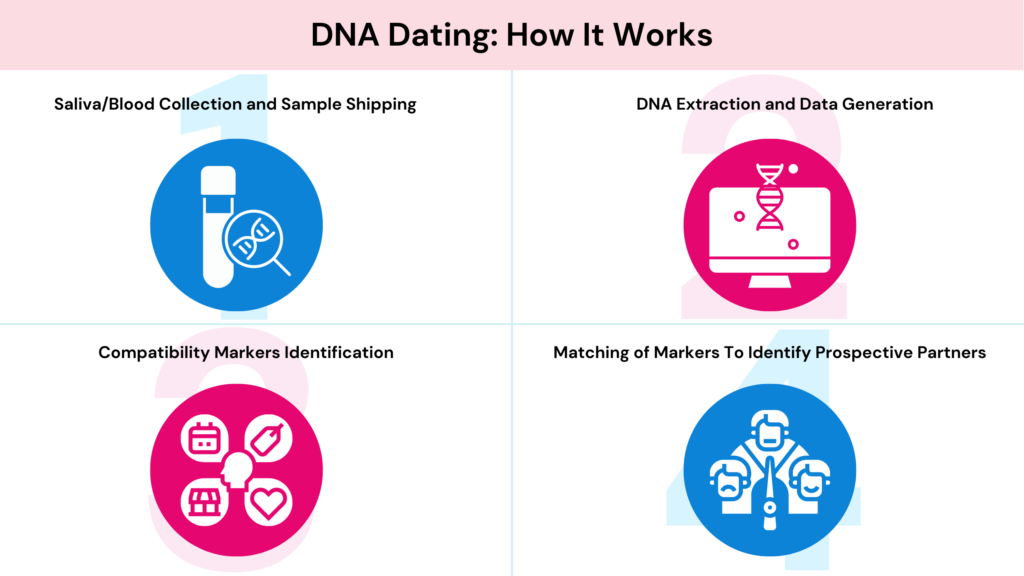 Is DNA Dating Successful?
The success of DNA dating is a subject of debate in the scientific community.
Some proponents of DNA dating argue that it offers a more scientific and objective approach to matchmaking than traditional methods such as online dating and matchmaking services.
They argue that analyzing specific genetic markers makes it possible to gain a deeper understanding of a person's personality and preferences, leading to more compatible and successful relationships.
On the other hand, many experts have raised several concerns about DNA matchmaking.
One issue is the lack of robust scientific evidence to support its claims of more excellent compatibility and success in relationships. 
While some genetic markers have been linked to specific personality traits, the relationships between genetics and compatibility are poorly understood.
Furthermore, there is limited research on the long-term outcomes of relationships formed through DNA dating, making it difficult to evaluate its effectiveness.
It is important to note that while genetics shape our personality traits and attractions, they are not the sole determining factor. 
Environmental factors such as upbringing and life experiences also significantly influence who we are attracted to and why.
Therefore, it is vital to approach DNA dating cautiously and view it as just one tool in the matchmaking process rather than the sole determinant of compatibility.
Is DNA Matching For Love Possible?
DNA matching for love may be a promising concept, but it is still uncertain whether it is possible or practical. 
Further research is needed to fully understand the connection between genetics and compatibility and determine the feasibility of using DNA to match individuals for love.
Dating and DNA: The Bottom Line
The idea of dating and DNA is a fascinating concept that raises many questions about the role of genetics in our romantic lives.
While our genes may influence certain personality traits, it's important to remember that they do not dictate who we fall in love with.
Love is a complex and multi-faceted emotion influenced by many factors, including our environment, experiences, and personal preferences.
Ultimately, while our genes may shape who we are and how we behave, they do not determine our fate. 
The beauty of love is that it allows us to choose our paths and create our destinies.
So, whether you believe in the power of DNA or not, remember that at the end of the day, it's up to you to make your own choices and forge relationships.