Photographic memory is a rare and mysterious cognitive ability that allows people to remember images and objects in detail.
It's a rare phenomenon in which someone can retain an enormous quantity of information, whether it be images, sounds, or words.
Photographic memory was first documented by a Harvard vision scientist named Charles Stromeyer III in early 1970 about a student named Elizabeth.
Some believe that photographic memory is a real phenomenon, while others believe it's just an exaggeration or myth.
Regardless of whether photographic memory is real or not, there are many benefits to having it.
How Does Memory Work?
Why do we remember some things more distinctly than others? And why do some memories fade?
Answering these questions requires us to look into how memories are formed in the first place.
Our daily experiences are converted into pulses of energy that travel along the neuron network and form short-term memories first.
These are available for a few seconds or a few minutes.
They then get converted into long-term memories through certain brain areas like the hippocampus.
Finally, they reach the storage regions present in the brain.
With the help of brain chemicals called neurotransmitters, neurons communicate with each other in regions called synapses.
Continuous communication between two neurons increases the efficiency, a process described as long-term potentiation.
This phenomenon helps store long-term memory.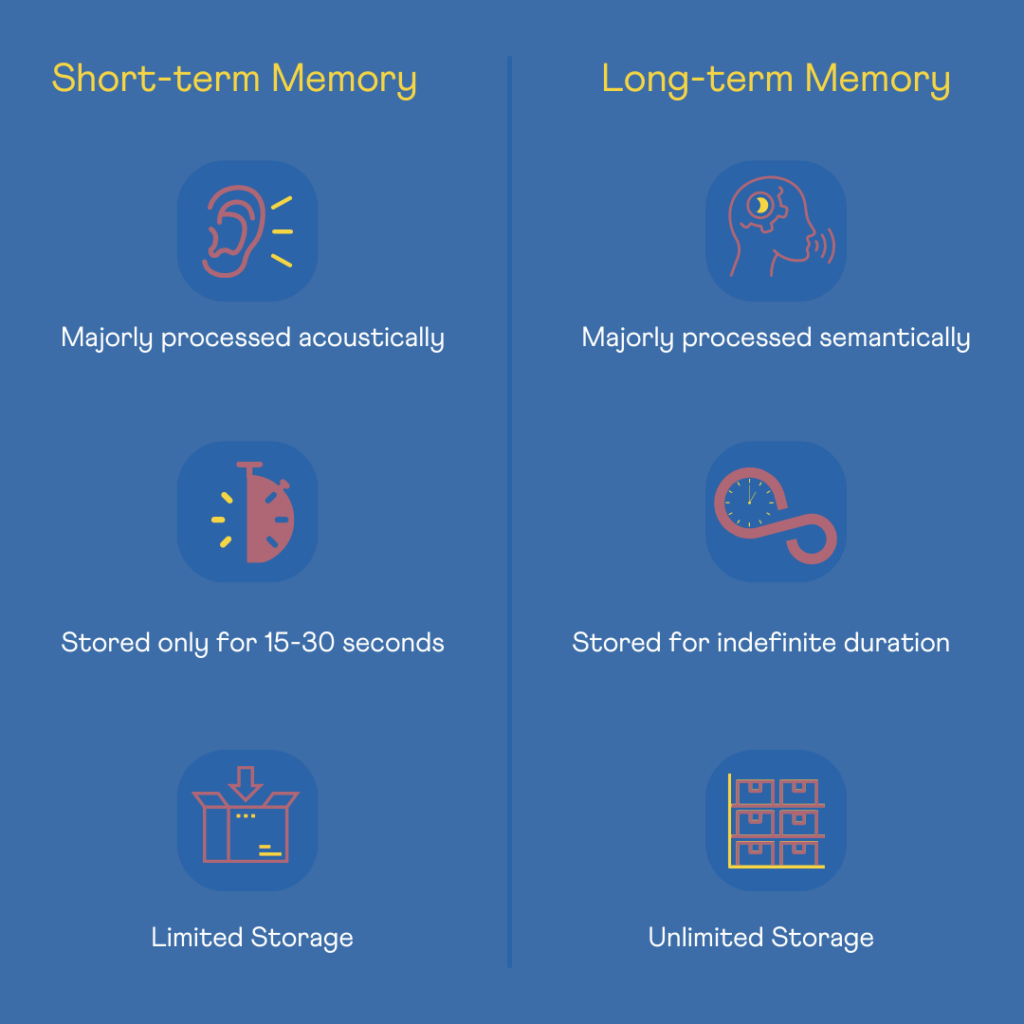 Image: The differences between short-term and long-term memories (Adapted from an article on harvard.edu)
Why do some memories get lost?
As we age, the synapses become weak, making it difficult to retrieve information.
According to studies, the hippocampus loses 5% of its neurons every decade after age 40, resulting in a 20% loss by 80 years.
There may also be a loss of neurotransmitters.
Other mental and physical health conditions associated with aging can also be the reason memories get lost.
Chronic stress is another major contributor to memory issues.
The body releases a surge of hormones to enable us to wave through stressful situations.
However, with chronic stress, the body is continually exposed to this flood of hormones.
This may result in the loss of brain cells and block the formation of new ones, making it difficult to retain information.
Depression is another condition associated with memory problems.
The low levels of serotonin seen in individuals with depression can make it difficult for a person to pay attention to new information.
People with depression may be 40% more likely to develop memory and cognition-associated problems.
Is Photographic Memory Real?
The common impression of photographic memory is that some people can take a mental snapshot of whatever is in front of them and retrieve it from memory, zooming in and out of various parts.
However, the true existence of photographic memory has not been proven till now.
What people mostly refer to as photographic memory is, in fact, eidetic memory.
Eidetic memory is "the ability to recall an image from memory with high precision for a brief period after seeing it only once, and without using a mnemonic device."
This memory lasts less than one second is most people and a few seconds for others.
But, some people indeed have an extraordinary memory.
For instance, Stephen Wiltshire, a British architectural artist, flew over New York for 20 minutes and drew the entire skyline only from the memory of that sight.
Another example would be that of Jill Price, a woman now in her mid-50s, who can remember in great detail almost every aspect of her life from about 14 years of age.
She was the first to be diagnosed with hyperthymesia, also called highly superior autobiographical memory (HSAM), which allows people to remember almost all life events with great precision.
While such sporadic cases of people with extraordinary memory have been recorded, there's been no case of photographic memory till now.
Genetics and Photographic Memory
Both nature and nurture contribute to incredible recall skills.
On the natural side of things, some people seemed to be predisposed to having an incredible memory.
In a neuroscience study, it was found that people with HSAM have enlarged temporal and parietal lobes, both of which are associated with memory storage and retrieval.
With regards to genetics, studies have shown that dopamine receptor genes play an important role in episodic memory
*Dopamine is a neurotransmitter linked with learning and memory
*Episodic memory is the ability to recall and mentally re-experience specific episodes from one's past.
People with certain changes in these genes may have a stronger recall power than others.
A 2015 study identified over 750 genes that can influence long-term memory
The newly found genes activate a molecule known as CREB (cAMP-response element-binding protein).
CREB is required for long-term memory in many organisms, including worms and mice.
There is a direct relationship between CREB and long-term memory; many organisms lose CREB as they age.
This way, many genes work together and influence how our memories and stored and recalled.
The "genetically advantaged" people receive a set of genes optimized for a great memory and recall powers.
However, this doesn't imply that having a particular gene will give you great memories.
Memories also depend on other lifestyle and environmental factors like diet and educational attainment.
Summary
Photographic memory is a rare cognitive ability where people can remember and recall images and objects in detail. 
Memories from when our daily experiences are turned into energy pulses that reach the brain and travel to different regions through the neural network.
Memories get lost due to age, stress, and conditions like depression.
While there have been many reports of people with great memory and recall powers, there's no solid scientific evidence behind photographic memory.
Many genes associated with neurotransmitter levels and CREB molecules that influence memory and learning influence how well we can remember and recall information.
References
https://www.ncbi.nlm.nih.gov/pmc/articles/PMC2596698/
https://www.eurekalert.org/news-releases/644739