What is Nicotinamide Mononucleotide (NMN)?
Nicotinamide mononucleotide (NMN) is a popularly researched substance naturally occurring in the body.
It is a precursor to NAD (Nicotinamide adenine dinucleotide), an essential molecule found in every cell in the body, which is known to slow down aging.
NMN is a nucleotide. Nucleotides are molecules that play many roles in the body, such as being part of the DNA.
Many enzymes and proteins require NAD to perform their functions, including repairing and maintaining DNA.
NAD provides energy in the body, helps growth and repair, and may be critical in slowing down the aging process.
45+ Diet Insights For $40
NMN Benefits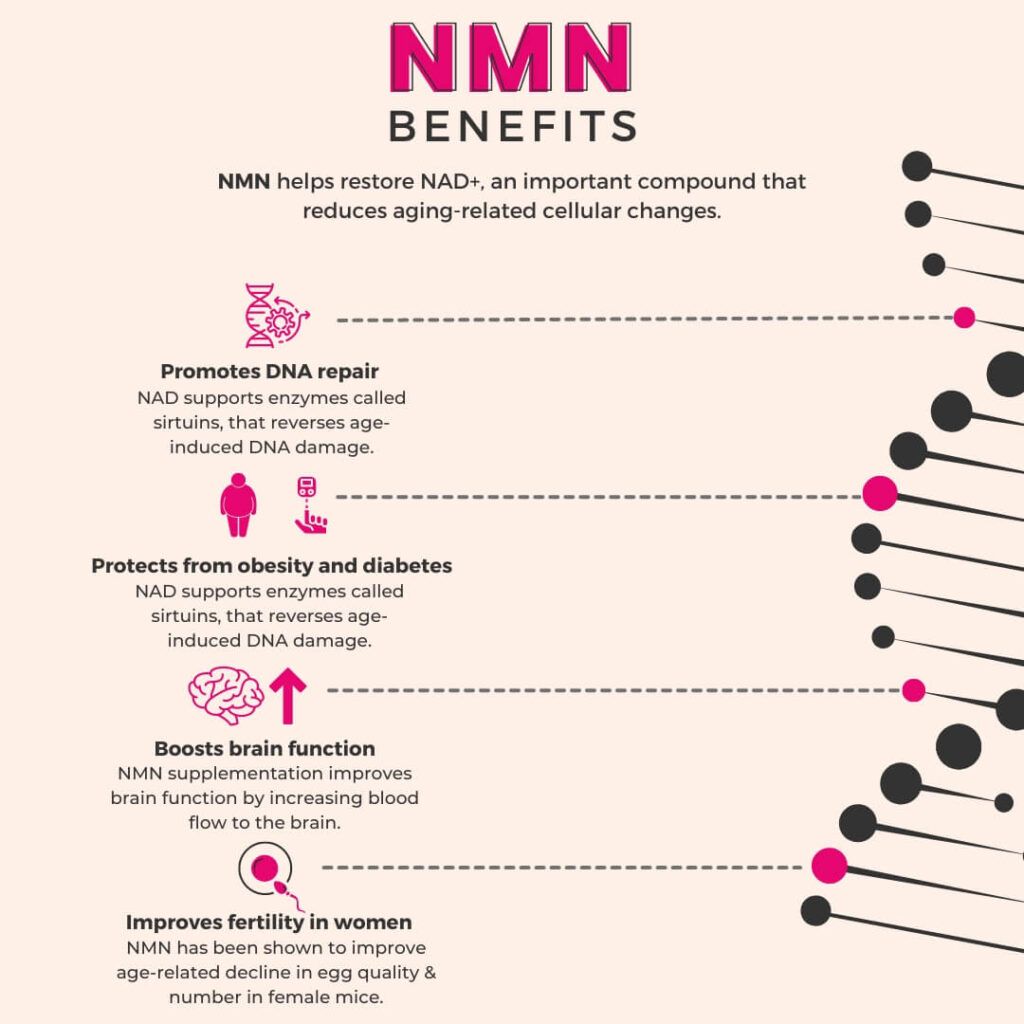 Research states that reduced energy levels are one of the many reasons for the aging process.
Increasing NMN intake increases the production of NAD, providing body cells with increased energy.
Taking NMN supplements to raise NAD levels has several benefits:
The brain requires an adequate supply of oxygen and nutrients to function. Research states that NMN supplementation improves brain function by increasing blood flow to the brain.
Muscles lose their ability to regenerate and grow as a result of aging.
NMN may be able to reverse these conditions and improve muscle strength and endurance.
NMN has been shown to protect against heart failure in mice by reducing scarring, an important cause of heart dysfunction.
The benefit of NMN in cancer therapy is 2-fold:
NMN immunotherapy in rodents has been shown to increase the efficacy of different therapies used in cancer treatment
Reduces the side effects of chemotherapy, such as heart damage and cognitive impairment (as found in mice)
Protects from obesity and diabetes
Mitochondria are cell organelles that convert the food we eat into energy. This makes mitochondria important for metabolism and the development of metabolic diseases.
Increased NMN has been shown to increase the number of mitochondria in the liver of obese mice, which could protect them from obesity.
NMN is also said to improve the metabolism and health of mice born to obese mothers.
A 2020 study in mice reported that NMN could reverse diet and age-induced diabetes and prevent kidney disease and nerve degeneration associated with diabetes.
Loss of NAD results in rapid degeneration of the nerves that supply the eye. This may increase the risk of vision loss.
When NMN is replenished in the body, it prevents degeneration of the eye nerves.
A study showed that NMN could protect cells in the eye and reduce inflammation in people with dry eye disease.
Improves fertility in women
Increased age may cause fertility issues in women. NMN has been shown to improve age-related decline in egg quality and number in female mice.
DNA codes accumulate damage as we grow old. Repairing DNA damage can prevent age-related diseases.
NAD supports enzymes called sirtuins, the guardians of our healthspan. Sirtuins play an important role in DNA repair.
Sirtuins also stabilize telomere length, another sign of aging.
Studies have shown that feeding mice NMN activates sirtuins.
NMN also repairs DNA damage that occurs due to radiation and old age.
NAD vs. NMN: What's The Difference?
NMN is the precursor of NAD. The amount of NAD depends upon the NMN available in the body.
NAD is a coenzyme that has two primary roles:
Regulates cell function
Turns food into energy
NAD also supports all the critical functions in the cells and affects sleep and wake cycles, neurological health, and the health of vital organs.
The levels of NAD reduce with age. Stress on the mind or body also reduces NAD levels.
Low NAD levels increase your risk for health conditions like type 2 diabetes, Alzheimer's, and heart disease.
Both NMN and NAD are required to produce energy in the body.
A few differences between NAD and NMN include:
NMN is more easily absorbed into the blood
NAD may have a stronger effect on mental health
MNM has a stronger effect on physical health
NAD Benefits
NAD has several health benefits, as it may:
NMN Benefits: Anti-aging
NAD levels decrease with age and trigger the aging process. It is involved in repairing, rebuilding, and protecting DNA from damage.
NAD is called the 'fountain of youth' as it has the potential to reverse the effects of aging at a cellular level.
The best way to increase NAD levels is to increase the intake of NMN.
How To Naturally Increase NMN?
NMN supplements are popular ways to increase its level in the blood.
It can be naturally found in a few dietary sources, such as
Avocados
Cabbage
Tomatoes
Raw beef
Broccoli
Small amounts of NMN are also found in cucumbers, cow milk, and edamame.
NMN is readily-absorbed in the gut. However, more clarity is needed to understand how increased NMN intake increases NAD levels in the blood.
Are NMN Supplements Safe?
Nicotinamide mononucleotide is safe. There are no side effects reported in humans so far.
What Are The Side Effects of NMN?
A long-term study of NMN effects conducted on rodents shows no side effects or toxicity in them.
A study of NMN in humans shows no safety concerns after single oral doses of 100, 200, and 500 mg were given.
No changes in heart rate, blood pressure, blood oxygen levels, body temperature, blood changes, or sleep issues were observed.
Summary: NMN Benefits
Nicotinamide mononucleotide (NMN) is a naturally-occurring substance found in every cell in the body.
NMN is the precursor for NAD, a molecule required by enzymes and proteins responsible for the repair and maintenance of DNA.
NMN offers several benefits, such as improving brain and muscle function, promoting heart health, and protecting from obesity and diabetes.
NAD and NMN are being used in anti-aging therapy.
Low levels of NAD increase the likelihood of developing conditions like diabetes, Alzheimer's, and heart disease.
References