Seeking a solution for hair loss? Look no further! This article explores oral minoxidil – a revolutionary remedy that has captured the attention of those battling hair loss.
Discover how this medication can potentially restore hair growth and prevent hair loss. The article dives into the science of oral minoxidil, debunking the common misconceptions and providing you with the knowledge you need to make informed choices. 
Read on to know more.
Did You Know?
Genes can influence drug responses. Carrying certain gene changes can affect drug efficacy and put you at increased risk for side effects. Learn more:
What is Minoxidil?
Minoxidil is a powerful medication designed to combat the challenges of a specific form of hair loss known as pattern hair loss.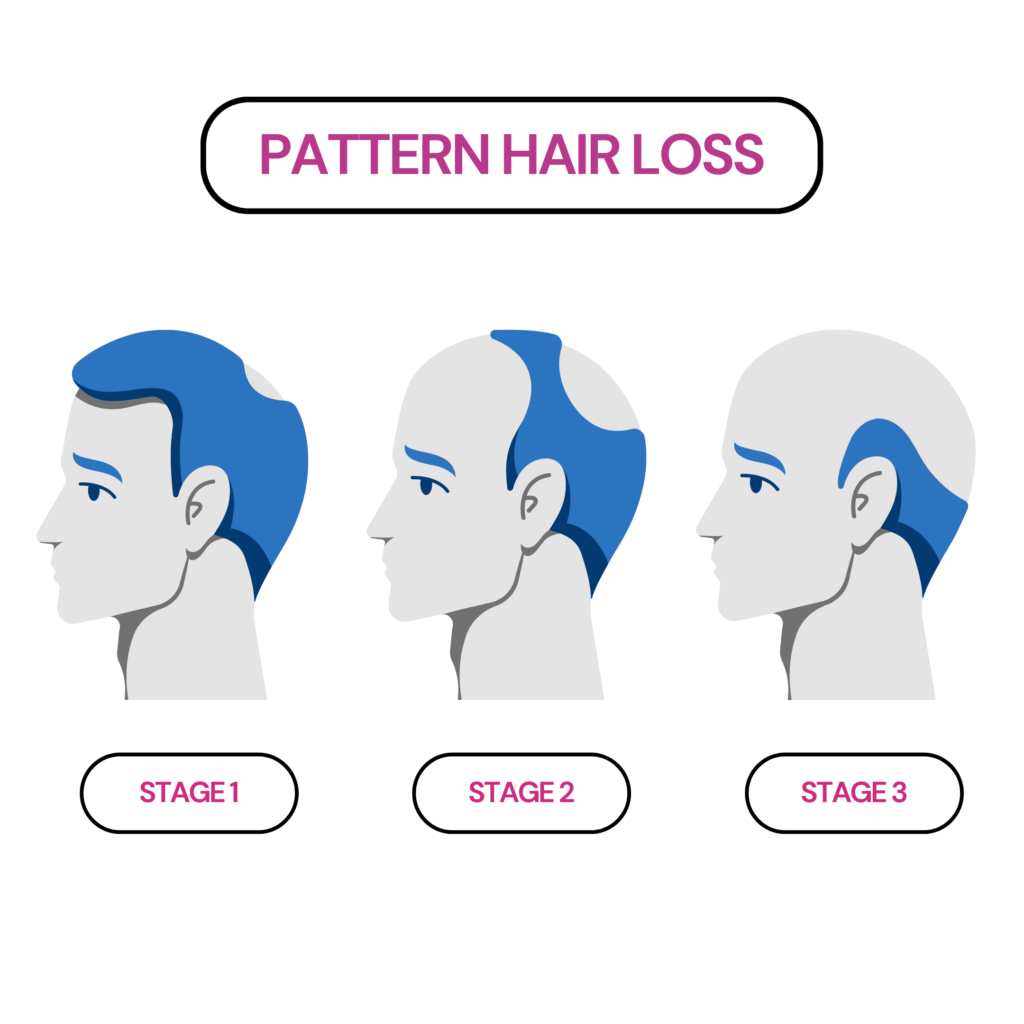 But apart from their hair loss treatment, minoxidil was originally developed to treat high blood pressure.
You can acquire minoxidil in two ways: by obtaining a prescription for the generic oral tablet or by purchasing the over-the-counter topical solution or foam (MF).
Minoxidil solution (MS) comprises water, ethanol, and propylene glycol (PG), with PG playing a crucial role in delivering the drug to the hair follicles.
Nevertheless, the presence of PG in MS may result in irritation. This prompted the researchers to develop PG-free MF as an alternative.
So, which is better? MF is advantageous compared to MS as it delivers the active ingredient with a specific region and dries faster than solutions.*
Certain versions have minoxidil in the inactive form. It is converted into the active form only upon entry into the body.
This is facilitated by an enzyme called sulfotransferase.
It converts inactive minoxidil into its active form, called minoxidil sulfate. Accordingly, patients with higher enzyme activity had greater hair growth than those with lower ones.
*Not all people respond to minoxidil the same way. Therefore, please consult your healthcare practitioner for advice on which form is better suited for your needs.
Types Of Hair Loss That Minoxidil Might Help
Androgenetic alopecia (AGA) refers to the receding or thinning of the frontal hairline in both males and females. Extensive research has consistently shown that minoxidil is remarkably effective in stimulating excellent hair growth for AGA, regardless of the concentration used.
Alopecia areata (AA) - [Alopecia = Bald; Areata = Patchy] AA is an autoimmune condition characterized by sudden patchy hair loss. Minoxidil usage in severe cases has not produced satisfactory outcomes compared to milder cases. However, individuals undergoing oral minoxidil treatment have demonstrated superior hair growth results than those using 5% MS.
Telogen effluvium refers to excessive, yet temporary (in most cases), hair loss caused by stress, pregnancies, surgeries, and certain health conditions. Oral minoxidil is a promising treatment option for this condition which helps reduce hair shedding. It is important to note that it may also cause side effects like facial hypertrichosis (excess hair growth), dizziness, and altered blood pressure.
In scarring alopecia, a condition characterized by the destruction of hair follicles, a combination treatment approach involving potent steroids and topical minoxidil has shown promising results.
Minoxidil might be a promising treatment for permanent chemotherapy-induced alopecia (PCIA), as patients showed significant hair regrowth measures.
Monilethrix, an uncommon hair shaft disorder, gives rise to a fragile, beaded appearance. Surprisingly, even low doses of oral minoxidil, as low as 0.25 mg once daily, have positively enhanced hair texture, color, and length for individuals affected by this condition.
Besides the scalp, minoxidil can also improve hair growth in eyebrows and beard.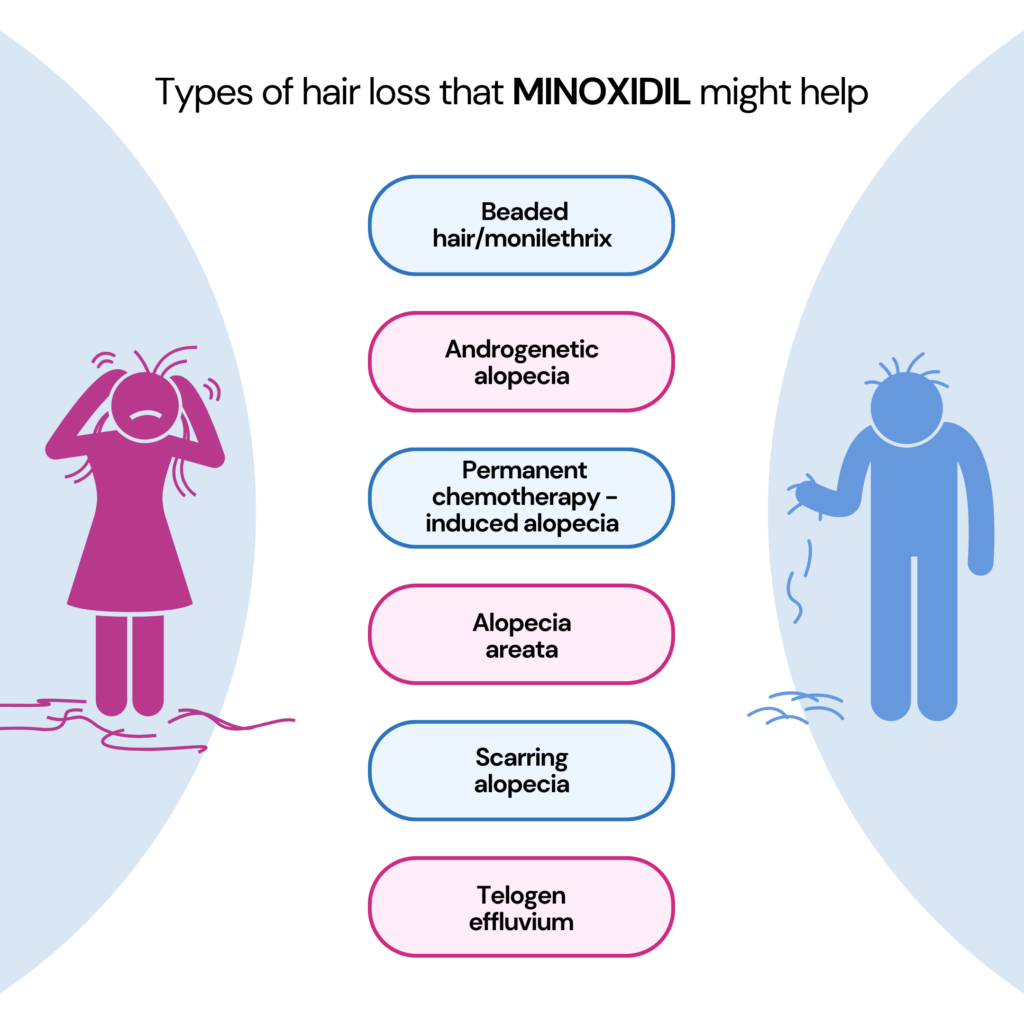 How Does Minoxidil For Hair Loss Work?
The exact mechanism behind minoxidil's effect on hair growth is unknown.
But research has indicated a potential way minoxidil fights hair loss and restores hair growth.
The hair growth cycle encompasses three distinct stages: a phase of active growth called anagen, a transition phase known as catagen that typically lasts around 10 days, and, finally, a resting phase called telogen.
Minoxidil increases the anagen phase, the growth phase of hair follicles, and the hair follicle size while reducing the resting phase.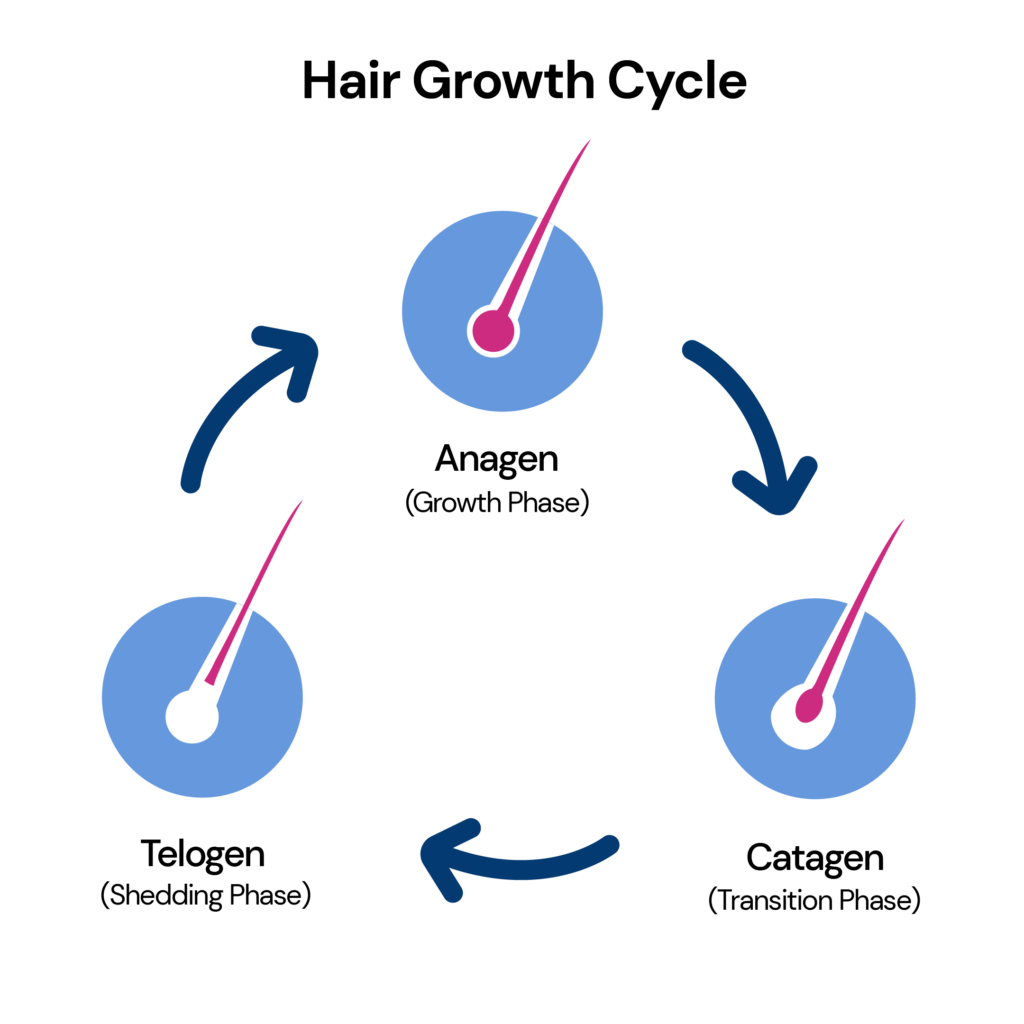 Tip To Note:
Drugs like salicylates such as acetaminophen, ibuprofen, and aspirin could lower sulfotransferase enzyme activity.
Side Effects Of Oral Minoxidil For Hair Loss
Topical minoxidil is generally safe, but some patients may experience side effects. 
Itching and scaling
Unwanted hair growth
Flushed skin (reddening of the skin)
Headache
Hair texture changes
Heartbeat changes (rarely observed)
Allergic contact dermatitis (due to PG)
Performing a patch test can help identify the causative agents of the allergic reaction.
Does Oral Minoxidil Cause Hair Loss?
Minoxidil exerts its effects on the hair follicles, promoting hair growth and reducing hair loss. However, if you discontinue treatment, the progression of hair growth also ceases.
An initial side effect of oral minoxidil is temporary hair shedding, which typically occurs within the initial six weeks of treatment and lasts around four weeks.
It is important to persist with the medication in order to witness the potential benefits of minoxidil.
Common Misconceptions Surrounding Oral Minoxidil For Hair Loss
Myth: Women cannot use minoxidil
The FDA has approved topical minoxidil as an effective female pattern hair loss.
Disclaimer: Using topical minoxidil during pregnancy and breastfeeding may carry potential risks due to its association with fetal malformations. Further, usage during breastfeeding also needs to be approved by a qualified healthcare professional.
Myth: Minoxidil can lead to reduced libido 
A prevalent misconception suggests that minoxidil may diminish male libido, but this claim lacks validity.
Myth: Minoxidil has no impact on the color or structure of your hair
Studies report improvements in hair color, length, and coarseness with the consumption of 0.5 mg of oral minoxidil on a daily basis.
Myth: You can stop using minoxidil once you achieve a certain level of hair growth
Once a person discontinues minoxidil usage, their hair growth ceases, and there is a chance of encountering hair loss comparable to the initial baldness that existed prior to using minoxidil.
Other Treatments
Other than minoxidil, several treatment options for pattern hair loss are available. Some of them include:
Surgical methods like follicular unit transplantation (FUT - the transplant of a strip of skin from the donor area) and follicular unit excision (a strip of hair follicle from the donor area is transplanted, which is more specific than FUT)
Non-surgical methods like micro needling (a promising tool for hair stimulation) and photobiomodulation (known as low-level laser or light therapy)
Cell-based injections like platelet-rich plasma therapy (injecting plasma from your blood into your scalp) and injecting growth factors
Summary: Oral Minoxidil For Hair Loss
Minoxidil, available in oral and topical forms, is an effective treatment option for addressing pattern hair loss.
Minoxidil extends the growth phase of hair follicles in various types of hair loss. Nonetheless, once you halt minoxidil usage, hair growth also comes to a halt. 
Although minoxidil is generally safe, it can lead to side effects such as irritant contact dermatitis and allergic reactions. To ensure safety, it is advisable to undergo patch testing to identify any potential allergens that may be present. 
Minoxidil is available in several forms, like oral medications, creams, serums, scalp sprays, etc. Consult a qualified healthcare practitioner for the form best suited to your needs.
Other treatment options for pattern hair loss include surgical methods, non-surgical methods, and cell-based injections
References