Are some people prone to stretch marks while others avoid them altogether? The answer lies in your genes!
How Do Stretch Marks Form?
Stretch marks, also called striae distensae, are a type of line-like scar that develops on the skin. When the skin expands or shrinks, it puts extra pressure on two proteins that support the skin, namely collagen and elastin. This ultimately results in their breakage, leading to scars.
Genes Behind Stretch Mark Formation
Due to certain genes, some people are more prone to developing stretch marks than others. Some of these genes may be involved in repairing damage to the skin when it expands (like in the case of weight gain).
In people with certain changes in these genes, the repair may not occur well; hence, collagen/elastin damage can cause stretch marks.
For example, the ELN gene produces elastin, a protein responsible for skin elasticity. Elastin helps the tissues in the skin to resume their original shape after stretching or contraction. Certain changes in the ELN gene are associated with a lowered elastin expression, which is shown to increase the risk of stretch marks.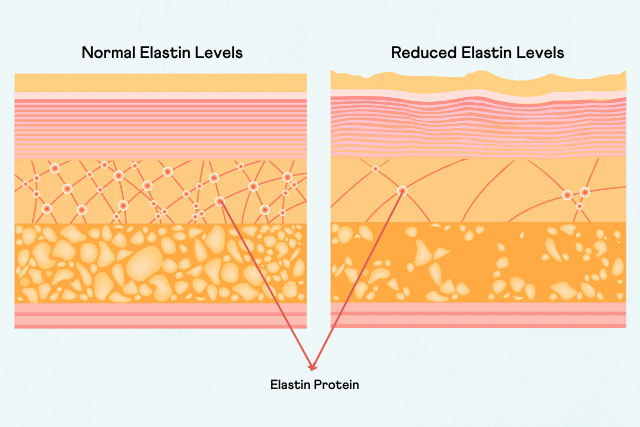 Did You Know?
People who have been under stress for a long time may develop stretch marks even without weight gain or pregnancy. This is due to the simple fact that chronic stress leads to increased levels of cortisol (also called the stress hormone). When the level of cortisol rises, less collagen and elastin are produced. This lowers skin elasticity. This is why stretch marks are a hallmark sign of Cushing syndrome, a condition characterized by elevated cortisol levels.
Explore Your DNA Raw Data
Curious about your stretch mark genes? Here's how you can learn about it in 3 simple steps:
Download your raw data file from 23andMe, Ancestry DNA or any other ancestry company. If you don't have one, you can get a 23andMe kit from here.
Buy the Gene Skin Report (or Xcode Life Premium Pack for a 70% discount)
Upload your raw data and get your results in 24 hours.