Despite washing your face twice a day, using plenty of sunscreen, and following a perfect skincare routine, do you find yourself popping a pimple every now and then? What should you be doing differently? Turns out, there are good chances you aren't doing anything wrong. Studies have shown that acne is far more genetic than environmental.
Xcode Life's Acne DNA Report
Researchers have identified a number of genes associated with acne.
In the sample report below, we've attempted to analyze some important genes that increase the risk for acne.
You can identify your genetic risk of EDS by using your 23andMe DNA data and placing an order for the Gene Skin Report.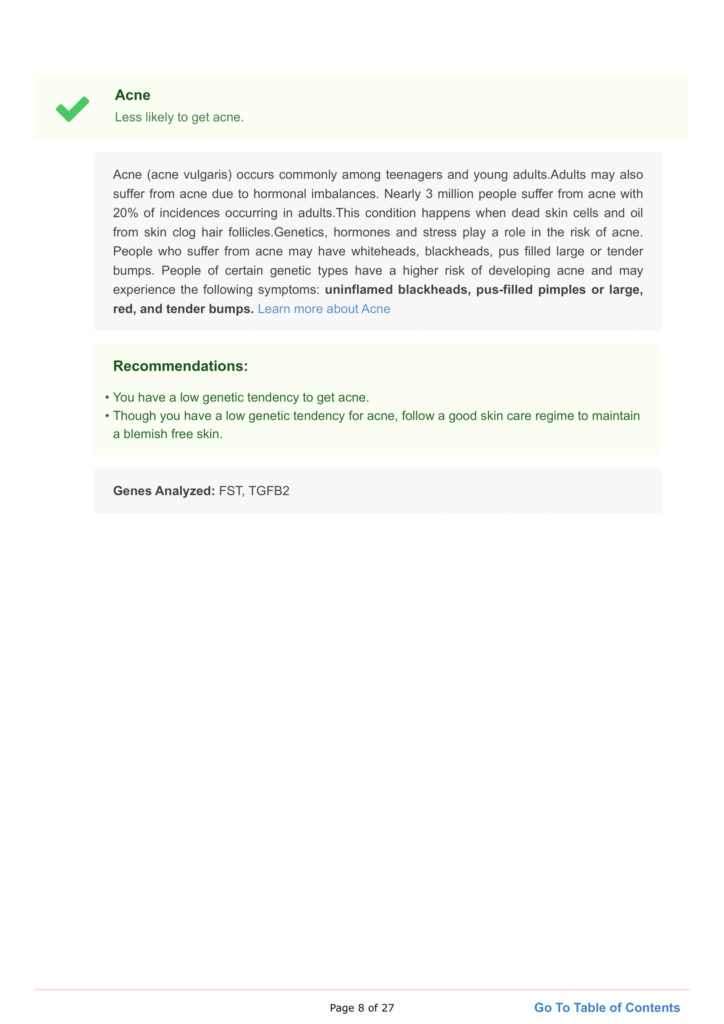 What Is Acne?
Acne is a common and chronic skin condition affecting millions worldwide.
It is most commonly seen in adolescents but can affect people of all ages.
The most common skin condition in the U.S. is acne, which affects almost 50 million Americans yearly, as reported by the American Academy of Dermatology.
Acne is caused by a combination of factors, including hormones, bacteria, and sebum production.
There are many types of acne, ranging from blackheads and whiteheads to cysts and nodules.
Acne is not a life-threatening condition.
However, it can be extremely painful, depending on how severe the condition is.
Pimples can leave scars on the skin over time.
Acne on your face can cause emotional distress if persistent for a long time.
Acne treatment often includes a combination of medication and lifestyle changes.
Is Acne Genetic?
To date, there's no one "acne gene" that results in acne.
However, a combination of genes affecting various factors contributing to acne development can increase your risk for this condition.
If either (or both) of your parents are acne-prone, you may be as well.
According to a study, a mother's acne history is one of the most important prognostic factors for acne development.
This suggests that the risk for acne may be passed down through generations via the X chromosome.
Genes that influence acne risk play various roles in the body.
For example, genes that regulate the immune system can impact how our body responds to the bacteria P.acnes, one of the major causes of acne.
Genetics can also play a role in how your skin grows and heals by regulating the production of keratinocytes, a type of skin cell.
The FST Gene and Acne Risk
The FST gene contains instructions for the production of a protein called follistatin.
This protein inhibits the release of follicle-stimulating hormones.
Follistatin also inhibits a protein called TGFB2, which is involved in controlling acne.
If more follistatin is produced, TGFB2 activity will be inhibited, and this, in turn, increases the development of acne and acne-causing bacteria.
rs38055
rs38055 is a variation or a single nucleotide polymorphism (SNP) found in the FST gene.
The A allele of this SNP can increase your risk of developing acne.
The TGFB2 Gene and Acne Risk
The TGFB2 gene contains instructions for the production of a protein called transforming growth factor beta-2.
This protein is important in all stages of life, from early development throughout life.
It is involved in various cellular mechanisms for the proper growth and development of cells.
TGFB2 also regulates the growth and healing of skin by slowing down the production of keratinocytes, a type of skin cells.
rs1159268
rs1159268 is an SNP found in the TGFB2 gene.
The A allele causes a decrease in the production of TGFB2 protein, which increases the risk of acne.
Learn Your Genetic Risk For Acne and Other Skin Conditions With The Gene Skin Report
Other Risk Factors For Acne
Hormonal Changes
These changes are common during puberty and pregnancy and lead to breakouts.
Androgen, a hormone produced by the adrenal glands in boys and girls, triggers the sebaceous (oil) glands to secrete more oil-containing fluid called sebum.
This usually happens at puberty.
Age
Acne is most common in teenagers but occurs in people of all ages.
Diet
Certain foods like chips, carbohydrate-rich foods, and refined sugars are found to worsen acne.
Studies are being done to find the impact of particular diets on acne.
Stress
Stress doesn't directly cause acne.
However, if you already have acne, stress can make it worse.
Studies reveal that wound healing, including healing from acne, is much slower when a person is under stress.
Skin Damage
Friction or pressure on the skin can also cause acne.
Tight collars, helmets, and backpacks can exert more pressure on your skin.
Medication
Drugs that contain testosterone, lithium, or corticosteroids can cause acne.
Is Genetic Acne Treatable?
While there isn't anything you can do about your genes, acne is a manageable condition with lifestyle interventions.
Even if acne runs in your family, it doesn't necessarily mean you'll have it all your life.
However, it can be a bit difficult to control.
Here are some science-backed effective tips to keep the breakouts at bay.
Simple and Effective Skin Care Routine
With the skincare market taking the world by storm, choosing the right product can feel like a mammoth task.
Go for "non-comedogenic" products that do not have any pore-clogging ingredients.
You can also consult a dermatologist for a suitable cleanser for your skin.
Good Skin Hygiene
Some good skin habits that can reduce acne include:
Keeping your hands away from your face as much as possible
Changing bedsheets and pillow covers periodically
Removing all your makeup before retiring for the day
Reducing the contact time between your hair and face
Clean Diet
Processed foods and refined sugar can cause and worsen acne.
Swapping them with fresh fruits, vegetables, and other healthy foods can improve skin health.
Stress Management
Managing stress levels is good for your skin, as well as your overall health.
Stress stimulates cortisol production, causing the oil glands to produce more oil.
This can lead to clogged pores and the development of acne.
Meditation, exercise, yoga, and therapy are effective ways to manage stress.
Professional Help
If none of the home remedies and skincare routine work, a dermatologist can help identify the root cause of your acne and suggest a suitable treatment option.
Summary: Is Acne Genetic?
Acne is a common skin condition highly prevalent among teenagers but can be seen across all age groups.
Parents with acne can increase your risk for acne. This is especially true when the mother has acne.
Various genes influencing factors like how your body responds to acne-causing bacteria, skin cell growth, and skin healing influence acne risk.
A minimal skincare routine and good skin hygiene can help manage acne.
If your acne is severe, consulting a dermatologist can help treat it effectively.
References
https://www.healthline.com/health/skin/acne
https://www.aad.org/public/diseases/acne/skin-care/tips
https://www.medicalnewstoday.com/articles/107146
https://www.ncbi.nlm.nih.gov/pmc/articles/PMC3080563/
https://www.nature.com/articles/ncomms5020
https://pubmed.ncbi.nlm.nih.gov/16484821/
https://pubmed.ncbi.nlm.nih.gov/16484821/