It is widely known that breastfeeding has many benefits for both mother and child. However, one potential benefit that is not as well known is that breastfeeding may also reduce a woman's risk of developing breast cancer later in life. In fact, according to a 2018 study, "breastfeeding for 12 months or longer can lower a woman's risk of breast cancer by up to 28% compared to women who never breastfed.
Breast Cancer Genetic Test: What You Need To Know
Recommended Breastfeeding Duration
According to the American Academy of Pediatrics (AAP), exclusive breastfeeding of infants for about the first six months and continued breastfeeding for a year or longer after introducing solid foods is recommended.
The World Health Organization(WHO) also recommends exclusive breastfeeding for the first six months of an infant's life.
Exclusive breastfeeding refers to giving infants only breast milk and no other solid or liquid foods.
According to the Centre for Disease Control and Prevention(CDC), only one in four infants are exclusively breastfed for the first six months.
What Are The Benefits Of Breastfeeding?
Breastfeeding is beneficial for both the infant and the mother. Benefits of breastfeeding include:
Provides nutrition for infants
Contains antibodies needed for the infant's immunity
Linked to higher IQ scores of the infant
Lowers risk of breast and ovarian cancer in the mother
Lowers mother's risk of type 2 diabetes and high blood pressure
Helps the bonding process between the infant and the mother
Reduces disease risk and helps maintain a healthy weight for the infants and mother
Reduces the risk of postpartum depression in mothers
Does Breastfeeding Reduce the Risk of Breast Cancer?
Research shows that breastfeeding mothers have a lower risk of developing pre and postmenopausal breast cancer.
This benefit increases with an increase in the duration of breastfeeding for more than 6 months.
Researchers have put forth several possible explanations to address the link between breastfeeding duration and breast cancer risk.
All these explanations revolve around exposure to one of the female sex hormones, estrogen.
Estrogen stimulates breast cell growth.
Prolonged exposure to estrogen can increase the risk of breast cancer.
Women have lower levels of estrogen during breastfeeding periods.
This is because breastfeeding delays menstrual periods.
The lifetime exposure to estrogen decreases with longer breastfeeding durations, decreasing the risk of breast cancer.
Another reason is that the breast sheds a lot of tissue after lactation.
During this process, it may also eliminate cells with damaged DNA that may lead to cancerous growth.
Lactation may also lead to changes in gene expression in breast cells.
This can decrease the risk of cancer development.
A meta-analysis study showed that breastfeeding contributed to a 20% reduced risk for triple-negative breast cancer and a 10% reduced risk for estrogen receptor-negative breast cancer.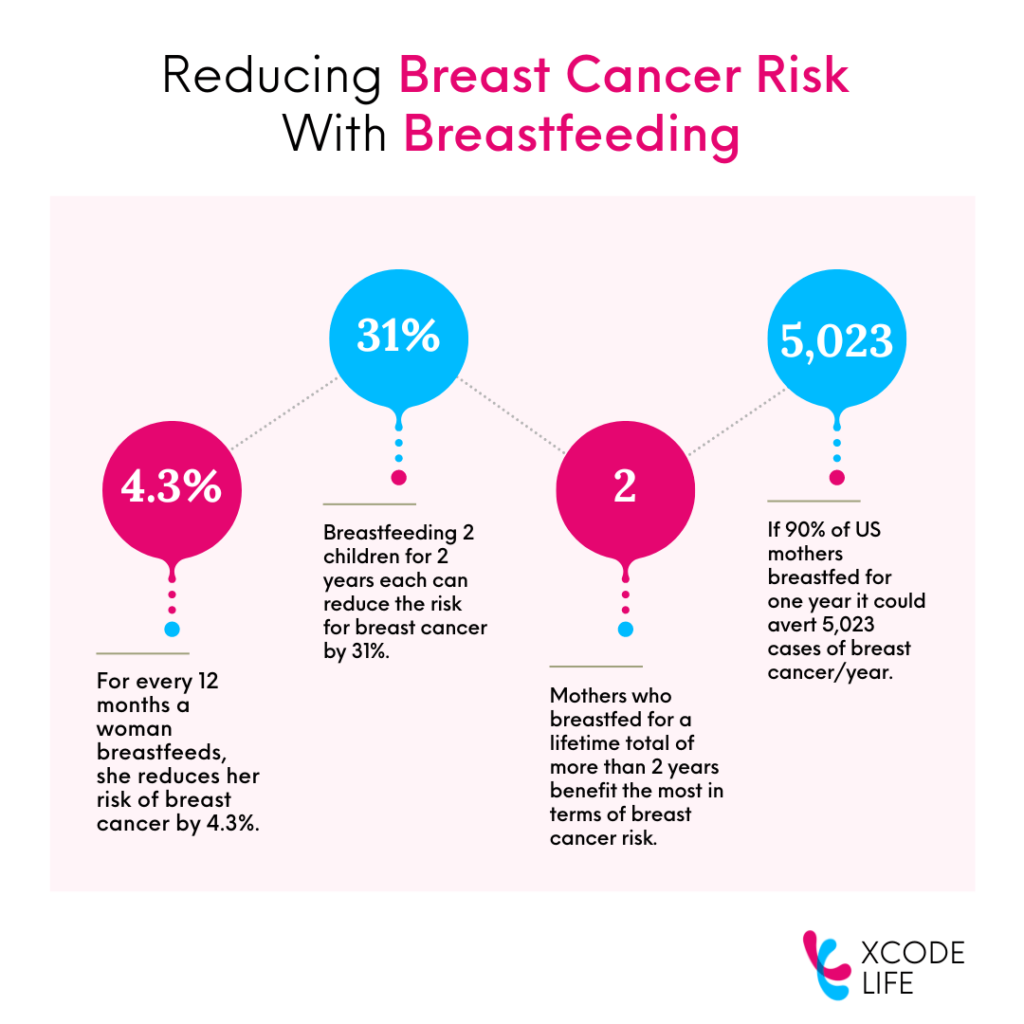 How Does Genetics Impact Breastfeeding Duration?
Studies have estimated that the heritability of breastfeeding duration ranges from 44 to 54%. People with certain genetic types may tend to breastfeed their children for a longer duration than others.
The XRCC2 Gene and Breast Cancer Risk
The XRCC2 gene contains instructions for producing a DNA repair protein.
This protein also helps maintain chromosomal stability.
Changes in this gene are associated with an increased risk of breast cancer and Fanconi anemia.
Fanconi anemia is a rare but serious blood disorder that prevents your bone marrow from making enough new blood cells for your body.
It is passed down through families.
rs3218536
rs3218536 is a single nucleotide polymorphism or SNP in the DNA-repair gene XRCC2.
A 2010 study examined the role of DNA repair deficiencies in cancer development, especially in breast cancer.
The study population was divided into women who breastfed and women who had never breastfed.
It was observed that among women who had never breastfed, those who carried the AG genotype of rs3218536 had a lower risk of breast cancer than those with the other genotypes.
After classifying this group according to their menopausal status, it was observed that postmenopausal women with the A allele had a lower risk of breast cancer than those with the G allele.
The MDM2 Gene and Breast Cancer Risk
The MDM2 gene contains instructions for producing Mouse double minute 2 homolog (MDM2) protein. It is also known as E3 ubiquitin-protein ligase Mdm2 protein.
This protein acts as a negative regulator (suppresses the activity) of the p53 tumor suppressor protein.
A study has reported that the activity of the MDM2 gene seems to be amplified in breast cancer cells.
rs2279744
rs2279744, also known as 410T-G, has been studied for several years to determine its role in cancer.
This SNP influences the ability of the MDM2 protein to bind to the p53 tumor suppressor protein.
The G allele of this SNP is associated with an increased risk for breast cancer, especially in women who have breastfed for less than 6 months and women who are obese.
Other Factors Influencing Breastfeeding Duration
Some factors that influence breastfeeding duration include:
Postpartum emotions: Baby blues and postpartum depression may make it hard for the mother to gather the energy to breastfeed. Postpartum depression can severely impact the mother and her choice to take care of the baby or breastfeed.
Socioeconomic status and maternal employment: Women of lower socioeconomic status tend to skip or stop breastfeeding very early. If the mother has to return to work early, she may stop breastfeeding or may find it difficult to have time to pump breast milk.
Mastitis: It is an inflammation of the breast tissue, which may be an infection and result in pain, swelling, redness, fever, or chills in certain cases. Mastitis commonly affects women who are breastfeeding.
Latching issues
Alcohol consumption or smoking
Summary: Does Breastfeeding Reduce the Risk of Breast Cancer?
Breastfeeding has benefits for both the mother and the child. It provides all essential nutrients for the infant and lowers the risk of many health conditions, including breast cancer in the mother.
Research shows that breastfeeding is linked to a reduction in the risk of breast and ovarian cancer. This is mainly due to the decreased exposure to estrogen during lactation.
Genetics influences both breastfeeding duration and breast cancer risk, with shorter (<6 months) breastfeeding duration associated with increased breast cancer risk.
Factors affecting breastfeeding include postpartum depression, cracked or sore nipples, mastitis, latching issues, socioeconomic status, maternal employment, alcohol consumption, and smoking.
Regular breast cancer screening with mammography or breast MRI can help with early diagnosis and support a good prognosis.
References