Knowing where you came from or what your ancestors did is always intriguing. Whether just a few generations ago or a few hundred, the science of ancestry and genetics opens up many unknowns. While genetic testing forms the basis of most DNA ancestry tests performed and accepted today, several other methods, like foot shape ancestry, have been popular worldwide. While trying to learn more about ancestry, one never thinks of their feet. Did you know your feet reveal a lot more about your ancestors? Let's get to the bottom of foot shape ancestry in this article!
Did You Know? Your ancestry test DNA data includes 700,000 markers, which can be used to learn your risk for various seasonal, environmental, food, and drug allergies. This report will help you understand your body better and safeguard yourself from allergens. Learn more.
What Is Foot Shape Ancestry?
Foot shape ancestry is as simple as what the shape of your feet (including parameters like arch shape) and toes say about you and your ancestors.
Human feet highly vary in appearance among individuals; even in the same person, the left and the right foot may not look alike.
Read on to learn about different foot types and everything foot shapes can reveal about you.
Types Of Foot Shapes
Based on shape, there are five accepted foot shapes used in foot shape ancestry–
Greek
Roman
Celtic
German
Egyptian
These shapes are distinguished by their outline and the length of the digits.
It is essential to understand that having feet that fall into one of the shapes mentioned above only indicates a genetic trait.
Also Read: How To Use Ancestry Storymaker Studio?
The 5 Different Types of Foot Shape Ancestry
Let's take a deeper look at what ancestry different foot shapes could indicate.
Greek
People with a long second digit on their feet are said to have Greek feet or 'flame feet.'
A study showed that this trait is common in the Greek population.
You can also observe this feature in several Greek statues.
Due to the second toe being longer in people with Greek feet, the weight is not equally distributed across the foot, often leading to aches.
However, this shape of the foot is advantageous for professional athletes.
Research into toe length genetics has shown that the Greek foot is related to an X-linked recessive trait.
This means this trait is present on the X chromosome.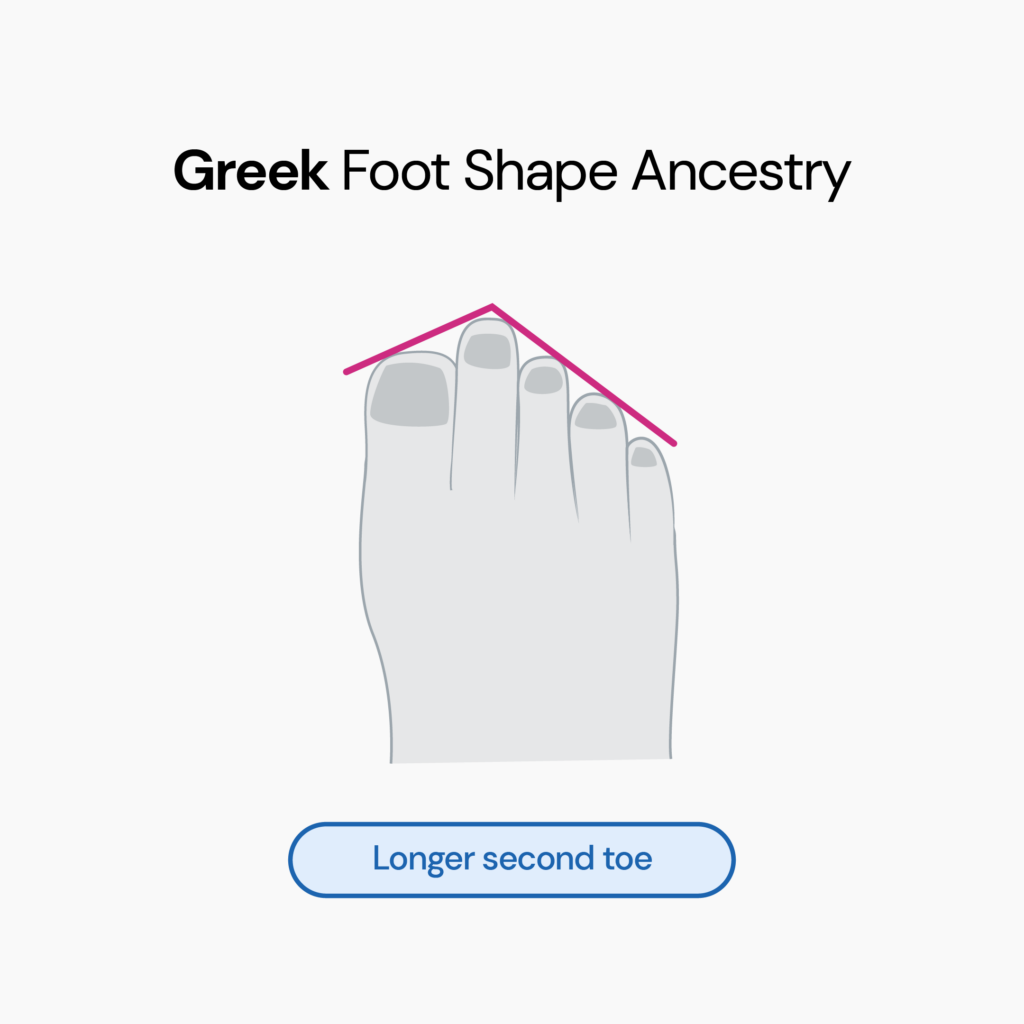 Roman
​​A Roman foot shape is characterized by having the first three toes of equal length while the others are shorter.
About 1/4th of the world's population is believed to have Roman feet.
People with this foot shape often find it difficult to wear certain footwear, especially narrow, pointed shoes and stilettos.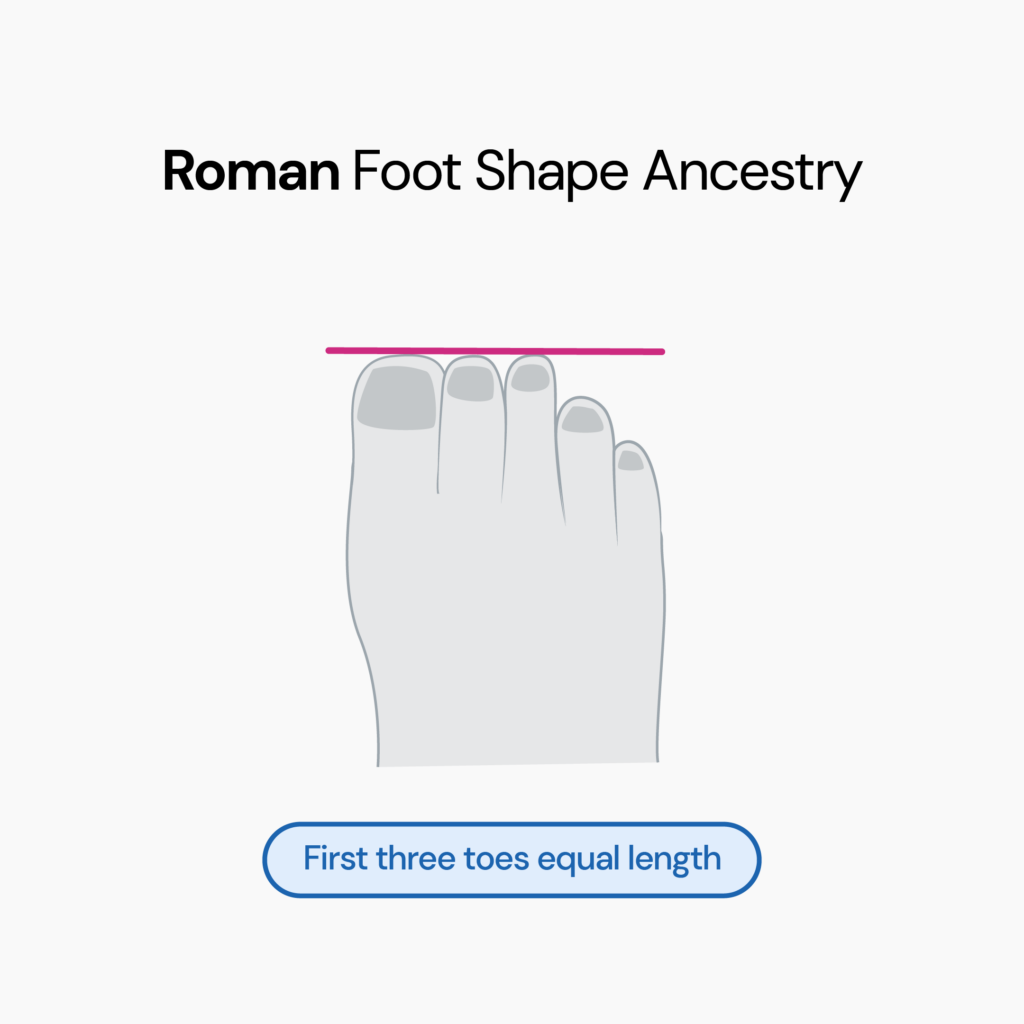 German
A Germanic foot shape is characterized by a large big toe and other four toes being the same size.
The toes in this foot shape also tend to be wider and stockier than other foot types.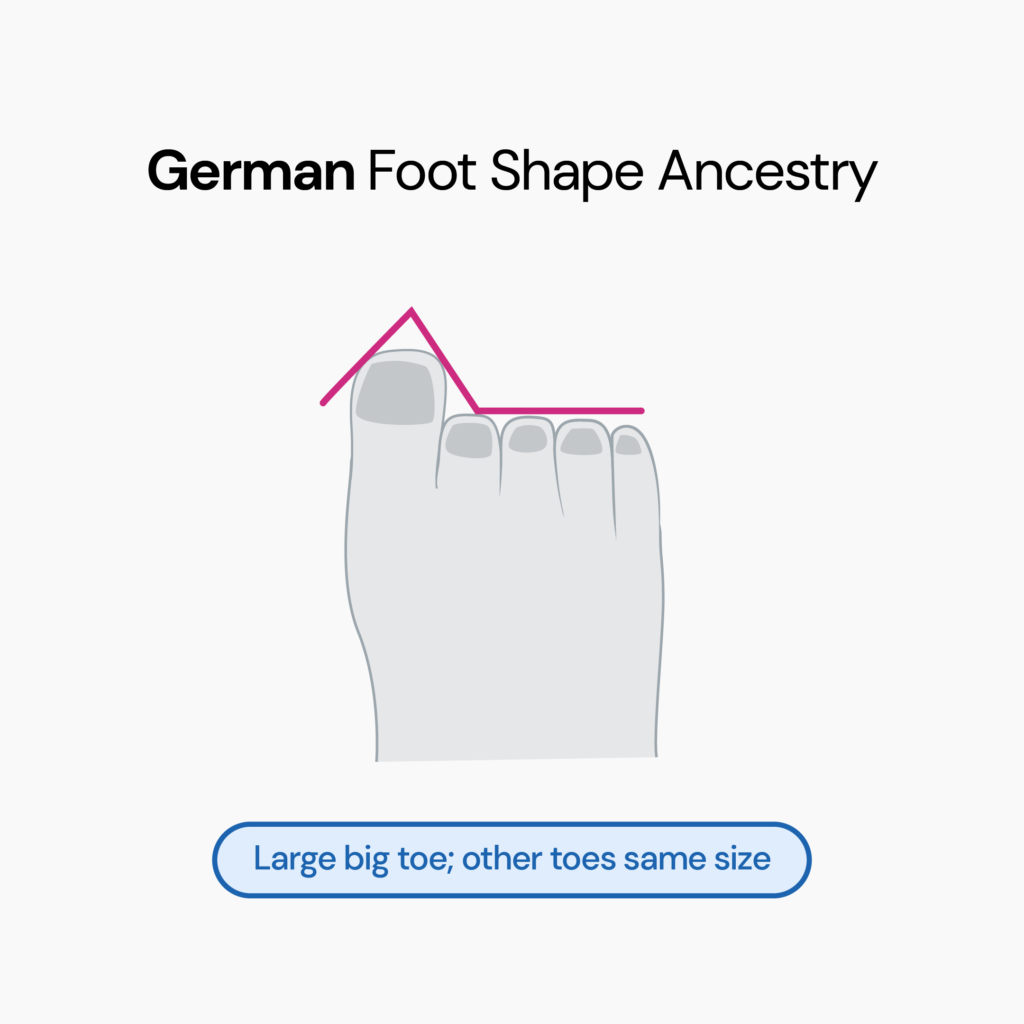 Celtic
The Celtic foot shape is a combination of Germanic and Greek toes.
People with this foot shape have one big toe and all others the same size and a pronounced second digit like the Greeks.
From the third toe, the size progressively reduces.
For this reason, this toe shape is considered complex and variable.
The Celtic foot shape is common in Western Europe, especially Britain and Ireland.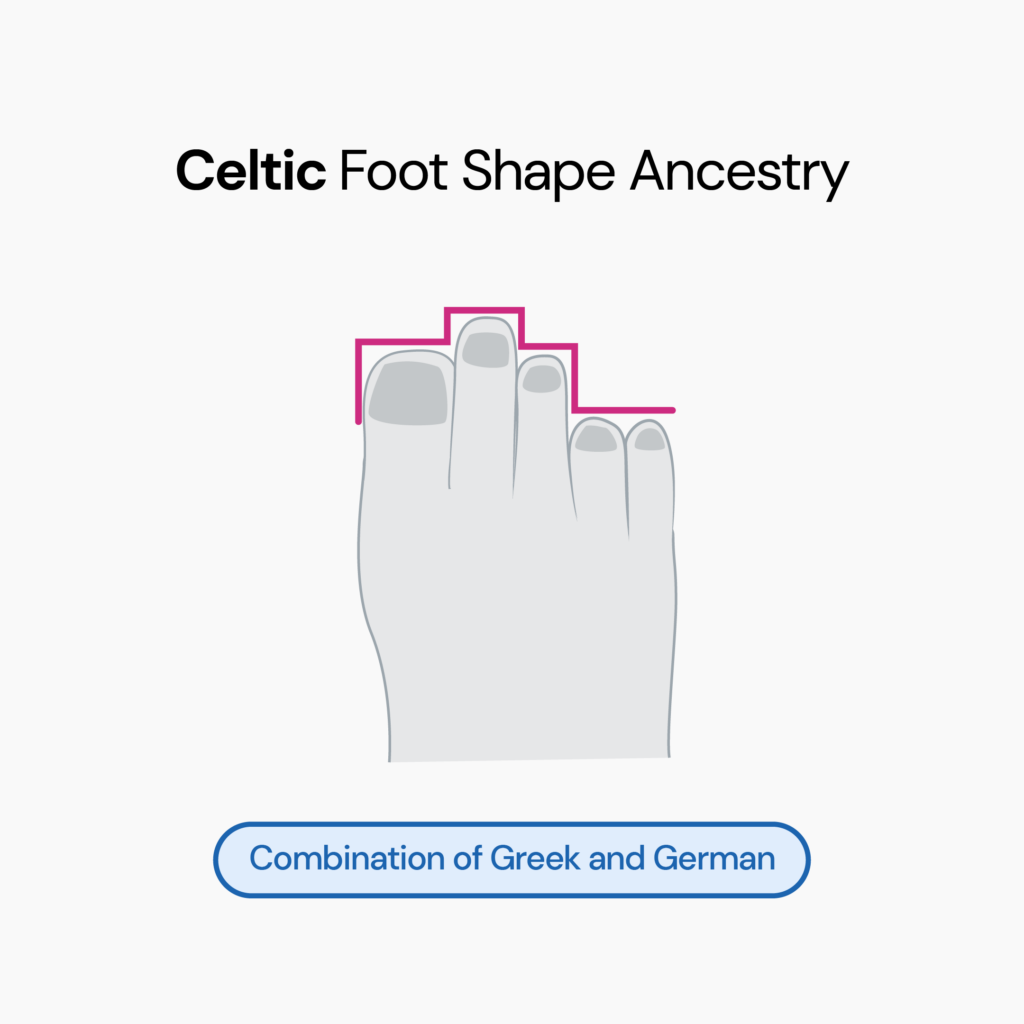 Egyptian
Egyptian foot shape is said to be the neatest of the five shapes.
It is characterized by a long big toe, followed by other toes reducing in size at a 45-degree angle.
This foot shape has a medical advantage as it protects against ingrown toenails.
It is interesting to note that 80% of people in Japan have Egyptian foot shape.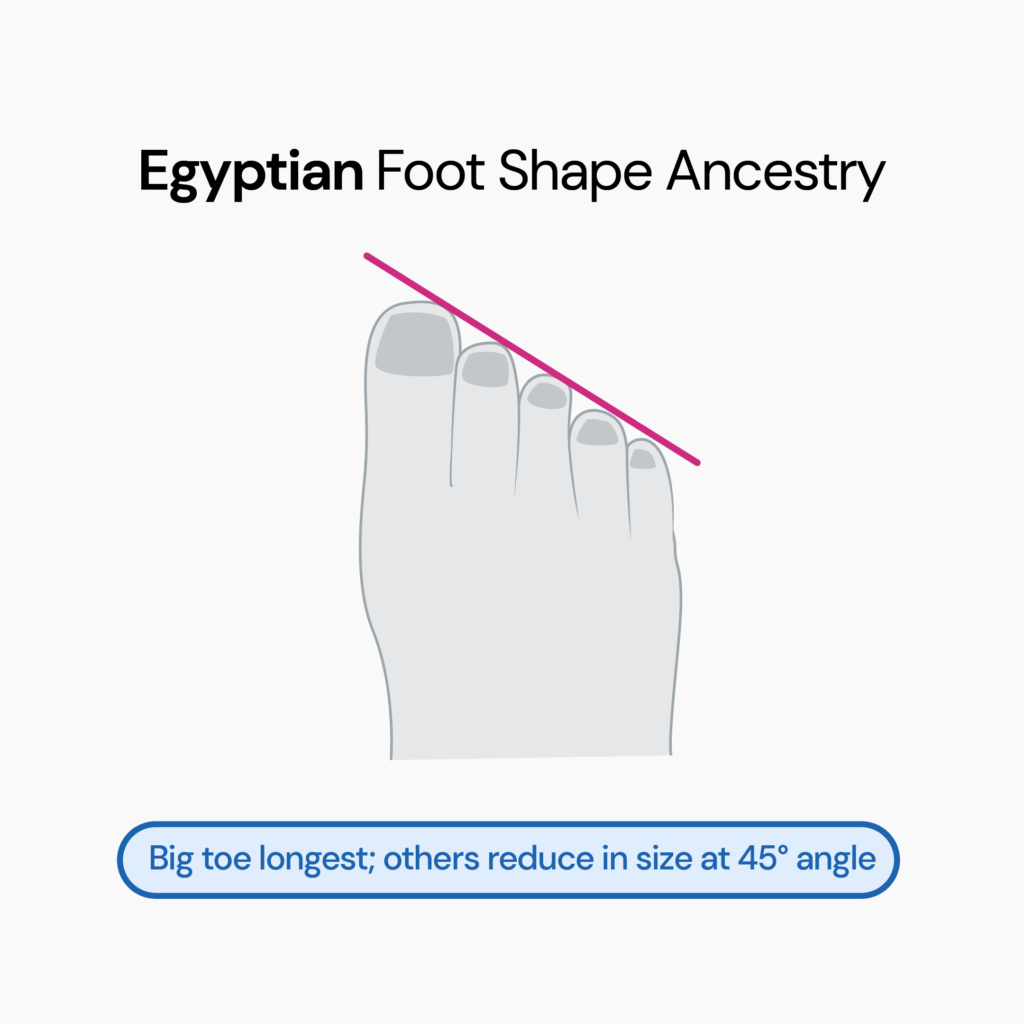 Does Science Support Foot Shape Ancestry?
While foot shape ancestry is very descriptive and offers a lot of information about genetic traits, science does not support the idea.
Problems with Foot Shape Ancestry
Foot shape ancestry is not accepted as a common scientific practice to determine lineage because it is based on an entirely wrong premise.
As per foot shape ancestry, all populations were made up of one group of people (monolithic populations).
However, in reality, populations have migrated, mixed, and mingled throughout time.
This means there was never a monolithic population with one type of foot.
At the same time, to presume that people with one type of foot shape originated in the same place is also unacceptable.
For example, isn't it bizarre to think that indigenous populations like the Ainu (in Japan), who have a pronounced second digit (a Greek foot shape trait), originated in Greece?
Health And Wellness Genetic Test
If you have done an ancestry genetic test with companies like 23andMe, AncestryDNA, MyHeritage, etc., you can unlock 1000+ health and wellness insights in just 3 steps.
No DNA Test? No Problem
If you're new to the world of genetic testing, we've got you covered! You can now get your ancestry DNA kits at an additional 10% discount!
AncestryDNA Kit (currently no additional discount available)
After you receive your DNA test results from the kit, you can upload your DNA data to our secure platform.
Is Foot Shape Ancestry Accurate?
Since the entire premise of foot shape ancestry is based on a monolithic population, it is inaccurate.
While it is fun to know more about what your feet reveal, there are scientific ways to determine your ancestry and lineage, such as DNA tests.
How To Identify What Foot Shape Ancestry You Have?
There isn't a single perfect system or chart that helps determine your foot shape.
The outline of your feet and toe sizes are commonly used to determine your foot shape.
You can draw the shape of your feet on paper and correlate the toe sizes and the slope they create with the following image:
Summary
Foot shape ancestry is what your feet, arch shape, and toes say about you and your ancestors.
Based on shape, five accepted foot shapes used in foot shape ancestry include– Greek, Roman, Celtic, German, and Egyptian.
Having feet that fall into one of the five shapes indicates a genetic trait.
Foot shape ancestry is not accepted by science to determine lineage as it is based on the wrong premise that people originate from monolithic populations.