Family Tree DNA (FTDNA), established in the year 2000, is continuously regarded as one of the most trusted and reliable providers of DNA testing services. The company started out offering only Y-DNA, mtDNA, and Cohanim DNA tests.
Fast forward to the year 2010 - the company began offering autosomal testing with its 'Family Finder' product, which continues to be the leading choice among professional genealogists when it comes to DNA testing. This product has attracted many genealogists, and thus, there is plenty of online support when it comes to understanding and using your test results.
Tests offered by Family Tree DNA
What are different DNA tests offered by FTDNA?:
Autosomal DNA is a mixture of DNA that you get from all of your ancestors (Family Finder)
YDNA is part of the DNA that only males have, and which is passed down directly from father to son.
mtDNA is part of the DNA that is only passed on by mothers to their children (both male and female).
Autosomal DNA - Family Finder
This test focuses on the autosomal DNA, which is inherited across generations. With this test, you can:
Get a percentage breakdown of your origins
Find relatives you share your autosomal DNA with within five generations
Learn your connection with ancient European groups
Compare matching segments of DNA (blocks) with your genetic matches
Family Finder by Family Tree DNA examines over 50,000 markers to trace the ancestral line of the user. The analysis provides details of the user's ethnic origin as well. FTDNA uses a proprietary algorithm that discovers individuals that may have a common ancestor within five generations on either side of the user's family. The test provides the names and email addresses of closely related individuals to aid in initiating contact. Since personal information is involved, the user is only matched with others who've also opted for the test.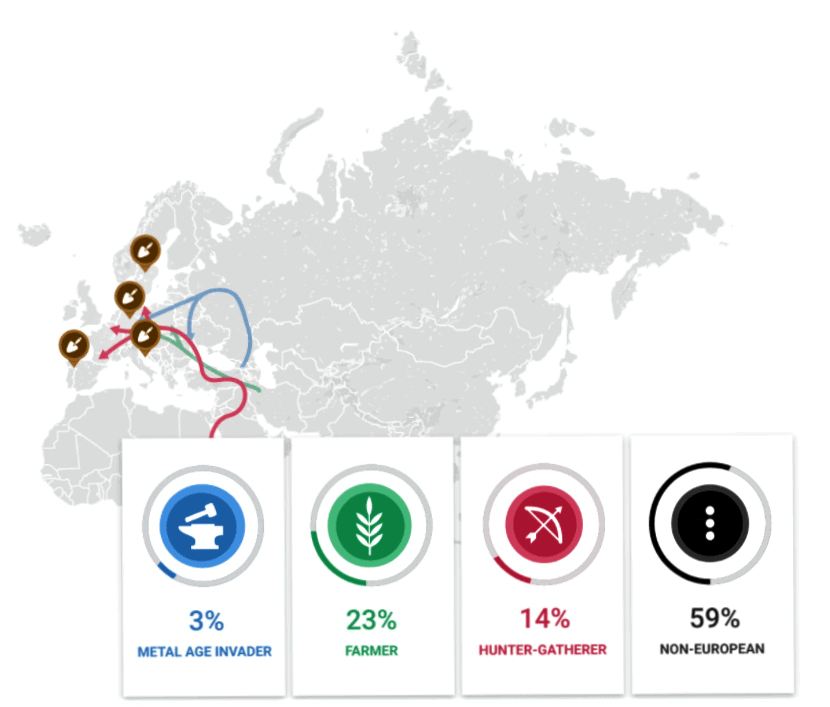 Who can take the Family Finder test?
Anyone who wants to learn more about their family's heritage, culture, or ethnic background can take up this test. The test matches the user to close relatives and breaks down their ancestor's origin. This test reveals the user's and their family's unique genetic identity.
How does it work?
There are two ways to provide information to this test. The user can either purchase the kit, follow the instructions and send it back to Family Tree; or, the user can transfer data from another genetic testing company. FTDNA currently accepts data from 23andme, MyHeritage, and AncestryDNA.
Once the results are ready, the user can access their full genetic profile. It is better to purchase a kit by FTDNA so that relevant information that may be missing in the kits from the other companies can be provided. The kit can be purchased on the website, and the basic test is around $80. The kit contains two cheek swabs, two vials, a specimen bag, a return mailer, instructions, and a registration form. The time taken for results varies with the type of test chosen. A basic test would take 4 to 6 weeks, whereas more complex tests would take up to 8 weeks.
What is provided in the Family Finder report?
The results given in this report are:
myOrigins- This gives the detailed breakdown of the user's ancestry and ethnic background, as well as location. The map also contains a "My Ancestral History" panel that provides a historical context on each ethnicity.
ancientOrigins- This compares the genetic profile with those found in archaeological sites across Europe. This reveals how ancestors may have traveled throughout Europe and the potential other groups that the ancestors may have interacted with. The ancientOrigins report tries to give a detailed view of the ancestors- which include a comparison to the age in which they would have been living in a particular region, as well as possible occupations they would've followed. Maps present in this tool gives the user a visual clue as to how ancestors may have migrated, as well as provide information on the locations of the current existing relatives. This feature is only available to people of European descent.
Family Matching- Using the genetic profile to match others that may be in the maternal or paternal line, linking them to the family tree.
There is another feature called 'Chromosome Browser.' This allows the user to explore, zoom, and download details of each segment of DNA, as well as compare these segments to matching genetic profiles. There is also scope to contribute to genealogical projects. The service uses the customer's surname to try and trace lineages.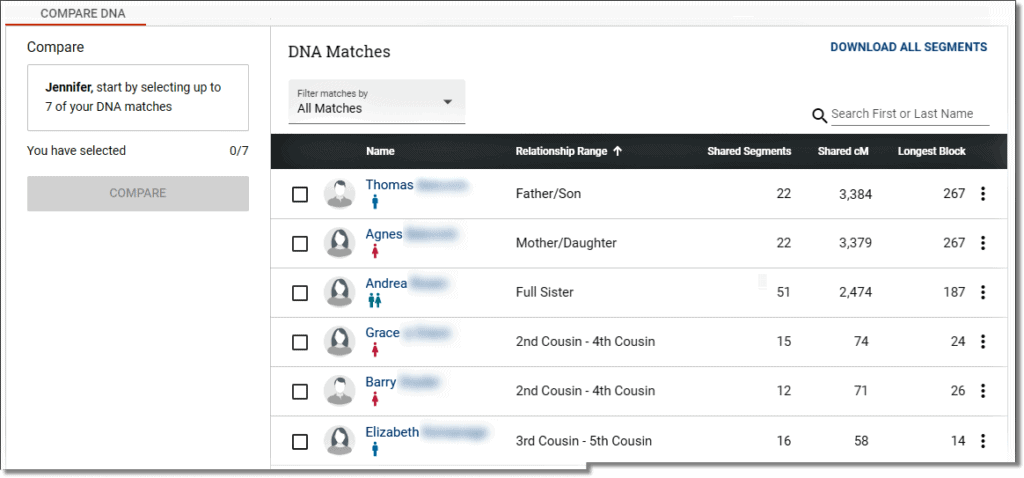 Y-DNA test
The Y chromosome is exclusive to the male gender and is often passed down from the father to the son without much changes in the genetic makeup. Y-DNA tests the Y chromosome to investigate the male's paternal family line. A person who takes up this test will also receive something called a 'Y-DNA haplogroup' which uncovers the paternal heritage going back to Africa.
The following are the single tests option available in Y-DNA test:
Y-37: Examines 37 short tandem repeats (STRs) on the Y chromosome - Priced at $119.
Y-111: Examines 111 short tandem repeats (STRs) on the Y chromosome - Priced at $249.
Y-700: Examines 700 short tandem repeats (STRs) on the Y chromosome - Priced at $449.
The difference between these three tests is the number of markers taken into account for the analysis. Family Tree DNA recommends Y-37 as a good place to start and examine close relationships. Y-111 analyzes more markers and providers more refined results, including matches. The Y-700 test is more ideal for expert users, as it provides over 200,000 SNPs and additional STRs; however, these markers do not provide more refined matching.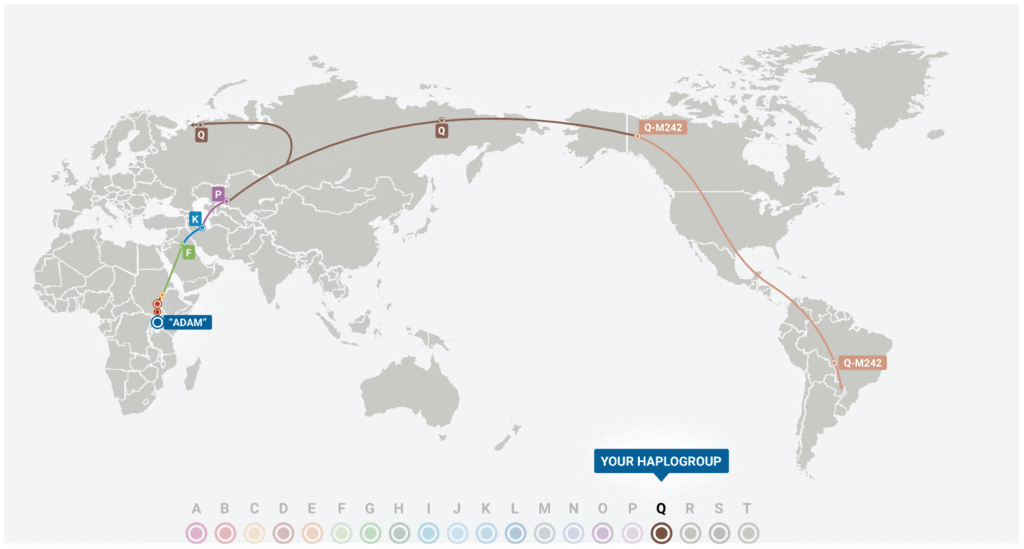 mtDNA test
mtDNA stands for mitochondrial DNA. This DNA is passed on by a mother to her children. Though both girls and boys receive this DNA from their mothers, men cannot pass this on to their children. This test allows you to explore your direct maternal line and geographic origins. mtDNA haplogroup uncovers your maternal heritage going back to Africa.
New Feature: Personalized mtFull sequence video
This feature, which is available for all users who have taken the mtDNA test, tells the story of your maternal ancestry, and is a fun way to share your results with friends and family. This video helps break down the basic concepts of your mtDNA results with 'your specific story' in mind. Being customizable, this feature lets you choose your avatar and fill in a little info about yourself. Take a look at the sample video below.
2021 Update: FamilyTreeDNA merges with myDNA
In early January, FamilyTreeDNA merged with an Australian pharmacogenetics company called myDNA, and FTDNA's CEO stepped down. myDNA focuses on lifestyle and wellness aspects like vitamins, minerals, and skincare.
After this merger, FTDNA customers also received a "Health & Wellness Discovery Survey," which had questions about health, fitness, and other lifestyle aspects, not genealogy or ancestry.
This raises questions about the direction FTDNA is headed in!
Advantages and disadvantages of choosing FTDNA
FTDNA is a really good choice for people who want to learn more about their ancestry.
Detailed reports
Avenues to contact close relatives
Transfer of raw DNA files
Identifies relatives from maternal and paternal lines
Provides a map on ancient ancestors
However, there are also some disadvantages to this test:
A smaller pool of matches
Lacks health-related screening
No historical records
Technical jargon in reports
Certain tests are expensive in comparison to other services
FTDNA Family Finder vs. 23andMe DNA Relatives- Which is better?
23andMe and FTDNA enable customers to connect to close relatives. While 23andMe's DNA relatives came out in 2009, FTDNA released Family Finder a bit later in 2010. Although FTDNA has a smaller database, the services it provides surpasses that of 23andMe. The features include maternal and paternal lineage tracking, a variety of tests, and a detailed report.
FTDNA provides a very easy-to-use DNA analysis kits to users who want to learn about their ancestry. With regard to privacy, FTDNA provides options to opt-out of law enforcement matching. However, it is quite difficult to completely delete genetic data or destroy a sample. If a customer decides to do so, they will have to contact customer service.
With the tests and services provided, the user can learn about their maternal and paternal ancestry, potential migration paths of their ancestors- including occupation and location. Finally, FTDNA enables users to contact close relatives to promote positive relationships. With other features like accepting raw DNA files from other DNA testing services and wellness reports, FTDNA is a really good choice for DNA analysis services.
Do you have your DNA raw data from 23andMe, AncestryDNA, FTDNA, MyHeritage?
Upload your DNA raw data to Xcode Life to get insights into 700+ health-related traits!
Updated June 7th, 2022