Introduction
Have you ever wondered why you are allergic or sensitive to the same foods as your parents and grandparents?
One reason behind this can be your genetics.
Yes, you read it correctly.
Genetics can be a critical factor in deciding whether your body experiences a possible food intolerance.
For instance, if you and your father have lactose intolerance, it highly suggests an underlying genetic factor. But it's nothing to be worried about.
Instead, it is essential to be familiar with these potential triggers so you can take precautionary steps toward sustaining your health.
To help you understand this concept better, here is a comprehensive guide on how genetics make a difference to your immune system (causing food allergies) and your body's capability to digest food (leading to food intolerances).
So, let's delve deeper and gain excellent food genetics knowledge!
Food Allergy vs. Food Intolerance (or Sensitivity)
Food intolerances and food allergies are two circumstances that cause comparable side effects yet influence the body in various ways.
Food Allergy
The immune system attacks and neutralizes foreign invaders, possibly dangerous to the body.
However, in some cases, due to certain genetic changes, the immune system attacks harmless substances, such as certain foods. This is called a food allergy.
This response typically occurs moments after food consumption, with even a tiny amount capable of sparking symptoms.
A typical example is shortness of breath and low blood pressure after contact with peanuts or seafood.
The general symptoms of a food allergy involve:

Eruptions or rashes on the skin
Swelling of the lips, tongue, or throat
Digestive disturbances, including nausea, vomiting, and diarrhea
Difficulties breathing
Sharp increases in heart rate
Anaphylaxis: a severe and life-threatening response
It is critical to seek immediate medical attention for food allergies, and treatment plans may include medication or using an epinephrine auto-injector.
Generally, common food allergens originate from peanuts, tree nuts, shellfish, fish, milk, eggs, and soy.
Food Intolerance
Food intolerances, in contrast to food allergies, are caused by the digestive tract rather than the immune system.
Common factors leading to food intolerance are:

The absence of an enzyme essential to processing the food appropriately
Irritable bowel syndrome
Sensitivity to food additives
Some examples of food intolerances are:

Lactose intolerance (inadequacy to completely digest lactose originating from milk)
Gluten intolerance (celiac disease).

Signs and symptoms might include:

Excessive bloating
Flatulence
Abdominal cramps
Runny stools
Queasiness
Food intolerance is generally less severe than a food allergy; however, symptoms can be managed by avoiding problem foods or medication.
Genetics Of Food Allergy
Did you know? Food allergy affects up to 15 million people, including 5 million children. Considering that environmental factors have been distinguished as the essential driver of food allergies, certain studies show that genetic qualities may also play a significant role.
For instance, as per a report in the World Allergy Organization journal, identical twins had a 65% chance of sharing their nut allergy—significantly greater than the 10% chance among non-identical twins. This indicates a significant genetic involvement and a resultant genetic component in developing food allergies.
Additionally, a study on 1,500 children with food allergies from the US and Germany uncovered five genetic regions that seem to raise other people's vulnerability to food allergies. This implies that these genetic locales might increase the chances of developing allergies to various food varieties.
Notwithstanding, the human leukocyte antigen (HLA) region was found to be specific to peanut allergy cases. The HLA genes help the immune system distinguish between the body cells and foreign invaders like viruses or bacteria.
In the case of peanut allergies, certain changes in the HLA genes may lead to a greater likelihood of developing an allergy to peanuts specifically. Genetics of Food Allergy (GOFA) found two areas of the genes related to food allergies.
The main area was close to the FLG genes, and the second was on chromosome 5 near a cluster of cytokine genes.
While the rapid increase in the prevalence of food allergies suggests that environmental factors contribute more to their development, genetics play a significant role in determining the risk of developing them.
Identifying the genes involved in food allergies can contribute to understanding the disease in terms of recognition, prognosis, prevention, and possibly therapeutic interventions.
Genetics Of Food Intolerance
Food intolerance is a condition in which individuals experience trouble processing specific foods.
Research has demonstrated how genetic factors can play a part in food intolerance.
Celiac disease, an autoimmune disorder provoked by gluten consumption, can have strong genetic links.
Research suggests that genetics might explain up to 55% of cases of celiac illness.
Studies have recognized some genes related to celiac infection, including HLA-DQ, IL12A, IL18RAP, MYO9B, and others.
These genes initiate immune and inflammatory responses and regulate intestinal permeability and other aspects of gut health.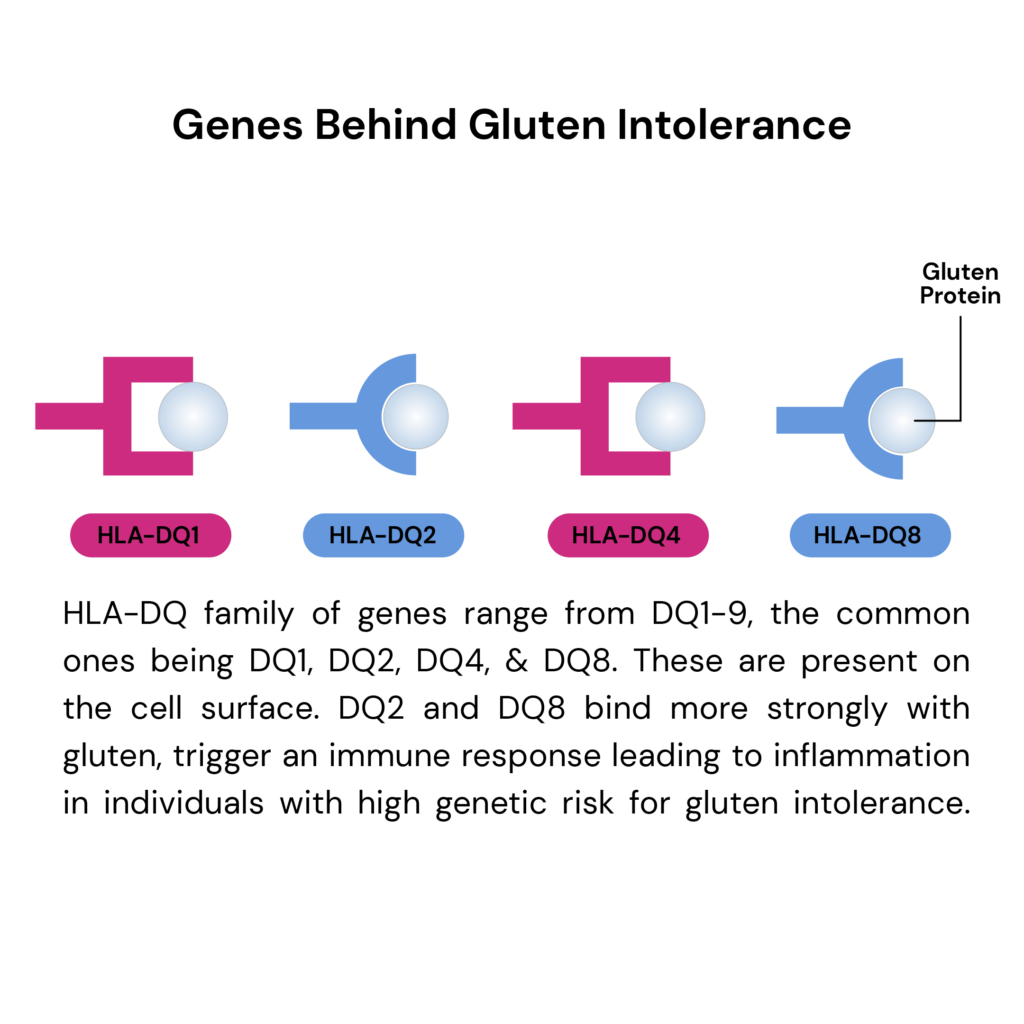 Another example of how genetics can affect food intolerance is lactase persistence.
Lactase is a chemical that helps digest lactose, a sugar tracked down in milk.
Many people produce lactase at the outset and in their youth; however, as they age, lactase production diminishes, prompting lactose intolerance.
Certain individuals can produce lactase well into adulthood, permitting them to drink milk easily.
This ability is known as lactase persistence and is also strongly influenced by genetics. The MCM6 gene, in particular, plays a key role in regulating lactase production.
However, not every person with a gene variation related to food intolerance will encounter side effects. Environmental factors also may play a significant role in this.
Autoimmune-related
Genes affect food allergies, intolerances, and autoimmune sensitivities. Autoimmune diseases result from immune system errors wherein genetic and environmental factors play a part.
Autoimmune conditions lead to food sensitivities and intolerance.
Celiac disease, an autoimmune disorder, involves gluten. In addition, genetic factors, including HLA-DQ, IL12A, IL18RAP, and MYO9B genes, influence immune responses, inflammation, and gut health. 
Hashimoto's thyroiditis is another autoimmune disease that can cause food sensitivities. Gene variations in CTLA4 and PTPN22 genes contribute to its development. Inflammatory bowel diseases (IBD) cause secondary food intolerances. IBD genetic factors include NOD2, IL23R, and ATG16L1 genes.
Family history is a risk factor that influences autoimmune diseases and related food sensitivities. Genetic research can identify risk factors and pathways. This helps manage autoimmune diseases and sensitivities. In all, genes impact food allergies, intolerances, and autoimmune sensitivities.
Understanding genetic factors can guide dietary choices, thereby minimizing sensitivity impact. Consult healthcare professionals for personalized nutritional advice and autoimmune condition management.
Identifying Food Allergies and Intolerances
To diagnose food allergies and intolerances, you can seek clinical counseling. Various strategies can also be utilized to analyze these circumstances, including:
Food Journal and Elimination Diet:

Keeping a food journal and wiping out specific foods from your eating regimen can assist with recognizing food intolerances.
Elimination of specific foods from your eating regimen and, afterward, once again introducing them can, in turn, help with recognizing which foods are causing your side effects.
The most widely recognized food allergens are milk, eggs, fish, tree nuts, wheat, shellfish, peanuts, and soybeans.

Skin and blood tests:

Skin tests and blood tests can assist with diagnosing food allergies. 
Skin tests include pricking and exposing the skin to limited quantities of foods to check whether an unfavorably susceptible response happens.
Blood tests can quantify the degree of antibodies your immune system delivers because of specific foods.

Clinical Tests:

There are no official food intolerances tests, making them harder to analyze.
A doctor might recommend eliminating specific foods from the eating regimen to check if the side effects decrease.
Summary
To sum up, genetics can influence the food we consume, leading to food allergies and intolerance.
Recognizing these genes can help understand the sickness better and take precautions.
You must be aware of possible triggers if you have a family history of food intolerance or allergies. This can help you take preparatory steps and make better food choices.
---
References