What is Polycystic Ovarian Syndrome (PCOS)?
Polycystic ovarian syndrome (PCOS) is a common condition that affects hormones in women in their childbearing years. 
Most women with PCOS produce excessive amounts of androgens (male sex hormones), a condition called hyperandrogenism.
In this condition, one or both ovaries produce multiple small, immature ovarian follicles that appear like cysts on medical imaging. 
This happens because abnormal hormone levels prevent follicles from growing and maturing to release egg cells.
PCOS is one of the leading causes of female infertility and increases your risk for other conditions like diabetes and hypertension.
By 40 years, around 10% of overweight women with PCOS develop high blood sugar levels, and around 35% develop prediabetes (high blood sugar levels but not high enough to be called diabetes).
Check your DNA raw data for genetic variants related to PCOS
Symptoms of PCOS
Though many women with PCOS do not show any signs or symptoms, a few common symptoms of this condition include:
Irregular periods: Irregular periods or absence. Some women may also experience heavy bleeding during periods.
Abnormal hair growth: Due to a high level of male sex hormones, women with PCOS may have excessive facial hair and heavy growth on the arms, abdomen, and chest.
Around 70% of women with PCOS show abnormal hair growth.
Acne: The hormonal imbalance in the body may cause acne on the back, chest, and face. This acne may continue beyond the teenage years and may be difficult to treat.
Obesity: Obesity can cause and be a symptom of PCOS. Around 80% of women with PCOS are overweight or obese and find it difficult to lose weight.
Skin darkening: Women with PCOS may also notice patches of dark skin in the folds of their neck, armpits, and groin. This is called acanthosis nigricans.
Cysts: A classic sign of PCOS is the presence of small fluid-filled pockets in the ovaries called cysts.
Skin tags: Few women with PCOS develop little flaps of extra skin in their armpits or on their necks. These are called skin tags.
Hair thinning: Many women with PCOS start to lose patches of hair on their heads, resulting in hair thinning and bald patches.
Infertility: PCOS is one of the most common causes of female fertility, as abnormal hormones form immature follicles and lack of ovulation.
Image: Is PCOS Genetic? Symptoms of PCOS
How Common is PCOS?
PCOS is common and affects around 6 to 10% of women worldwide.
What Causes PCOS?
The exact cause of PCOS is unknown. However, sufficient research shows that the condition runs in families.
Evidence shows that genetics plays a role in the development of PCOS.
Few other causes that may contribute to the development of PCOS are:
Increased androgen levels
High androgens released by the ovaries result in irregular menstrual cycles, excess hair growth, and acne. The excess androgen also contributes to immature ovarian follicles that form cysts. 
Women with PCOS tend to have a higher amount of insulin in their blood.
Increased insulin causes the ovaries to produce greater amounts of androgens and increase insulin resistance.
Being overweight or obese increases the amount of insulin produced by the body, further increasing insulin resistance and resulting in diabetes.
Women with PCOS have chronic low-grade inflammation that can further aggravate the condition.
Is PCOS Genetic?
Since women who develop PCOS have a family member with the same condition, it is said that PCOS may have a genetic component.
In fact, around 20% to 40% of women with PCOS have an affected family member.
Currently, it is believed that PCOS occurs due to an interplay between genetic and environmental factors.
Is There A PCOS Gene?
PCOS is a polygenic (caused by multiple genes) and multifactorial condition.
Several genes are said to be associated with PCOS, such as
Genes involved in ovarian and adrenal steroidogenesis (the process through which ovarian cells produce hormones for the maintenance of reproductive tissues): CYP11a, CYP21, CYP17, and CYP19.
Genes involved in steroid hormone effects: Androgen receptor (AR) gene, Sex Hormone-Binding Globulin (SHBG) Gene.
Genes involved in gonadotropin action and regulation: Lutein Hormone (LH) and its receptor gene, AMH, Follicle Stimulating Hormone Receptor (FSHR) gene.
Genes involved in insulin action and secretion: The insulin gene, INSR, Calpain gene (CAPN10)
A few other genes that may contribute to the development of PCOS include:
Other Risk Factors For PCOS
Factors that increase a woman's likelihood of developing PCOS can be lifestyle or genetics-related. Common risk factors for PCOS include:
Having a first-degree relative with PCOS
Obesity
History of early adrenarche
Being Mexican-American or Aboriginal Australian
Taking Valproate - medication used to treat seizures
Preventing PCOS
If you know your risk for PCOS, here are some effective ways to prevent it:
Maintain a healthy weight and BMI. If you are overweight, losing weight will help control your cholesterol and blood sugar levels and restore normal menstruation. 
If you have diabetes, your doctor will prescribe appropriate medications like metformin to improve insulin sensitivity.
Your gynecologist may prescribe birth control pills to balance and regulate your hormones. This helps prevent excessive hair growth and acne and reduces your risk for cancer.
Eating a healthy, nutritious diet and exercising help keep your weight in check and improves your mental well-being.
While there is no cure for PCOS, appropriate and timely measures can help manage symptoms.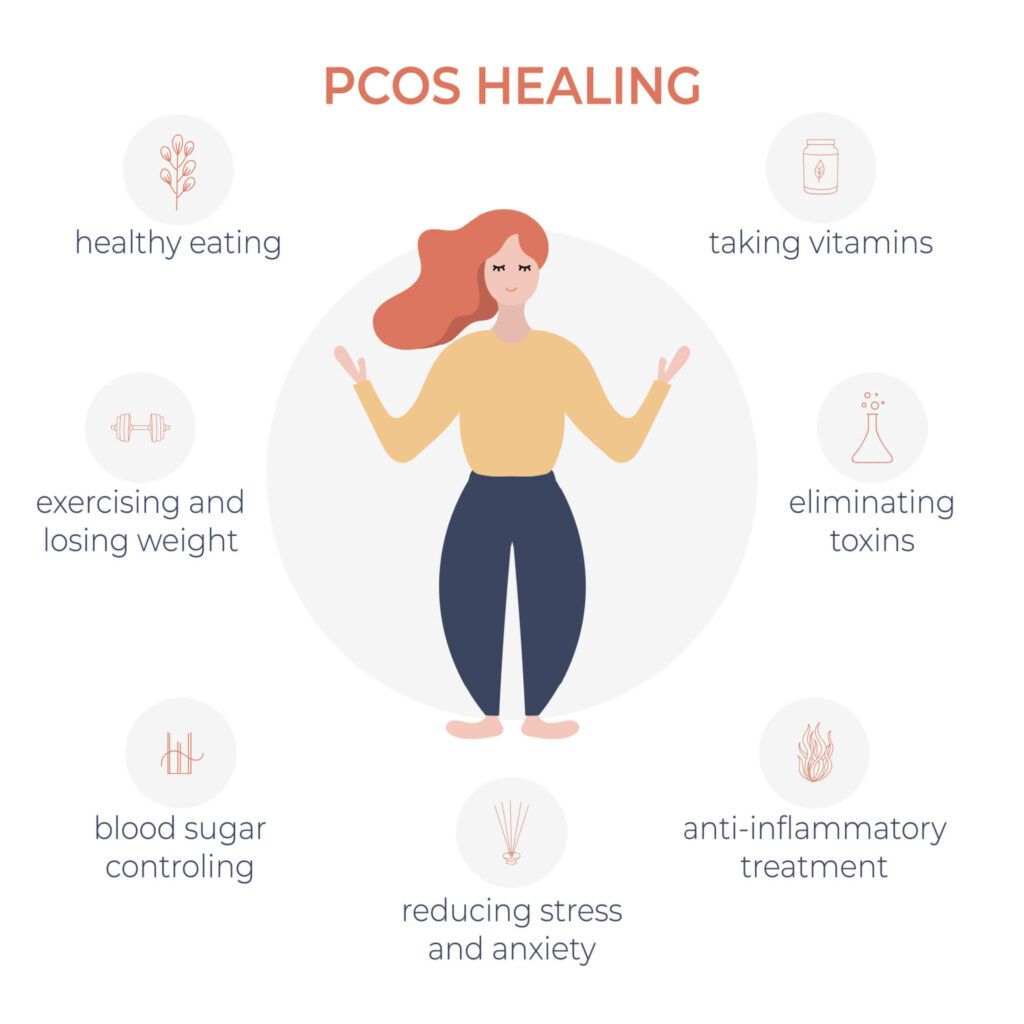 Image: Is PCOS Genetic? PCOS management at home
Summary: Is PCOS Genetic?
PCOS is a common condition that affects women in their childbearing years, characterized by ovaries producing immature follicles.
Some common symptoms of PCOS include irregular periods, abnormal hair growth, acne, dark skin patches, hair thinning, and fertility.
Though the exact cause of PCOS is unknown, it is suspected to be caused by a complex interplay between genetic and environmental factors.
PCOS is a polygenic condition, and several genes are said to play a role in its occurrence.
A few common risk factors of PCOS are obesity, having a first-degree relative with the condition, diabetes, and taking drugs like valproate.
Maintaining a healthy weight and BMI, eating a healthy diet, and receiving medical guidance and treatment from a gynecologist can help symptom management.
References