We've all experienced those nights when sleep seems to be playing a game of hide-and-seek, leaving us frustrated and drained the next day. Getting a good night's sleep is crucial for our overall well-being, and fortunately, there are simple yet effective ways to improve our sleep quality. Today, we'll delve into the top three scientifically-backed methods to help you fall asleep faster, promoting better health and vitality.
Did You Know? Your ancestry test DNA data includes 700,000 markers, which can be used to learn everything about your sleep, from insomnia and obstructive sleep apnea risk to sleep patterns and sleep quality. Learn more.
How Long Should It Take To Fall Asleep?
According to rese­archers, it is generally normal for he­althy individuals to fall asleep within 15 to 20 minutes afte­r lying down. This time duration, known as slee­p latency, signifies the transition from wake­fulness to sleep. It's important to note that sleep latency can vary among individuals.
Some pe­ople fall asleep too quickly, while­ others may take longer. Sleeping too quickly or slowly may signal an underlying physical or mental health issue.
Why Can't I Fall Asleep Quickly? 5 Reasons Explained
There could be various causes for your inability to fall asleep quickly. The following are five possible reasons with explanations:
Stress and anxiety: One of the primary culprits for difficulty falling asleep is stress and anxiety. Having racing thoughts and worries can make it hard to chill out and reach a peaceful sleep.
Poor sleep environment: Disruptive factors like excessive noise, uncomfortable bedding, and improper room temperature play a significant role in the quality of sleep one receives.
Electronic devices: The emission of blue light from electronic devices like computers and phones can disrupt a person's sleep pattern. Because of the stimulation caused by these technologies, it becomes more difficult for your brain to wind down and prepare for good sleep.
Caffeine: Caffeine works by inhibiting adenosine receptors, which are brain receptors that promote sleep. Avoiding caffeine-containing beverages, especially late evening, can enhance your ability to fall asleep at night.
Lack of routine: Irregular sleep patterns and inconsistent bedtime routines may disrupt your body's internal clock. Establishing a consistent sleep routine can help signal your brain that it's time to sleep.
The Top 3 Methods To Fall Asleep Faster
Now that we have a better understanding of the reasons behind difficulty falling asleep quickly.
Let's explore the top three methods that can help improve your sleep ability.
Breathing Techniques
Deep breathing exercises help promote relaxation and prepare the body for sleep. You can relax your thoughts and reduce tension by focusing on your breath and engaging in mindful breathing patterns.
Here are two popular breathing methods that will help you sleep faster.
4-7-8 breathing technique: This involves breathing in through your nose till 4 counts, holding your breath till 7 counts, and exhaling through your mouth till 8 counts. Repeat this cycle consistently to make your breath slower and more rhythmic.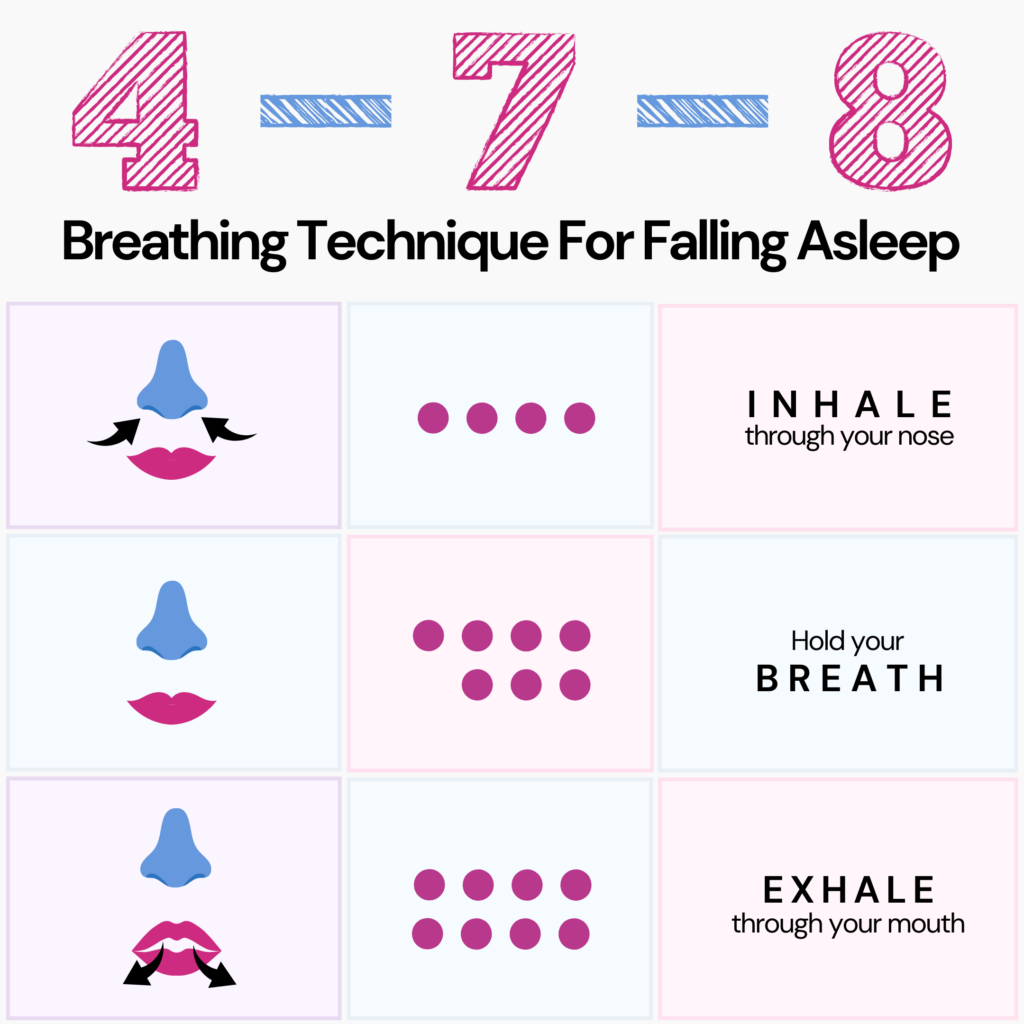 Box breathing: Box breathing follows a simple pattern of inhaling, holding, exhaling, and holding again, each for a count of 4. Imagine tracing the shape of a square as you perform this technique. This rhythmic breathing exercise can promote relaxation and ease you into sleep.
Progressive Muscle Relaxation (PMR)
This method involves tensing and relaxing different muscle groups to promote deep relaxation. By releasing muscle tension, you can reduce physical discomfort and mental stress, allowing you to fall asleep faster.
Here's how you can practice PMR:
Find a comfortable position: Find a quiet and dimly lit room to lie down in. Ensure you're in a comfortable position either on your back or side.
Start with your toes:
Begin by focusing on your toes.
Tense the muscles in your toes, hold for a few seconds, and then release the tension.
Begin by gradually moving up through your body, tensing and relaxing each muscle group. Start with your legs, then move up to your abdomen, chest, arms, and face.
Breathe and visualize: As you tense and relax each muscle group, focus on your breath and imagine the tension melting. Visualize yourself sinking into deep relaxation, letting go of any remaining stress or anxiety.
This technique was developed during world war II and is said to have helped the U.S. Navy preflight school airmen fall asleep in 120 seconds.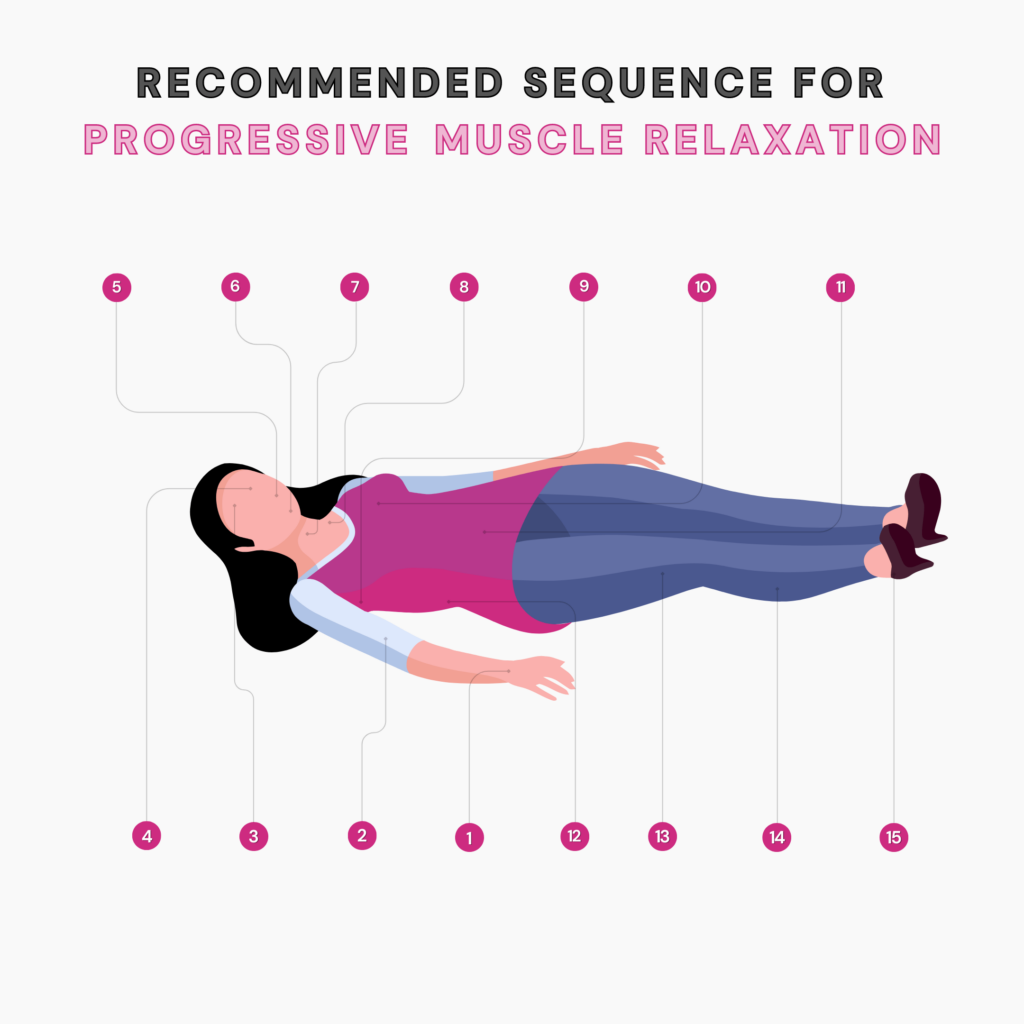 Developing a Consistent Nighttime Routine
Creating a consistent nighttime routine can signal your body that it's time to wind down and prepare for sleep. Following a set of activities exclusively before bedtime can rewire your brain.
Here are some steps to establish a consistent nighttime routine:
Set a regular bedtime: It's important to set a consistent bedtime for yourself each night. Try to stick to this schedule as best as possible, even on weekends.
Create a pre-sleep ritual: Engage in calming activities, such as practicing gentle stretching or yoga, reading a book, or taking a warm bath. Avoid stimulating activities or electronic devices in the hour leading up to bedtime.
Create a sleep-friendly environment: To create an ideal sleeping environment, ensure your bedroom is quiet and dark with a comfortable temperature. You can also consider using blackout curtains to block out any unwanted light.
Listening to music: Listen to the white or pink noise, which includes sounds like rain, waves, and waterfall, to minimize sleep disturbances.
Food Options That Promote Sleep
Adding several foods to your bedtime routine can effectively promote relaxation in your body, paving the way for a truly peaceful sleep.
Here are some options to consider:
Warm milk: Before bedtime, a glass of warm milk helps you sleep and relax. This delightful beverage contains tryptophan, an amino acid that acts as a precursor to melatonin and serotonin, which naturally helps induce peaceful rest.
Bananas: Potassium and magnesium-packed bananas are known for their natural muscle-relaxing properties. They also contain tryptophan, contributing to a more relaxing sleep experience.
Chamomile tea: This herbal tea is derived from the chamomile plant and contains antioxidants that promote relaxation and induce sleep. It also has received considerable praise, which makes it a popular choice as a calming herbal beverage.
Nuts and seeds: Magnesium-rich foods, such as almonds, walnuts, flaxseeds, and chia seeds, have been known to help in muscle relaxation and enhance sleep quality. Their healthy fats and protein stabilize blood sugar levels, preventing sleep disruptions.
Tart cherries: Melatonin, the hormone that regulates sleep-wake cycles found in tart cherries. Consuming tart cherries or drinking tart cherry juice may help improve sleep quality and duration.
Remember that individual responses to food can vary. It is advised to consult your doctor if you have any dietary concerns or allergies.
Genetic Test
to fall asleep faster
The Gene Sleep panel of Xcode Life includes 14 important aspects, from sleep pattern traits like your chronotype and the tendency for excessive daytime sleepiness to sleep disorders like insomnia and sleep apnea.
If you have done an ancestry genetic test with companies like 23andMe, AncestryDNA, MyHeritage, etc., you can learn your zinc deficiency risk gene status in just 3 steps.
Download your DNA raw data from your service provider
Add the "Gene Sleep" report to your cart (or the Xcode Life Genome Pack for a 48% discount)
Upload your raw data and receive your results within 24 hours.
No DNA Test? No Problem
Not yet tested?
If you're new to the world of genetic testing, we've got you covered!
You can now get your ancestry DNA kits at an additional discount!
By following the link provided in this article, you can purchase a DNA kit at 10% OFF (the discount will be reflected when you add the product).
This will ensure that you have everything you need to embark on your genetic journey.
AncestryDNA Kit (currently no additional discount available)
Once you receive your kits, you can follow the instructions given by the respective service providers to collect your sample and ship it.
After you receive your DNA test results from the kit, you can upload your DNA data to our secure platform.
Summary: How To Fall Asleep Faster
Falling asleep quickly is a common challenge for many individuals. By implementing the top three methods discussed in this article, you can improve your sleep initiation and enjoy a more restful night's sleep.
Remember to practice breathing techniques, engage in progressive muscle relaxation, and develop a consistent nighttime routine.
Additionally, Consider adding sleep-promoting foods to your diet per your doctor's recommendation.
Wake up refreshed, rejuvenated, and prepare to tackle the day ahead by taking proactive steps towards better sleep.
References
https://www.sleepfoundation.org/sleep-faqs/how-long-should-it-take-to-fall-asleep
https://www.sleepfoundation.org/sleep-hygiene/bedtime-routine-for-adults
https://www.sleepfoundation.org/sleep-hygiene/best-breathing-exercises-for-sleep
https://www.healthline.com/health/progressive-muscle-relaxation
https://www.healthline.com/nutrition/9-foods-to-help-you-sleep