Unlock the secrets to a better night's sleep by understanding the fascinating interplay between your menstrual cycle and sleep.
As a woman (or people assigned females at birth), your monthly cycle influences more than just your physical and emotional well-being.
It can significantly impact the quality of your sleep.
Each phase of your menstrual cycle brings unique changes to your body that can affect your sleep patterns.
This article delves into the intricate relationship between your menstrual cycle and sleep, exploring how different phases can disrupt or enhance your rest.
We also provide practical tips to optimize your sleep throughout your cycle.
Did You Know? While external factors impact your sleep health, internal factors like your genes can also influence how well you sleep. Certain genetic differences can result in poor sleep quality and an increased risk for sleep disorders. Learn more:
Menstrual Cycle Overview
There are four stages in the menstrual cycle:
| | | | |
| --- | --- | --- | --- |
| Phase | Description | Days* | Hormone changes |
| Menstrual phase | Menstruation, the initial phase of the menstrual cycle, involves the shedding of the uterine lining. This 3 to 7-day process occurs when the egg is unfertilized, eliminating the mucous layer through the vagina, though the duration may differ among individuals. | Day 1 - Day 5 | Estrogen and progesterone level drops |
| Follicular phase | Follicles develop on the surface of the ovary, with one mature to form an egg. 6th day after menstruation until ovulation. Women with regular cycles have this phase for around 6-8 days. | Day 6 - Day 11 | Estrogen levels rise, and low progesterone levels |
| Ovulation phase | Release of an egg/ovum from one of the ovaries. Women with normal cycles have this phase for around 5-7 days. | Day 12 - Day 16 | Estrogen levels start to decrease, and progesterone levels start to increase |
| Luteal phase | The luteal phase lasts around 8-11 days in regular cycles. Hormonal changes during this phase may lead to mood swings, headaches, acne, bloating, and breast tenderness - common signs of premenstrual syndrome (PMS). If fertilization doesn't occur, the menstrual cycle repeats from the beginning. | Day 17 - Day 28 | Higher progesterone (declines as the luteal phase approaches an end) and lower estrogen levels |
How Does the Menstrual Cycle Affect Sleep?
Women experience sleep disturbances more frequently than men.
One of the factors contributing to this could be the menstrual cycle.
According to a study, young women who reported sleeping less than 8 and 7 hours per day experienced more premenstrual spasms than those who slept for 8 hours or more.
Sleep disturbances tend to increase during the premenstrual and menstruation phases, particularly in women with PMS and dysmenorrhea (painful menstrual cramps).
This could be attributed to hormonal changes involving progesterone and estrogen.
The effects of the changes are more notable in the premenstrual phase.
Women diagnosed with polycystic ovary syndrome might encounter sleep problems due to the following factors:
Obesity is associated with excessive daytime sleepiness, psychological distress, and lack of physical activity.
Hyperandrogenemia is a hallmark of PCOS, characterized by increased testosterone levels. Studies have associated this condition with obstructive sleep apnea, a common sleep disorder resulting in interrupted breathing during sleep.
You May Also Be Interested In
Is Obstructive Sleep Apnea Genetic?
Elevated stress hormone levels, cortisol, and lower sleep regulatory hormone, melatonin, might also cause sleep deprivation.
Impact of Body Temperature on Sleep Patterns
Compared to the follicular phase, the luteal phase results in a body temperature rise of about 0.3°C to 0.7°C.
This sudden temperature change creates disturbed sleep quality.
A study also associates higher body temperature with reduced REM sleep in the luteal phase.
Therefore, hormonal fluctuations throughout the menstrual cycle alter temperature regulation, affecting sleep quality.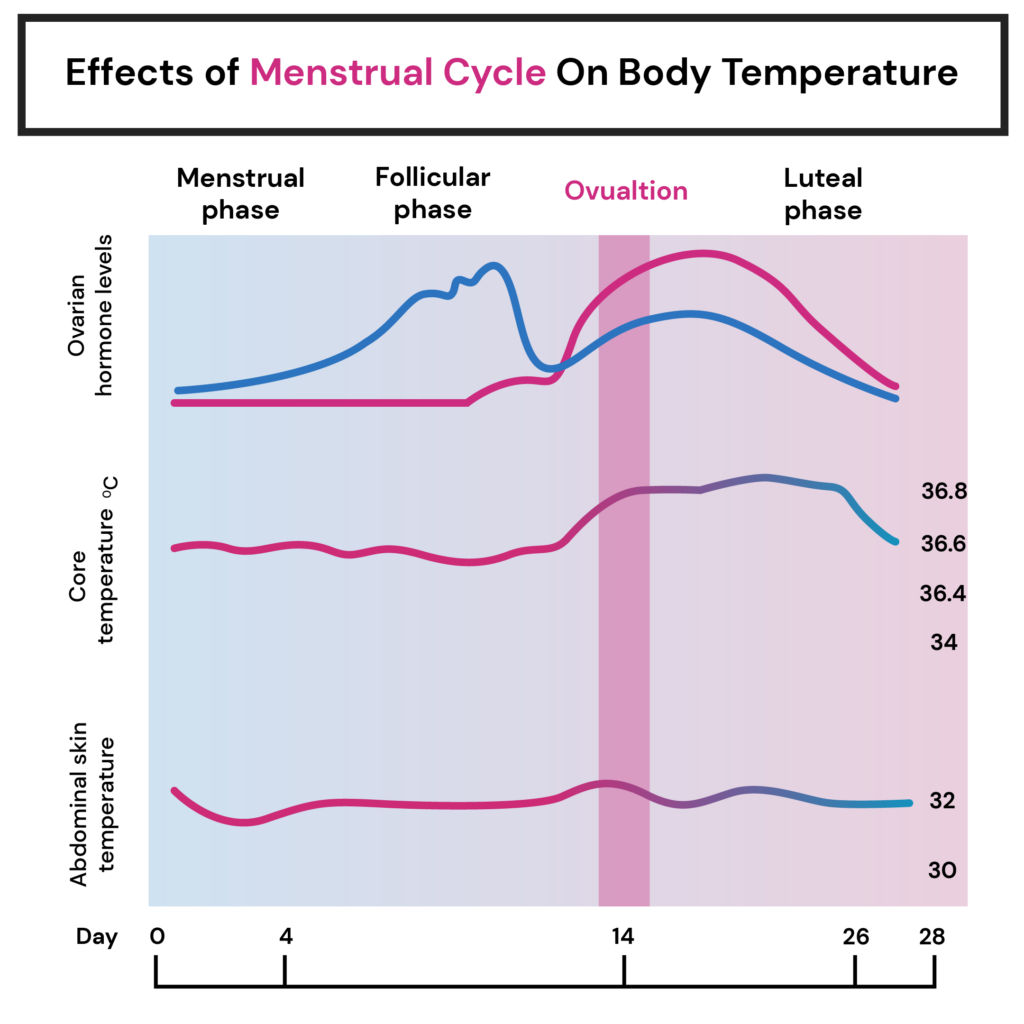 Premenstrual Syndrome - The Luteal Phase
Higher progesterone (declines as the luteal phase approaches an end) and lower estrogen levels during the luteal phase prevail if the egg is not fertilized.
A 2016 study published in the Journal of Sleep Medicine and Disorders investigated the relationship between sleep and PMS.
It reported the following:
Sleep problems are among the most common symptoms experienced by individuals with premenstrual dysphoric disorder (PMDD), a severe form of PMS.
During the luteal phase, women with PMDD exhibited reduced melatonin levels, a hormone responsible for regulating sleep-wake cycles, compared to the follicular phase.
Women with PMDD have decreased levels of progesterone metabolite, allopregnanolone, which increases GABA secretion levels responsible for mood swings, anxiety, depression, and sleep disturbances during the luteal phase.
Females who experience premenstrual syndrome are more likely to have insomnia.
As a result, they experience excessive daytime sleepiness, reduced focus, and concentration, and are tired and drowsy throughout the day.
Are Your Sleep Problems Genetic? Find Out Here
Navigating Sleep Disturbances In The Luteal Phase (PMS)
Consider natural remedies: Some women find relief from sleep disturbances associated with PMS through natural remedies such as herbal supplements or teas like chamomile or valerian root. However, it's essential to consult a healthcare professional before trying new supplements to ensure they are safe and appropriate for you.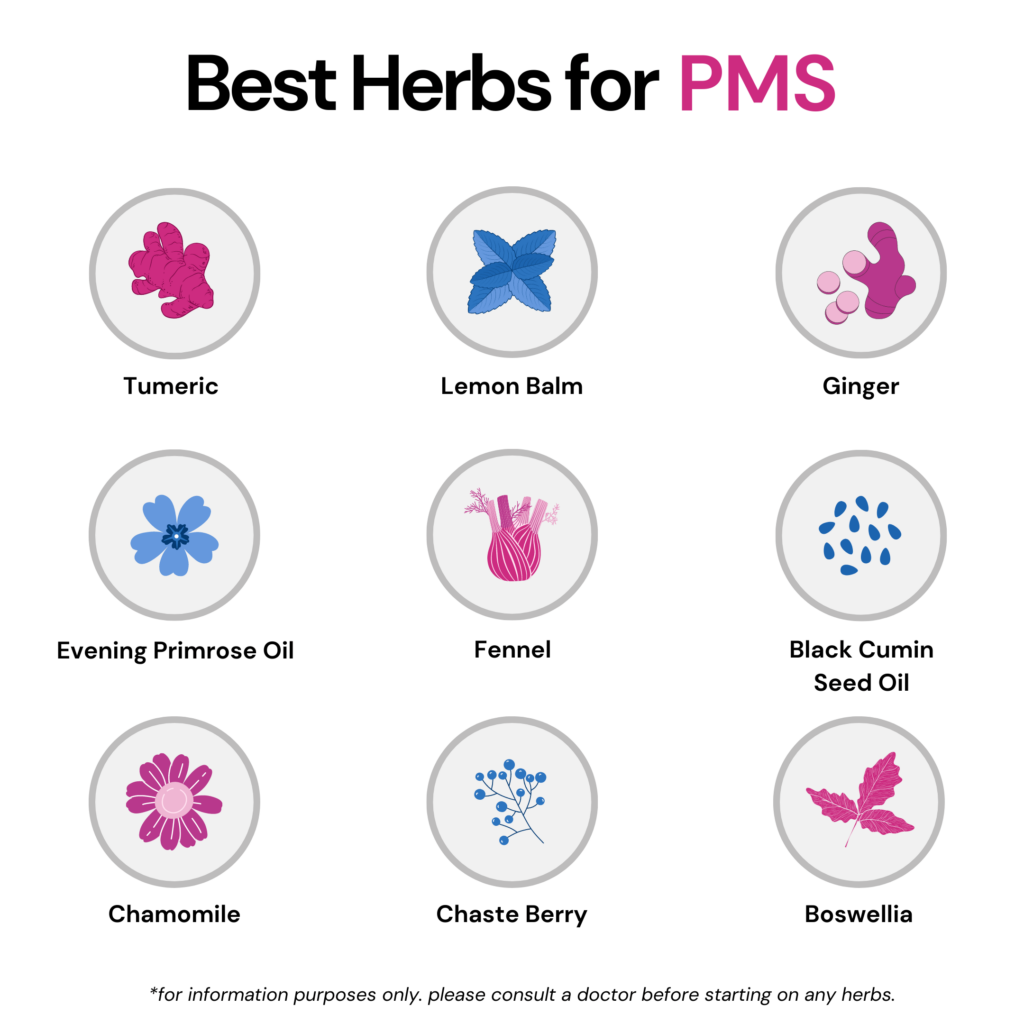 Promote relaxation before bedtime: Engage in relaxation techniques specific to PMS-related symptoms. Progressive muscle relaxation, guided imagery, or gentle stretching exercises/yoga can help relieve tension and induce calmness, making it easier to fall asleep.
Manage pain and discomfort: Menstrual cramps or other physical symptoms associated with PMS can interfere with sleep. Applying a heating pad to the lower abdomen, taking over-the-counter pain relievers as directed, or using relaxation techniques specifically targeting pain management can help alleviate discomfort and promote better sleep.
Restrict your caffeine intake: A study suggests limiting caffeine consumption due to a link between premenstrual irritability, insomnia, and caffeine.
Avoid blue light screens: Blue light emitted by phone screens/ television/laptops might impact your sleep quality. Women with PMS had reduced sleepiness when exposed to a particular type of blue light exposition.
Consult a health care professional: If you have severe symptoms of premenstrual syndrome, consult a medical practitioner about options like suitable medications.
Summary: Sleep and Menstrual Cycle
Women experience more sleep problems than men, with one of the key factors being hormonal fluctuations during their menstrual cycle.
Hormonal fluctuations alter the temperature range, which also impacts sleep quality.
Sleep problems are more evident in the luteal (premenstrual) and menstrual phases than in others due to reduced melatonin and allopregnanolone levels and menstrual cramps.
Sleep quality can be improved by incorporating natural remedies, practicing relaxation techniques, implementing pain management strategies, reducing caffeine consumption, and avoiding exposure to blue light.
Please consult a qualified healthcare practitioner if you experience severe sleep disturbances or other menstrual cycle-related problems.
No Ancestry DNA Test Results? No Problem
Here's how you can still get your sleep report
Reference