Do you always reach out to fast food or packaged snacks and desserts when you feel down? You are not alone. A majority of the population finds comfort in emotional eating to handle stress.
Researchers now believe that stress may be causing changes in how the brain perceives food, encouraging people to choose high-palatable food choices that are generally unhealthy.
Understanding how stress and emotional eating are related may help curb the overeating cycle and find healthier alternatives to handle one's emotions.
Did You Know? Certain genes involved in hunger and satiety pathways can make you more prone to emotional eating. Learning about your genetic tendency to stress eat can help with necessary interventions to avoid it. Learn more in the video below.
Introduction: Stress And Emotional Eating
Stress can cause various physical and mental health problems.
Chronic stress, in particular, can lead to gene-level damage to the body.
Some people lose their appetite when stressed, while others develop unusual food urges and desires.
Emotional eating is a change in one's eating habits in response to their current emotional state.
Emotional eating often leads to overeating or binge eating in response to strong emotions like sadness, stress, heartbreak, or anxiety.
According to a 2021 U.S. National study, 20.5% of the U.S. population reported emotionally overeating very often.
The study also mentions that most individuals choose fast food when they go through negative emotions.
Emotional eating increases the risk of obesity and other mental health problems like depression.
Mental Health And Eating Habits: How One Drives Another
Mental health illnesses are getting more common every year.
According to the National Institute of Mental Health, one in five Americans has at least one mental illness.
The number could be much higher since not everyone with mental health issues seeks help.
Mental health problems and eating disorders are interrelated to one another.
A 2020 article on emotional eating and obesity reports that different emotions lead to various eating disorders.
High-intensity emotions like fear or anxiety can suppress the appetite and reduce the ability to eat.
Moderate or low-intensity emotions, on the other hand, may increase the appetite and create food cravings.
Moderate or low-intensity emotions also cause a preference for energy-dense foods, usually rich in carbohydrates and fat.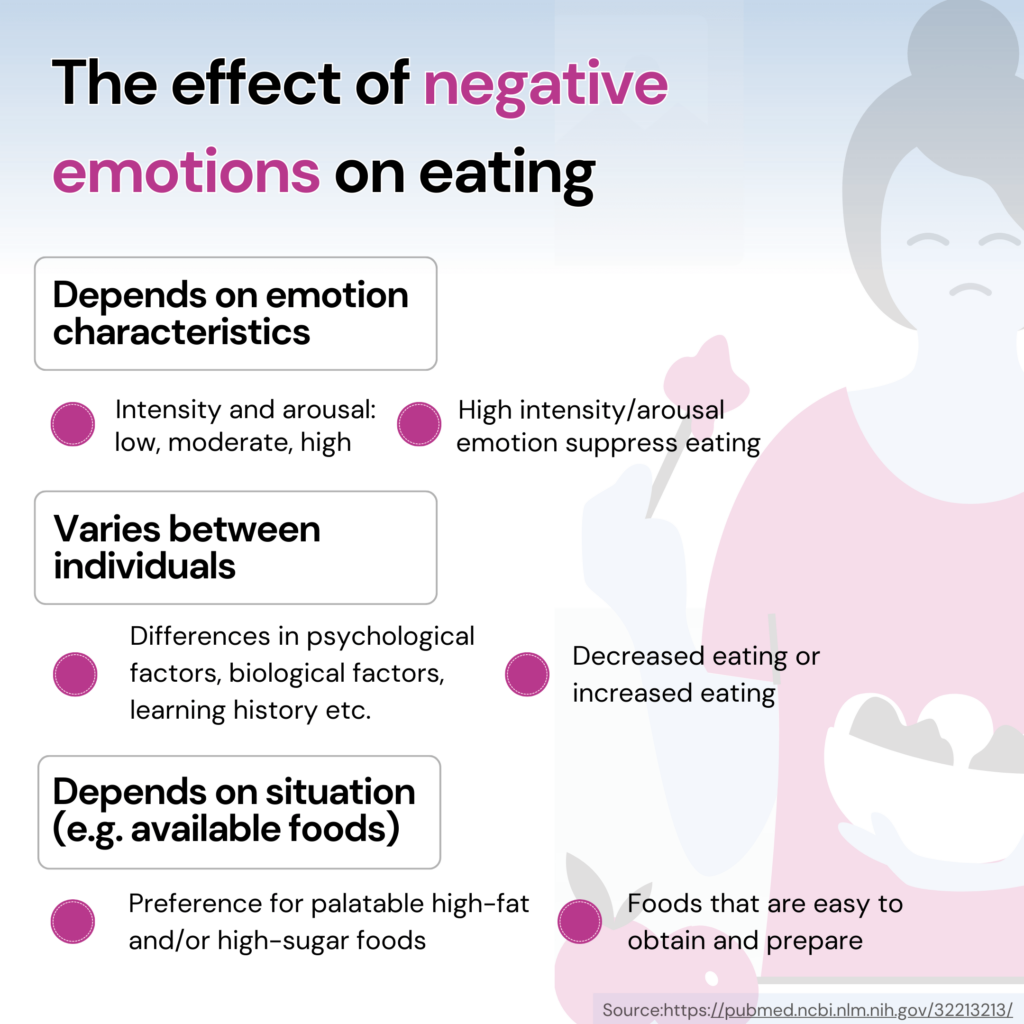 Certain mental health problems can lead to overeating, which may worsen mental illness symptoms. 
This cycle can get destructive when left unchecked.
The Dangers Of Overeating
The following are some of the dangers of overeating.
Obesity - overeating increases people's risk of accumulating excess body fat and leading to obesity.
Insatiety - the body has two hormones, ghrelin and leptin, that improve and suppress appetite. Overeating can affect the functioning of these hormones, disrupt hunger regulation, and lead to insatiety.
Digestive problems - chronic overeating slows the digestive process and leads to different gut problems.
Increased risk of diseases - overeating can increase a person's risk of developing various diseases, including insulin resistance, high blood pressure, heart conditions, and high cholesterol.
Mental health conditions - people who overeat often go through guilt and anxiety after indulging in a session of overeating. This can lead to mental health conditions like depression.
Sleep disorders - According to a 2012 study, binge eating was associated with sleep disorders like not getting enough sleep, problems in falling asleep, excessive daytime sleep, and disturbed sleep in 244 Swedish women.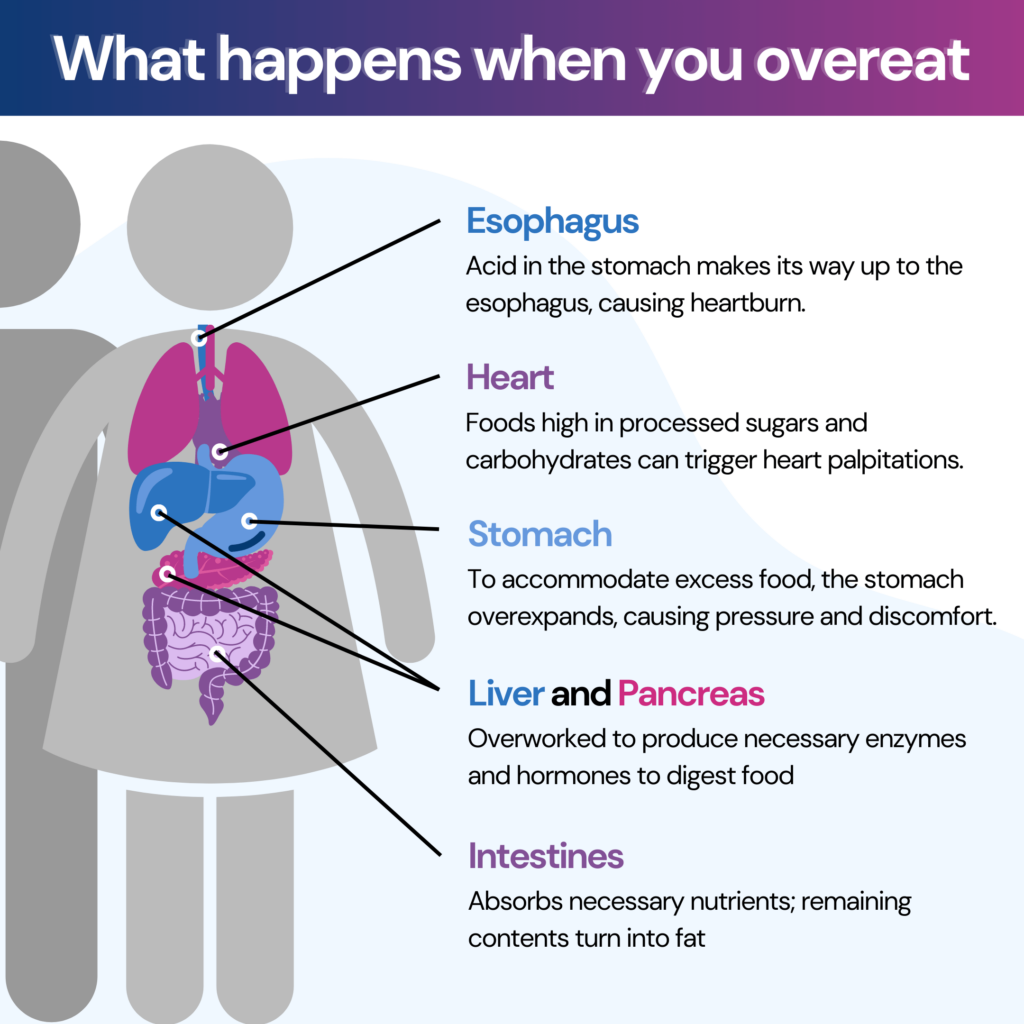 The Relationship Between Stress And Food
According to science, any internal or external stimulus that creates a biological response in the body is called stress.
Depending on the type and intensity of stress, the biological responses can vary from increased breathing to even life-threatening symptoms.
A controlled study reports that stress is an essential precursor of emotional eating disorders.
How Stress Drives Emotional Eating: The Study
A recent study published in the Neuron analyzes the relationship between chronic stress and emotional eating habits.
It reports that stress drives emotional eating and encourages people to choose palatable food that may lead to weight gain.
Overview
A group of researchers published a study in June 2023 that analyzed the effects of stress on eating habits.
According to experts, lateral habenula (LHb), a small structure of the brain, increases the pleasure of eating while stressed.
This structure expresses neurons that encourage hedonic feeding under stress.
Hedonic feeding is the act of consuming food for pleasure without being hungry.
Hand-picked Content For You
Biohacking Important Genetic Driving Factors For Emotional Eating
Impact Of Chronic Stress On The Brain's Pleasure Center
In this study, the researchers exposed rats and mice to stress treatment.
Initially, these rats experienced low appetite and anxiety-like symptoms.
When the rats and mice were shown highly palatable food choices (foods rich in carbohydrates, sugar, and fat), their appetites quickly increased.
The animals started adapting to comfort eating and started consuming foods in excess.
Their energy expenditure also became minimal.
As a result, soon, the animals turned obese.
Generally, the brain sends signals of satiety (the feeling of being satisfied or full after a meal) when the body has had enough to eat.
When people continue to eat after feeling sated, the pleasure of eating starts diminishing.
This study reports that stress overrides the feeling of satiety and hence promotes overeating.
Chronic stress also overrides the diminishing pleasure feeling after eating a hearty meal.
Hence, the more the person eats, the more pleasure is built.
This also leads to overeating.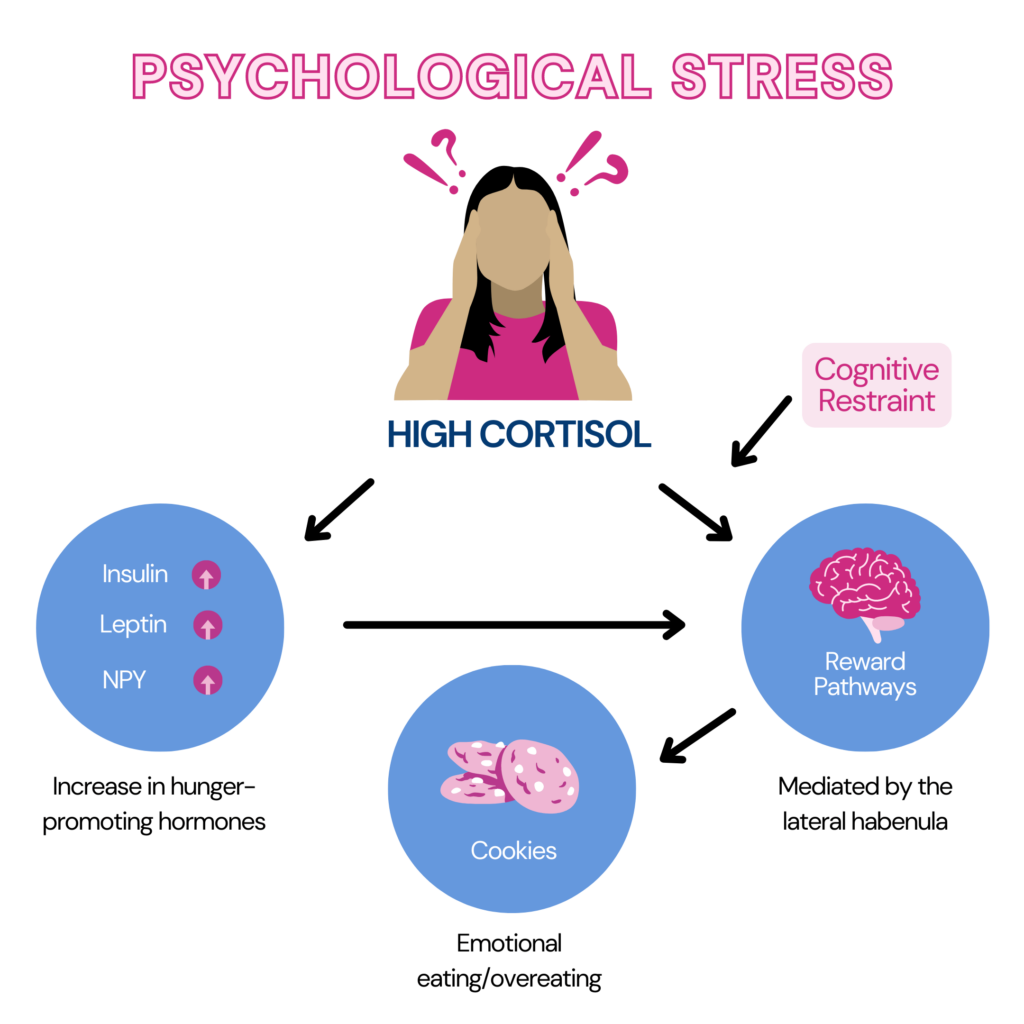 Stress and Sweet Food Cravings
Sweet foods are the go-to options for anyone who indulges in emotional eating.
Scientists believe there is a reason for this.
A study published in the Journal of Clinical Endocrinology and Metabolism reports that sugar reduces the stress response in the brain.
This study conducted stress tests in two groups of women for two weeks.
Researchers offered one group of women sugary drinks three times a day, and the other group drinks with a sugary substitute (aspartame).
Before and after the study, the activities in their hippocampus regions were monitored.
The researchers also measured the participants' cortisol (stress hormone) levels.
The study reports that sugar decreased cortisol levels and changed hippocampus activities significantly.
Grabbing a sweet treat before an examination or after a breakup could be the body's way of bringing down the effects of stress.
How Does Stress Affect Healthy Energy Balance
Calories from food and beverages are the primary source of energy for the body.
Food and beverages help store energy in the body, and physical activities help burn the stored energy.
Energy balance is finding a balance between the calories consumed and burnt.
A healthy energy balance denotes not having excess calories remaining in the day.
Excess of remaining calories leads to weight gain and obesity.
Stress may encourage people to choose highly palatable food regularly.
High-palatable foods are often rich in carbohydrates, sugar, and fat and are calorie-rich.
Overeating and stress can cause other mental health conditions like depression and low energy levels.
All of these can bring down the ability to be physically active.
A combination of overeating and low physical activity can lead to energy imbalance.
Conclusion, Limitations, and Future Directions
During acute stress, eating more food may help the body deal with the stressful situation and provide the brain with more energy to function.
However, most cases of stress right now are chronic (long-term).
That's why emotional eating ends up causing more damage to the body and brain over time.
Overeating may provide a temporary solution to handling stress, but the aftereffects of overeating may worsen the existing mental state and cause more significant problems.
Knowing how stress and overeating are related may help healthcare professionals handle these conditions better.
Offering ways for emotional regulation and providing professional help for building emotional well-being can all prevent eating disorders in people of all ages.
Obesity and overeating are two primary preventable conditions causing global governments billions of dollars in healthcare expenses.
Experts may be able to develop targeted interventions for weight gain and overeating by focusing on the emotional states of people in need.
Do Your Genes Make You Prone To Emotional Eating?
How To Gain Control Of Emotional Eating
The following are ways to gain control of emotional eating.
Identify the stressors - identifying the stressors and handling them are the first two steps in controlling emotional eating. You can also take expert help in managing negative emotions.
Store healthier food options at home - have healthy food and snack options like fruits, nuts, seeds, whole grain snacks, and baked goods. This may help you stay away from sugary and fatty foods.
Learn to identify signs of physical hunger - the body shows stark signs when hungry. This may include headaches, a rumbling sound in the stomach, and a lightheaded feeling. You may not be hungry if you don't have these feelings and ate less than 3 hours ago. Try postponing eating.
Stay busy and engaged - staying active and engaged may help avoid eating due to boredom.
Have a food diary - maintain a diary and note all the meals, snacks, and beverages you had over the day. Going through the dairy will help you understand the reality of overeating and help you cut back.
Take professional help - for individuals with emotional eating issues, food may be their only way to handle their emotions. In that case, cutting back on the calories consumed may be difficult. Getting the help of a mental health expert can bring positive changes.
Summary: Stress And Emotional Eating
Emotional eating is a change in one's eating habits based on their mental state.
Chronic stress may increase people's urges to eat highly palatable food high in carbohydrates, sugar, and fat. This overeating leads to various physical and mental health problems.
Some of the dangers of overeating include obesity, heart conditions, high blood pressure, high cholesterol levels, and sleep disorders.
A 2023 study published by researchers of the Garvan Institute of Medical Research reports that chronic stress overrides signals of satiety in the brain and urges people to overeat.
Stress also consistently increases the pleasure of eating, encouraging people to eat more.
Sweet foods may bring down cortisol levels and decrease the effects of stress. This is one reason why the brain may choose sweeter foods when stressed.
Identifying the triggers of stress and dealing with them may help control overeating.
Having a food diary, storing healthier food options at home, staying busy and engaged, and taking professional help can all help bring down the urge to overeat.
No Ancestry DNA Test Results? No Problem
Here's how you can still get your nutrition report
References
https://www.sciencedaily.com/releases/2023/06/230608120905.htm
https://pubmed.ncbi.nlm.nih.gov/32213213/
https://ijbnpa.biomedcentral.com/articles/10.1186/s12966-019-0791-8
https://www.cambridge.org/core/journals/proceedings-of-the-nutrition-society/article/emotional-eating-and-obesity-in-adults-the-role-of-depression-sleep-and-genes/C69DF0C844DFF0DD87E99ECFA7B50D98
https://sci-hub.ru/10.1017/S0029665120000166
https://www.ncbi.nlm.nih.gov/pmc/articles/PMC7916829/
https://pubmed.ncbi.nlm.nih.gov/28292531/
https://www.ncbi.nlm.nih.gov/pmc/articles/PMC3357460/
https://pubmed.ncbi.nlm.nih.gov/28900385/
https://pubmed.ncbi.nlm.nih.gov/16868274/
https://sci-hub.ru/10.1097/01.psy.0000227749.58726.41
https://sitn.hms.harvard.edu/flash/2015/ask-the-brain-why-do-we-crave-sugar-when-were-stressed/
https://www.sciencedirect.com/science/article/pii/S2352154616300183
https://www.nhlbi.nih.gov/health/educational/wecan/healthy-weight-basics/balance.htm