Did you know that some people with autism take, on average, 11 minutes longer to fall asleep than a neurotypical person?
Sleep is essential to life, and it's no different for those affected by autism. Unfortunately, many individuals with autism can have trouble falling asleep and staying asleep.
Understanding the connection between autism and sleep can help inform interventions that support better sleeping habits in those affected.
Use Your Ancestry Test Data To Learn In-depth About Your Sleep Behavior And Risk For Sleep Disorders
No Ancestry Test Data? No Problem
Place an order for the Gene Sleep Report
Get a 23andMe kit from here
Upload your data when you receive the results
Autism and Sleep
One of the largest studies investigating the prevalence of sleep problems in autism reported that >80% of preschoolers with autism had disrupted sleep.
While some people with autism have trouble falling asleep, others wake up throughout the night. Some even report rising earlier than anyone else in their family.
Many people with autism have lesser REM (rapid eye movement) sleep than others. The REM stage of sleep is crucial for
Dreaming
Emotional processing
Healthy brain development
Sleep disturbances in harmful to all people. For those with autism, it can amplify hyperactivity and repetitive behaviors.
What Causes Sleep Problems In People With Autism?
Several traits associated with autism are known to cause sleep problems.
Some of them are
ADHD (Attention deficit hyperactivity disorder)
Another prevalent problem in people with autism is gastrointestinal troubles like bloating, constipation, diarrhea, and acid reflux.
This can result in sleep disturbances.
Gene Mutations Affecting Sleep
The sleep-wake cycle is controlled by a biological phenomenon called the circadian rhythm.
When the genes regulating circadian rhythm function well, appropriate amounts of the sleep hormone, or melatonin, are released at the correct timings to manage the sleep-wake cycle.
However, research shows that in people with autism, there may be higher incidences of mutations (or changes) in the circadian rhythm genes, resulting in abnormal melatonin production.
This can result in feelings of wakefulness during the times they are supposed to sleep and also make it difficult to wake up when they should be.
Researchers are still trying to figure out if autism is driving the sleep issues or if the sleep issues are worsening autism symptoms.
Sleep research in autism has only recently picked up momentum, and scientists are already seeing sleep issues as a hallmark of the condition!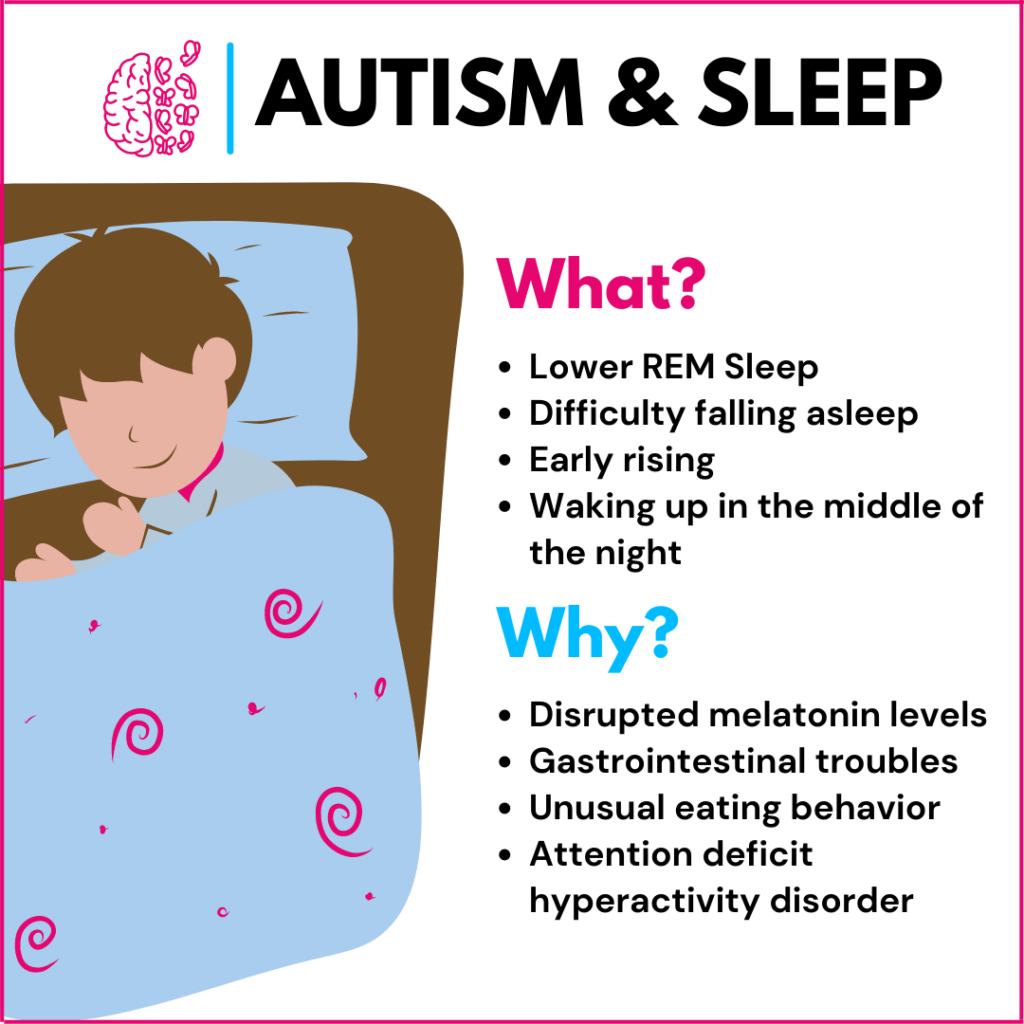 Image: The What and Why of Autism and Sleep
How Can People With Autism Sleep Better?
While sleep research in autism is slowly making its progress, there are a few things people with autism (as well as neurotypical people) can do to improve their sleep.
Getting Some Movement In The Day
Exercising during the day lowers the time it takes to fall asleep. It also helps reduce sleep disturbances at night.
Having A Wind-Down Time
Avoiding screen exposure and limiting high-energy activities a couple of hours before bedtime can help signal to your brain that it's time to wind down, and all activities associated with wakefulness can be brought to rest.
Building A Nighttime Routine
A relaxing activity like a bath, listening to music, reading books before sleeping, and following a consistent bedtime can help improve sleep quality.
Melatonin Supplements
Melatonin supplements or slow-release melatonin drugs can help reset sleep cycles and improve sleep quality.
However, melatonin supplements are to be taken only upon the recommendation of a qualified medical practitioner.
Resolving some of the sleep issues faced by people with autism can help improve their overall quality of life.
Summary
Autism is a complex disorder that can lead to various sleep challenges for those affected. Research suggests that these sleep challenges are often linked to the individual's unique sensory sensitivities, anxiety levels, and developmental and behavioral issues.
Disruptions in the body's natural circadian rhythm due to certain gene changes that disrupt melatonin levels also contribute to the sleep issues faced by people with autism.
It is important for those with autism to receive adequate support from their healthcare team to ensure healthy and restful sleep. Additionally, lifestyle modifications such as creating a consistent bedtime routine, avoiding large meals late at night, and exercising regularly can help improve the overall quality of sleep.
References