Xcode Life's Gallstones DNA Report
Researchers have identified a number of genes associated with gallstone disease.
In the sample report below, we've attempted to analyze some important genes that increase the risk for gallstone disease.
You can identify your genetic risk of Gallstones by using your 23andMe DNA data and placing an order for the Gene Health Report.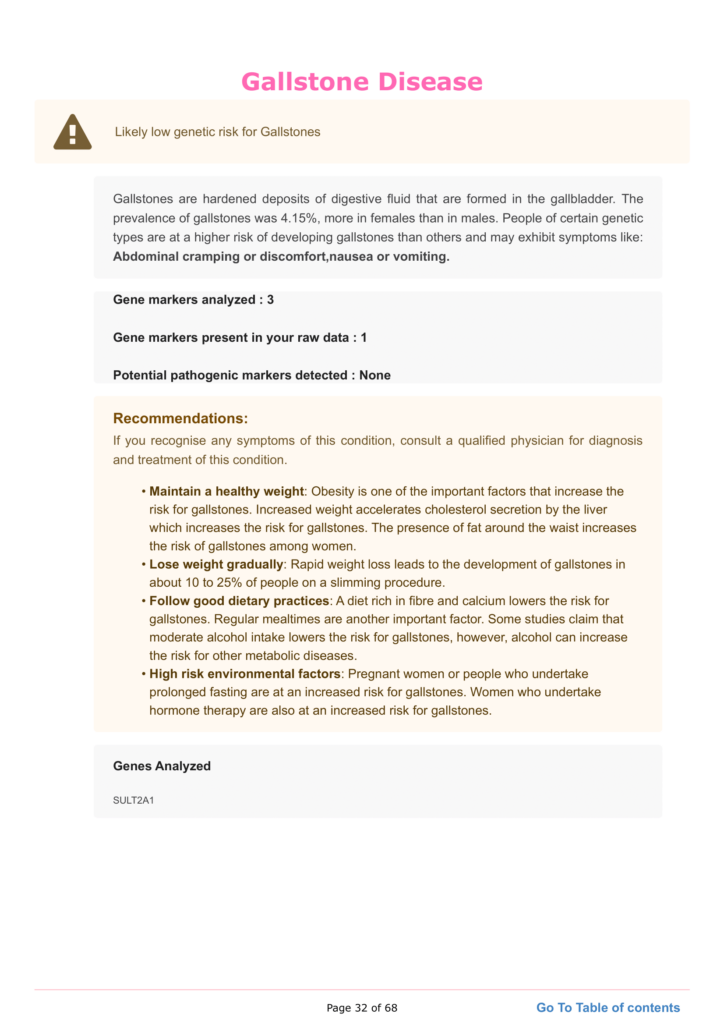 Gallstones are common, with around 20% of the population affected. Many people wonder if gallstones are hereditary. The answer is not clear-cut, as many factors contribute to the formation of gallstones. However, some studies suggest a genetic predisposition. While more research is needed in this area, it is possible that gallstones may be passed down from generation to generation.
Check your DNA raw data for gene variants influencing gall stones
What Are Gallstones?
The gallbladder is a small, pear-shaped organ in the upper right abdomen, just below the liver.
The gallbladder's primary function is to store and concentrate bile, a yellowish-brown digestive fluid produced by the liver.
Bile salts help break down fats in the small intestine during digestion.
Gallstones are hardened deposits of digestive fluid that can form in your gallbladder.
Too much cholesterol, bile salts, or bilirubin (bile pigment) can cause gallstones.
Gallstones range in size from as small as a grain of sand to as large as a golf ball.
Some people develop just one large stone, while others develop many smaller stones.
Causes and Symptoms of Gallstones
Causes
What causes gallstones is still in the grey, but experts suggest 3 contributing factors.
Too much cholesterol in the bile: Cholesterol, when present in normal amounts, is digested by the chemicals in the bile. But if the lives secrets excess cholesterol, it may crystallize, resulting in gallstones.
Too much bilirubin in the bile: Bilirubin is a yellowish pigment produced during red blood cell breakdown. Certain conditions like liver cirrhosis result in excess production of bilirubin, which can cause gallstones.
Incomplete emptying of the gallbladder: If the gallbladder doesn't empty correctly, the bile can become concentrated, resulting in gallstones.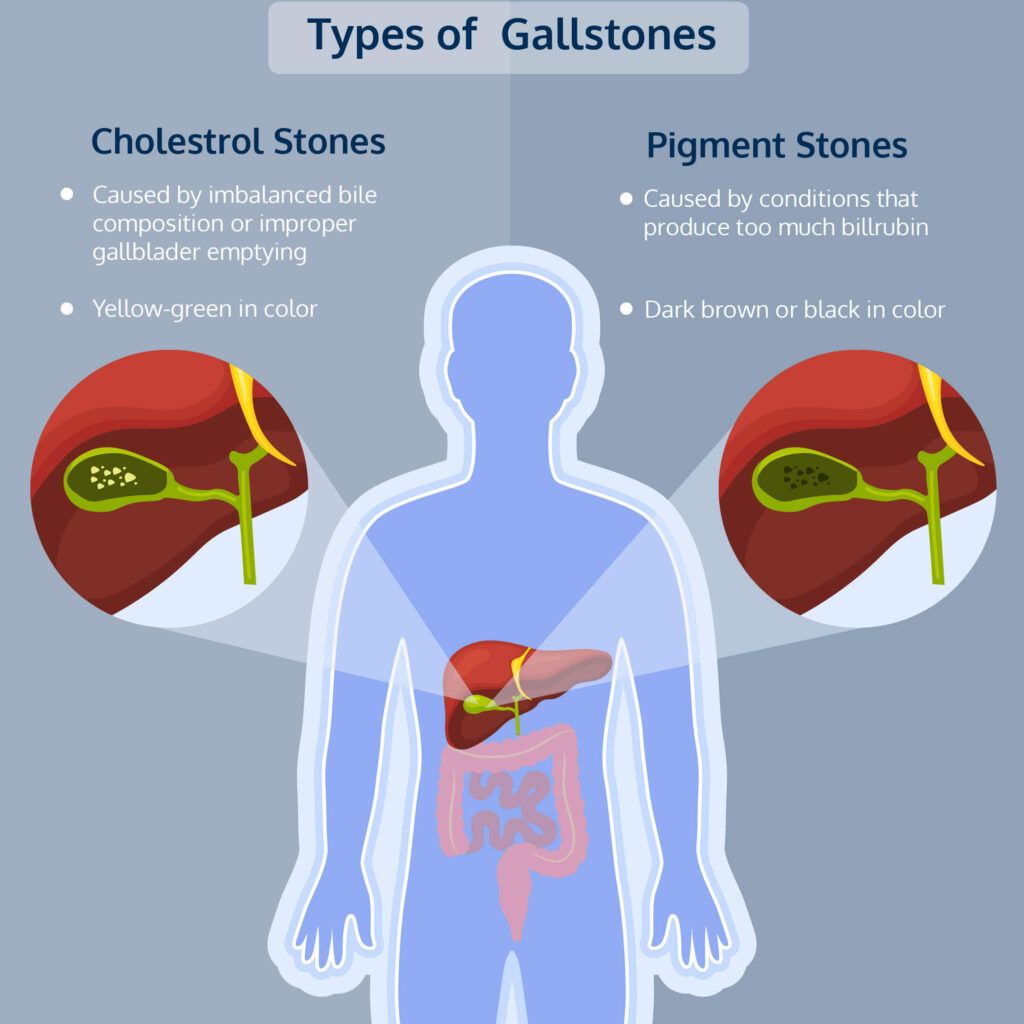 Symptoms
Most people with gallstones have no symptoms.
However, if a stone gets stuck in the bile duct causing, it can cause pain in the upper abdomen or back between the shoulder blades.
The pain may be severe and come on suddenly.
Other symptoms may include:
Nausea
Vomiting
Fever
Chills
Bloating
Gas
Indigestions
If you have these symptoms, you should see your doctor.
They can do tests to find out if you have gallstones.
Treatment may help if you have pain or other problems from the stones.
Are Gallstones Hereditary?
Can Gallstones Run The Family?
According to published research, the risk for developing gallbladder diseases, including gallstones, run in families.
This underlines a genetic link.
What Exactly Gets Passed Down?
Studies have identified a mutation in the gene that regulates cholesterol transport from the liver to the bile duct that can increase gallstone risk.
Mutations in other families of genes can cause defective proteins leading to higher levels of cholesterol or bilirubin.
If A Family Member Has Gallstones, Will I Get Them?
It is not necessary that having a relative with gallstones means you or any other family member will develop it.
Having said that, it can serve well to be on the lookout for symptoms and follow a healthy diet.
Other Than Genes, What Factors Can Cause Gallstones In Families?
Conditions like obesity, Crohn's disease, or irritable bowel syndrome running in families can increase the risk for gallstones.
Other Risk Factors For Gallstones
Gender
Women or people assigned female at birth (AFAB) are twice as likely as men to develop gallstones.
This risk increases further in those who are pregnant or are under hormone replacement therapy.
Too much estrogen can increase cholesterol in the bile and lessen gallbladder movement.
Age
Gallstones occur up to 10 times more frequently in the older population, especially those over 60.
Ethnicity
The highest risk for gallstones is in the Native American population (30-70%), and the lower risk is in Asian and African populations (less than 5%).
Weight
People who are overweight or obese are at increased risk for gallstones.
This is because excess weight can cause the overproduction of cholesterol.
Diet
Low-fiber, high-fat diet can increase gallstones risk.
Overconsumption of heme-rich food can also cause gallstones.
Summary: Are Gallstones Hereditary?
Gallstones are hardened, stone-like deposits of digestive fluids that form in the gallbladder.
Overproduction of cholesterol and bilirubin and improper emptying of the gallbladder can result in gallstone formation.
Only when the gallstones get stuck in the bile ducts are symptoms visible. They include abdominal and back pain, nausea, vomiting, and indigestion.
Gallstones are often seen running in families, indicating a genetic link.
Genes that influence cholesterol transport and production of bilirubin and cholesterol play a role in gallstone risk.
Women (and people AFAB), older adults, overweight individuals, and people with Native American ethnicity have a higher risk for gallstones.