Flu season is just around the corner, and health officials are urging everyone to get their flu shot. According to the Centers for Disease Control and Prevention (CDC), people with diabetes are at high risk of developing serious flu-related complications, such as pneumonia. The CDC recommends that everyone 6 months of age and older get a yearly flu vaccine, but it's especially important for people with diabetes to get vaccinated.
Xcode Life: Your Genetic Guide to Health and Wellness
Diabetes and Flu: What's The Connection?
Your body needs extra energy to fight any infection.
Thus, the body manufactures additional glucose for its fuelling needs.
Further, the infection may stimulate the release of stress hormones like adrenaline and cortisol, both of which can reduce the effectiveness of insulin.
Insulin is responsible for regulating (or lowering) blood sugar levels in the body.
Additional glucose production combined with the lower effectiveness of insulin can make it difficult for the glucose levels to lower back to normal.
This is more profoundly seen in people with diabetes (PWD).
When the glucose levels become too high, the body gets dehydrated, trying to compensate for the levels.
This condition is called hyperosmolar hyperglycemic nonketotic syndrome (HHNS) and can be life-threatening.
Diabetes and Flu: What Are The Complications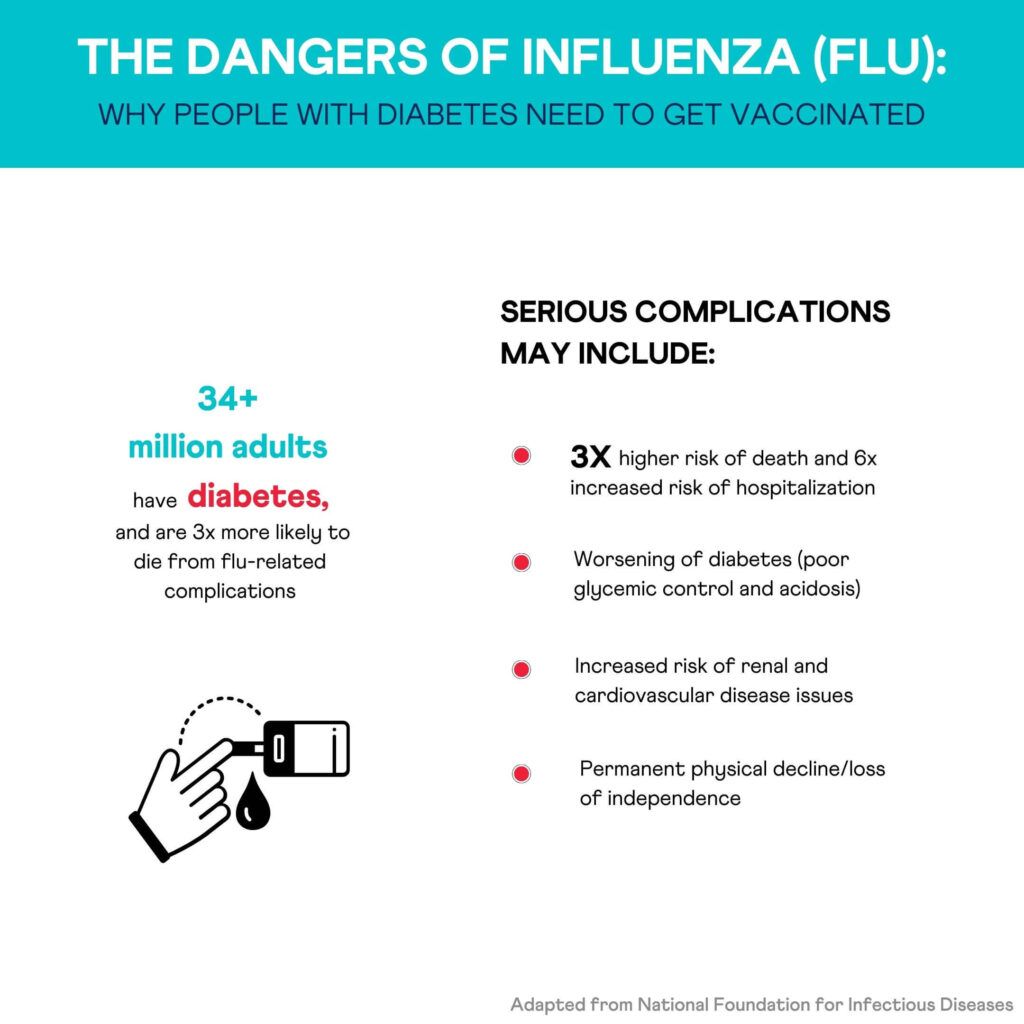 The flu wreaks havoc on the body, but it is more so for PWD.
Diabetes weakens the immune system, leaving PWD more susceptible to the flu.
A changed eating pattern combined with dehydration can make it difficult to manage blood sugar levels.
PWD are at an increased risk for complications from the influenza virus, like bronchitis, worsening heart diseases, and pneumonia.
The risk is even higher in those over 65 with diabetes.
Further, the incidences of other chronic conditions like chronic obstructive pulmonary disease (COPD), hypertension, and renal diseases are higher in PWD.
This puts them at higher risk for complications and hospitalizations due to the influenza virus.
Xcode Life's Diabetes DNA Report
Researchers have identified several genes associated with diabetes.
In the sample report below, we've attempted to analyze some important genes that increase the risk of diabetes.
You can identify your genetic risk of diabetes by using your 23andMe DNA data and placing an order for the Gene Health Report.
When's The Flu Season?
In the United States, flu viruses are common in fall and winter.
It can begin to peak during October and November and may extend up to early May.
The timing can, however, vary with each season.
According to the CDC, the longest stretch of flu season was from Oct 01, 2018, to May 04, 2019, at that time.
The 2020 and 2021 years saw lower incidences of flu due to increased precautionary methods adopted in light of the COVID pandemic.
However, this year (2022-2023) flu season, many experts suggest, will bring in many more flu cases in the United States than in recent years.
Does Everyone With Diabetes Need A Flu Shot?
Yearly flu shots are advisable for everyone, including PWD, autoimmune disorders, and mothers with gestational diabetes.
30% of adults hospitalized due to flu in the last few seasons had some type of diabetes. 
Further, PWD are three times more likely to have severe COVID than those without diabetes.
So, it is important for all PWD and their families to get their flu shots.
Since the strain of virus emerging every year is different, the CDC recommends yearly flu shots.
What's The Preferred Flu Vaccine Type?
According to the CDC, there are several types of flu vaccines:
| | |
| --- | --- |
| Flu Shot | Description |
| Standard dose flu shots | Traditional vaccine |
| Cell-based flu shots | Approved for people 6 months and older |
| Recombinant flu shots | Stronger immune response, shorter shelf life |
| High-dose flu shots | For the elderly (65 years and above) |
| Adjuvant flu shots | For the elderly; contains an adjuvant to boost immune response |
| Nasal spray vaccine | Made with weakened live flu viruses; not recommended for pregnant or immunocompromised people |
According to the CDC, the best vaccine for PWD is injectable dead-virus flu vaccination due to its long-established safety record.
Does The Flu Vaccine Cause Diabetes?
The immune system reacts to the dead/weakened virus in the vaccine, causing the blood sugar levels to spike, just like an infection would.
However, there's not much research to explain how flu shots can lead to higher blood sugar levels.
According to a report in the Annals of Pharmacotherapy, there has been only one report of an unusual spike in blood glucose levels after vaccination.
However, their healthcare team could not identify a specific reason for the glucose rise, nor did they mention that it was caused directly by the flu shot itself.
This 2022 study included 34 adults with an average age of 75 years with diabetes during the 2018 to 2020 flu seasons.
The researchers examined their blood sugars in the first 24 hours after they got their vaccinations.
They reported higher blood glucose levels on the first day after the flu shot.
The levels returned to baseline by the second day.
The study authors say that they agree with vaccination recommendations for PWD and that the benefits outweigh the risk of transient, acute hyperglycemia.
Summary: Diabetes and Flu
Diabetes affects immune functioning, and therefore people with diabetes (PWD) are at a higher risk for flu-related complications and hospitalizations.
The CDC recommends everyone, especially PWD get their yearly flu vaccinations.
The best vaccine for PWD is injectable dead-virus flu vaccination due to its long-established safety record.
Spikes in blood sugar levels may be observed a day post-vaccination, but the levels return to baseline the following day.
There may be a small risk for transient acute hyperglycemia following vaccination, but the vaccination benefits for PWD outweigh this risk.
References