A new study sheds light on a potential link between reproductive health and heart disease.
This little-known connection, reveals that women who have undergone hysterectomy or tubal ligation may have an increased risk of developing heart disease.
This article explores the study's findings and what they mean for women's health. Whether you're considering these procedures or simply curious about the latest research, read on to learn more.
Hysterectomy and Tubal Ligation: A Brief Overview
Hysterectomy and tubal ligation are two common gynecological procedures.
A hysterectomy is a surgery that involves removing a woman's uterus. A hysterectomy can be done with or without oophorectomy, which is the removal of the ovaries.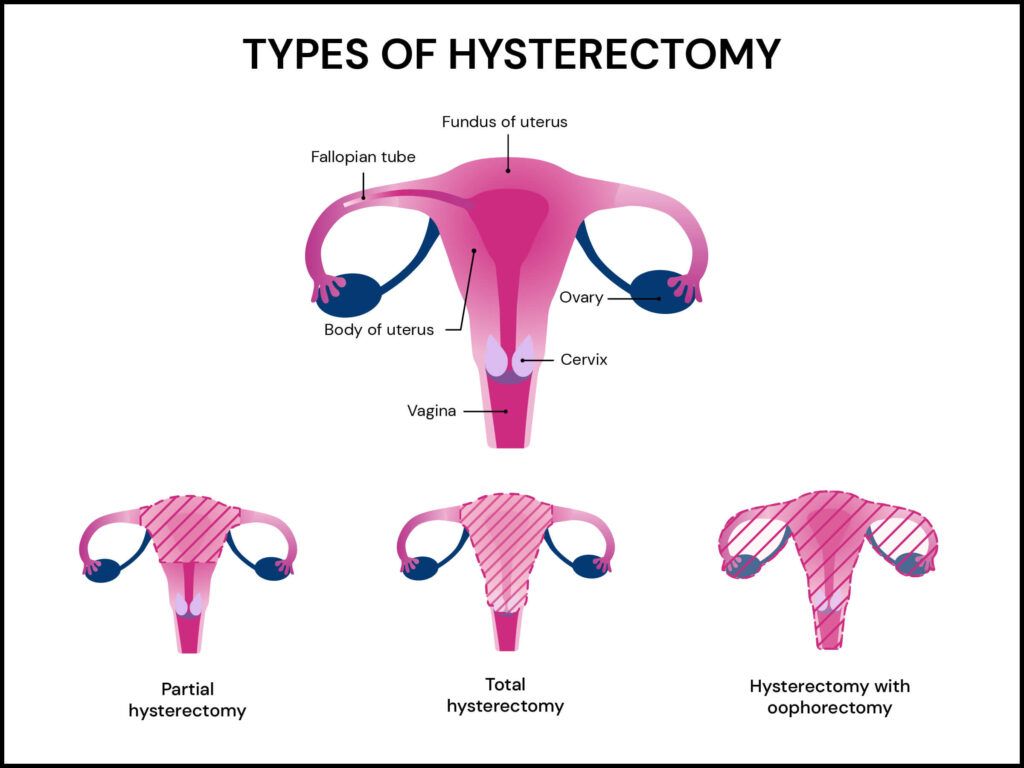 Why would someone need their uterus removed?
There are a few reasons why this procedure might be recommended.
Some people experience abnormally heavy menstrual periods that result in heavy blood loss, leading to anemia. When other treatment options don't work, removing the uterus takes out the source of the bleeding, bringing relief to those who have been suffering.
In some cases, non-cancerous growths called fibroids occur in the uterus. These little troublemakers can cause pain and heavy bleeding and affect fertility. So, to tackle these issues and improve the person's quality of life, a hysterectomy may be recommended.
When the muscles surrounding the uterus become weak (can be due to pregnancy, childbirth or hormonal changes), they may not support the uterus well, resulting in its prolapse, where the uterus "drops" into the vaginal canal. Hysterectomies may be done in these cases as well.
Tubal ligation is often called "getting your tubes tied" and is a permanent birth control method.
During a tubal ligation, the fallopian tubes are blocked or sealed off to prevent the eggs from meeting the sperm. This means that pregnancy becomes highly unlikely.
Tubal ligation may decrease your risk of ovarian cancer, especially if the fallopian tubes are removed.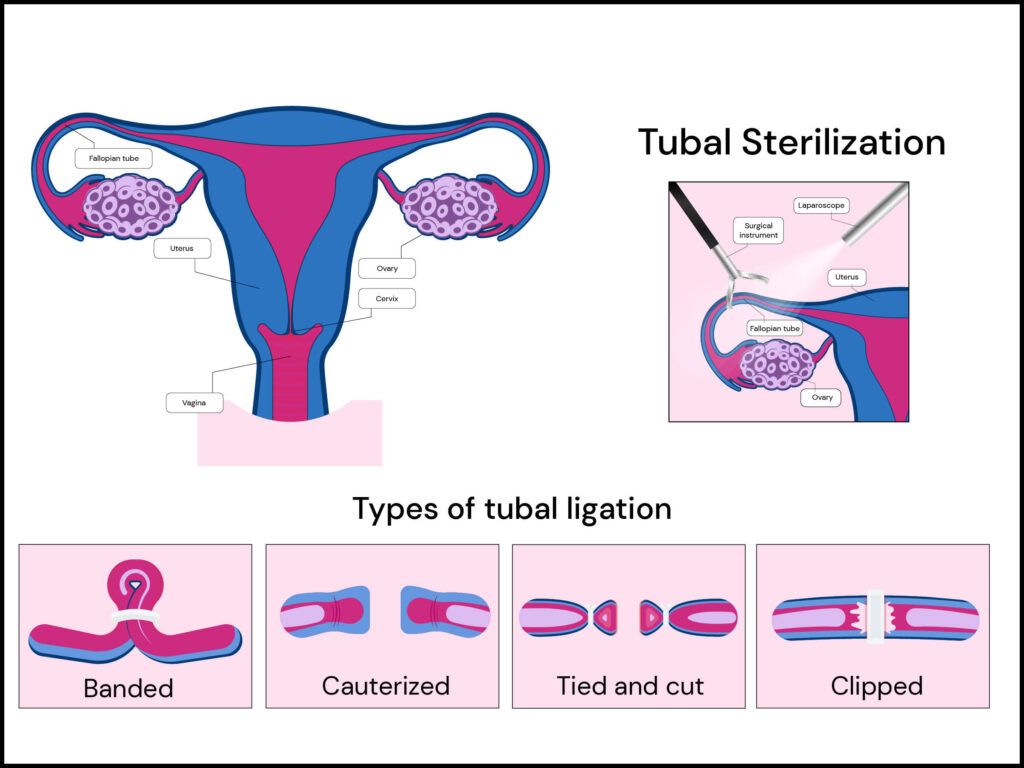 Can Hysterectomy And Ligation Increase Heart Disease Risk?
A recent study published in the Journal Of Women's Health examined the association between these gynecological procedures and cardiovascular disease risk.
Study Participants
This study was done using the data from participants in the Nurses' Health Study II, which included over 116,000 people.
The participants were between the ages of 25-42 years.
They were followed from 1989 to 2017 (28 years).
Study Methods
The researchers categorized the participants into the following groups:
no surgery
hysterectomy only
hysterectomy with removal of one ovary
hysterectomy with removal of both ovaries
tubal ligation.
They then looked at cardiovascular disease incidents and considered participants who had experienced both fatal and non-fatal heart attacks and strokes, and fatal coronary heart disease.
They also included the participants who underwent a procedure called coronary revascularization, which is a procedure to improve blood flow to the heart.
Study Observations
Hysterectomy with and without oophorectomy and tubal ligation were both associated with a greater risk of cardiovascular diseases and coronary revascularization.
The greatest risk was observed in those who had a hysterectomy surgery before the age of 50 years.
Study Limitations
By the follow-up time, the participants in the study were between the ages of 50 and 73 years, which is relatively young for heart disease development. Therefore, they may be an underestimation of the cumulative risk.
No information on why the gynecological procedures were done. If they were done due to conditions like endometriosis or fibroids, they might also be associated with heart disease risk.
Surgical techniques used during the study period may not reflect the techniques practiced today.
No data to prove that the cardiovascular events were due to these procedures.
The author also says, "Future research is needed to understand the mechanisms underlying the associations between gynecologic surgery and cardiovascular risk and the risks and benefits associated with these procedures to better counsel patients."
Did You Know?
Certain gene changes can increase your risk for heart disease! Learning about your genetic risk can help reduce the risk and even prevent the condition. Visit the link below for a genetic health report covering over 45 conditions, including heart disease.
Heart Health Tips For Women
Taking care of your heart is essential for a long and healthy life. Here are five effective tips to help you keep your heart in shape.
Get Moving with Interval Training: When it comes to exercise, aim for a mix of cardio and strength training.
But here's a unique twist: try incorporating interval training into your routine. This involves alternating between high-intensity bursts of activity and lower-intensity recovery periods.
Interval training has been shown to improve cardiovascular fitness and increase heart health more effectively than steady-state cardio alone.
So, whether it's cycling, jogging, or even dancing, use the interval technique to give your heart an extra boost.
Embrace the Power of Omega-3s: Omega-3 fatty acids are superheroes for your heart.
They have been shown to reduce inflammation, lower blood pressure, and decrease the risk of heart disease.
Include foods rich in omega-3s in your diet, such as fatty fish (like salmon or mackerel), walnuts, flaxseeds, and chia seeds.
If you're not a fan of fish or have dietary restrictions, you can also consider omega-3 supplements after consulting with your healthcare provider.
Prioritize Stress Management: Stress is not just an emotional burden—it can also take a toll on your heart.
Chronic stress can contribute to high blood pressure and other heart-related issues.
Find healthy ways to manage stress, such as practicing relaxation techniques like deep breathing, meditation, or yoga.
Engaging in hobbies, spending time with loved ones, and getting enough sleep are also vital for stress reduction.
Remember, a happy and relaxed mind goes hand in hand with a healthy heart!
Include Colorful Antioxidant-rich Foods: Fill your plate with a vibrant array of fruits and vegetables.
These colorful goodies are packed with antioxidants, vitamins, and minerals that support heart health.
Berries, leafy greens, citrus fruits, bell peppers, and tomatoes are excellent choices.
Antioxidants help reduce oxidative stress and inflammation in the body, which can lower the risk of heart disease. So, let your meals be a rainbow of health!
Nurture Your Social Connections: Did you know that maintaining strong social connections can positively impact your heart health?
Research suggests that having a robust social network and meaningful relationships can reduce the risk of heart disease and improve overall well-being.
Make time for family and friends, join community groups or clubs, and engage in activities that allow you to connect with others. Your heart will thank you!
By incorporating these strategies into your lifestyle, you'll be taking a proactive step towards a healthier heart and a happier you.
Note: The information provided here is based on evidence and facts available at the time of writing. Always consult your healthcare provider for personalized advice and guidance on maintaining a healthy heart.
Summary
Hysterectomy is a surgery that involves removing a woman's uterus, which may be recommended for various reasons such as heavy menstrual bleeding, non-cancerous growths (fibroids), or uterine prolapse.
Tubal ligation, also known as "getting your tubes tied," is a method of permanent birth control that can also decrease the risk of ovarian cancer.
A new study suggests that women who have undergone hysterectomy or tubal ligation may have an increased risk of developing heart disease.
The greatest risk was observed in women who had a hysterectomy before the age of 50.
The study has limitations, such as the relatively young age of the participants at follow-up and the lack of information on the reasons for the gynecological procedures.
Women are advised to engage in interval training, consume omega-3-rich foods, prioritize stress management, include antioxidant-rich fruits and vegetables in their diet, and nurture social connections to maintain heart health.
References