It's no secret that some people are just better at napping than others. But have you ever wondered if there's a scientific reason for why some people can fall asleep anywhere, anytime? Turns out, there might be. A new study suggests that a excessive daytime sleepiness may be linked to your genes.
Xcode Life's Excessive Daytime Sleepiness DNA Report
Researchers have identified a number of genes associated with excessive daytime sleepiness (EDS).
In the sample report below, we've attempted to analyze some important genes that increase the risk for EDS.
You can identify your genetic risk of EDS by using your 23andMe DNA data and placing an order for the Gene Sleep Report.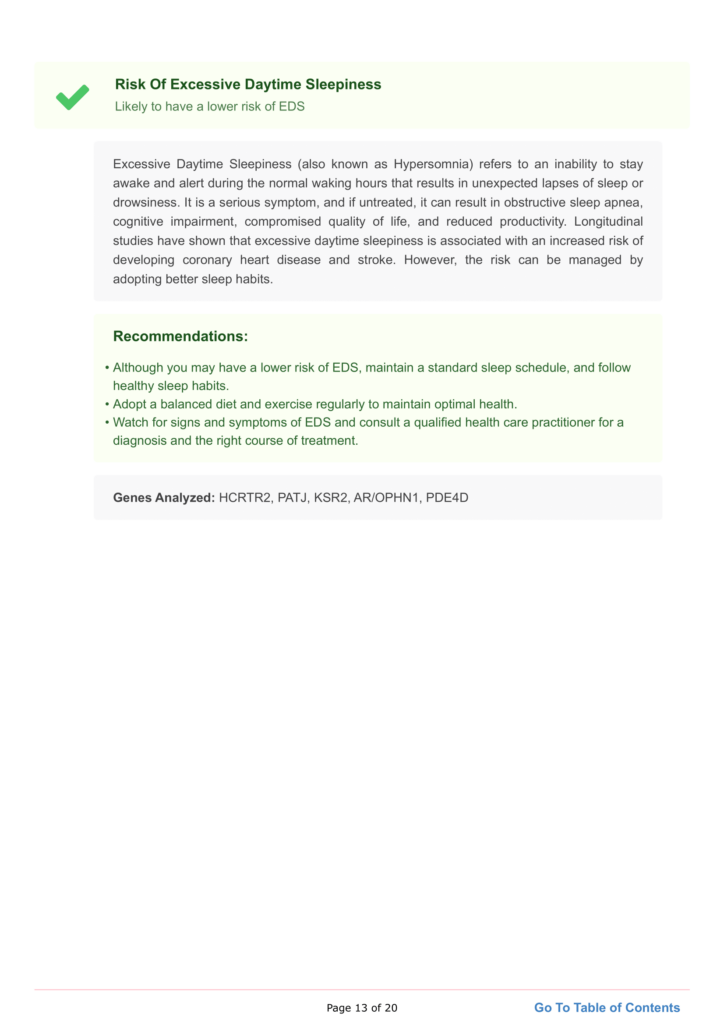 Excessive Daytime Sleepiness (EDS)
EDS (also known as hypersomnia) refers to the inability to stay awake and alert during normal waking hours, resulting in unexpected sleep or drowsiness lapses.
It can even occur after long stretches of sleep.
There are two types of hypersomnia; primary and secondary.
Some symptoms of hypersomnia include:
A 2019 study in Nature Communications documented that nearly 10–20% of people deal with excessive sleepiness to some degree.
Is Excessive Daytime Sleepiness Genetic?
Studies have shown that certain genetic variants influence daytime sleepiness, which explains why some individuals need more sleep than others.
Twin study results have estimated a 38% genetic variance in daytime sleepiness.
Studies have found an association between EDS and changes in certain genes like HCRTR2, PATJ, AR-OPHN1, KSR2, and PDE4D.
The HCRTR2 gene encodes a protein belonging to the G-protein coupled receptor, involved in regulating appetite, energy balance, neuroendocrine functions, and wake promotion.
Latest research studies suggest that variations in the HCRTR2 gene may influence the sleep-wake process.
Other Causes Of Excessive Daytime Sleepiness
The most common causes of excessive sleepiness include:
Research has also indicated that other health conditions can increase the risk of excessive sleepiness. Some of them include: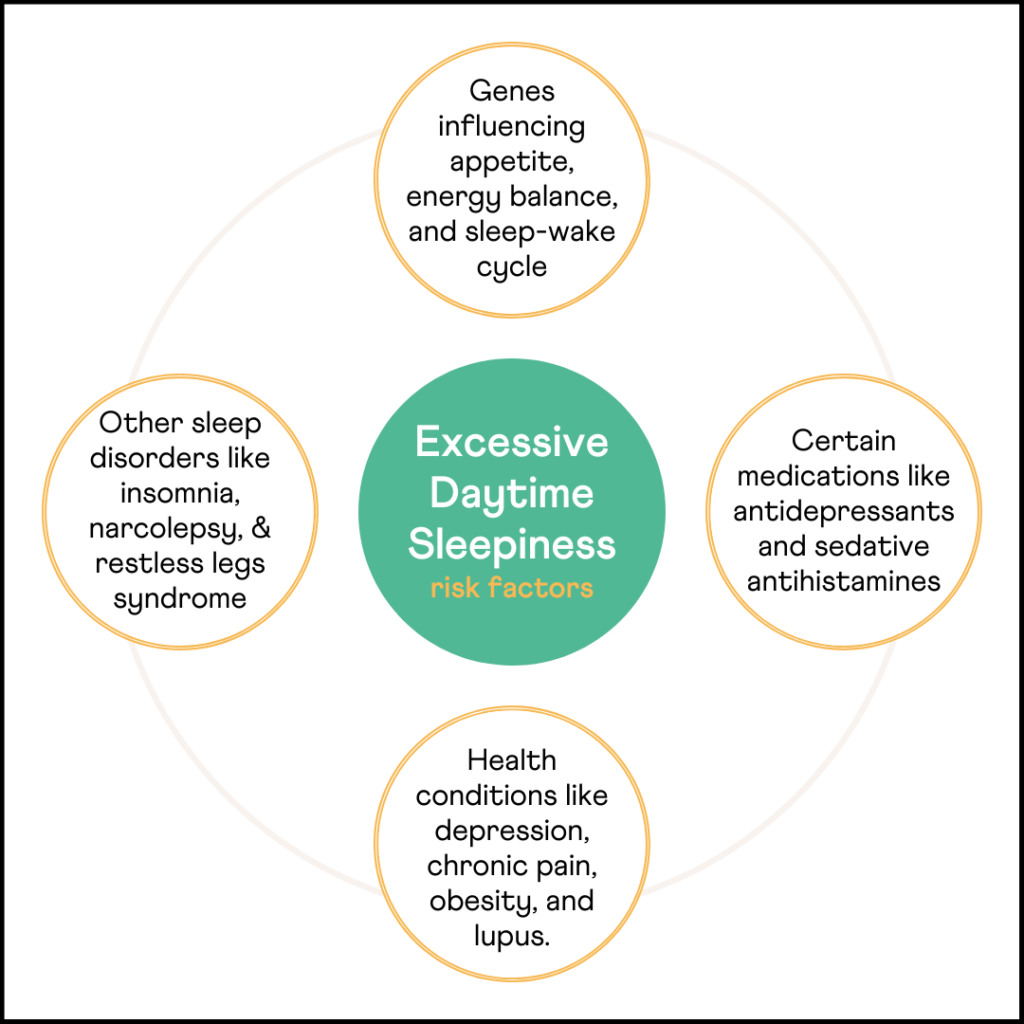 How Does Excessive Daytime Sleepiness Affect Health?
Studies have shown that EDS is associated with an increased risk of developing coronary heart disease and stroke.
However, the risk can be managed by improving the quality of sleep.
People with EDS also have poorer health than comparable adults.
According to a study, EDS is associated with negative effects on cognitive function.
In fact, EDS is a common symptom in neurological conditions like Parkinson's and psychiatric conditions like depression.
How To Manage Excessive Daytime Sleepiness
Identifying And Treating The Underlying Cause
Sleep disorders like insomnia, narcolepsy, and restless leg syndrome and other conditions like depression and obesity can cause EDS.
Identifying and treating these conditions can help shorten daytime naps.
Improving Sleep Hygiene
Ensuring a dark and cool sleep environment, getting adequate physical activity during the daytime, reducing alcohol consumption and smoking, and adopting a calming bedtime routine can improve overall sleep hygiene and reduce the effects of sleep-related disorders.
Taking Medications Upon Physician's Advice
Several medications are used to treat sleep disorders, but doctors most commonly prescribe this along with another treatment.
Commonly prescribed medications for EDS are modafinil, sodium oxybate, melatonin, and methylphenidate.
Summary: Excessive Daytime Sleepiness
Excessive daytime sleepiness (EDS) refers to the inability to stay awake and alert during normal waking hours, resulting in unexpected lapses of sleep or drowsiness.
Anxiety, low energy, restlessness, loss of appetite, and irritability are the symptoms of hypersomnia.
Variations in several genes that affect ppetite, energy balance, neuroendocrine functions, and wake promotion can influence the risk of EDS.
Some risk factors for EDS are poor sleep quality, obesity, depression, and other sleep disorders.
Maintaining good sleep hygiene, treating underlying disorders, and medications are some effective ways to treat and manage EDS.
References
https://pubmed.ncbi.nlm.nih.gov/31409809/
https://pubmed.ncbi.nlm.nih.gov/27992416/
https://pubmed.ncbi.nlm.nih.gov/29783161/